Welcome To The eBitz N ByteZ
Monthly Newsletter
---
The Evolution Continues
E-Mail not looking right? View Online
Hello everyone. I thought I would send you an update on how things are going with the eComputerZ revamp, and tell you about some of the new content that has recently been released.
First thing to note is I've tweaked the Footer, so the Copyright Years are automatically updated. I can't believe my site has been live for over 9 years!
I've also added a container to the right-hand column so you and other visitors can see clearly when the site was last updated. I want people to know that the site is constantly being updated and refreshed.
Since the last newsletter I've written three new pages. Details are below, but it's worth noting that I have plans for the coming months and years to write at least another 95 new articles. Watch this space.
---
How To Make Alt Codes
The How To Make Alt Codes article was quite a challenge to write because I wanted to get the interactive Alt Keys Code Chart working perfectly. All you need to do is enter a keyword, Alt Number or even copy a symbol in to the search field and the table will truncate and display the associated entries for you. I'm quite proud of the result.
You can download the Alt Code Table in PDF format too!
I've written this article because I think it is convenient knowledge to have as you go about everyday life of writing documents and sending e-mails. Most devices are capable of producing Alt Codes, and they are easy to use. Take a look and give them a go. I use them all the time.
The Alt Code Keyboard Instruction Layout
The article can be found in the Computer Knowledge Section
---
The Raspberry Pi Computer
The Raspberry Pi Computer article was fun to write, and incredibly interesting too. I learned a few things myself whilst doing the research.
From its origins in 2006 and the honourable motivations behind the development, to its launch in 2012, and the way it has transformed the education sector and IT landscape is really something to behold.
Today the Raspberry Pi Foundation is educating children all over the world and bringing them back into computer science like never before. Coding clubs, events and competitions such as sending your Raspberry Pi development into space and analysing the data beamed back to earth would be remarkable for anyone, let alone school children.
Hobbyists and Conservationists are also developing and programming Raspberry Pi's to support the protection of wildlife, and even more interesting projects, such as developing a drum kit out of vegetables (yep you read that right).
Be warned though, if you do read the article, you just might end up buying a Raspberry Pi yourself.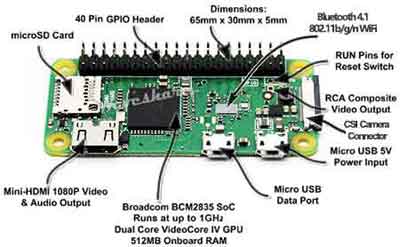 The Raspberry Pi Zero Model is About the Size of A Credit Card
The article can be found in the 2010s computer History Section
---
How To Search The Internet
The How To Search The Internet properly article was only published around 12 hours ago, so this one is hot off the press.
I think there is a quite a lot of computing basics that everyone should be aware of, and have the opportunity to learn, to interact well with computers and the online world.
Even seasoned pros don't know or understand everything, and sometimes a refresh of the basics can be a timely reminder to correct old habits, or pick up knowledge you have either forgotten, or maybe didn't know in the first place.
Knowing how search engines work, how to use Google, and understanding some of the more advanced (but still basic) search techniques can save you a lot of time when searching the Internet, by focusing your efforts and search results.
The article is worth a read. Give the techniques a go and see how well they work for you.
Understanding How Search Engines Work is Fundamental To Performing Internet Searches Correctly
The article can be found in the Computer Basics Section
---
Other Changes
One of the final things to mention is I've added something called a Modal to most articles. This is an experimental attempt to increase the subscription numbers to the eBits n ByteZ newsletter. It will only appear once as you browse each article, so hopefully it is not too intrusive.
Thank you for reading. Don't forget to take a look at the social media links below. Feel free to follow, like and share.
---
Blogs and Social Media Links
Thank you again for taking the time to read my newsletter. Until next time take a look at the following eComputerZ resources.