Welcome To The eBitz N ByteZ
Monthly Newsletter
---
Computer Basics Section
Completed (For Now)
E-Mail not looking right? View Online
Hello all, and welcome to the October 2020 edition of the of eBits n ByteZ newsletter.
A special welcome to all new subscribers. I hope you find the content informative and educational.
I've added four new articles to my site in the last month, which has completed (for now) the Computer Basics section.
I'm happy with this section for the moment, and will be moving on to the Computer Knowledge section next month. This section has some good content already, including the popular American Megatrends BIOS Update article.
I'll continue to focus on technical knowledge for this section, such as the importance of device drivers, considerations when choosing a new monitor, and options such as tethering.
Below is a snippet of the new articles written last month. It takes a while for Google to index new pages and rank them, so you are likely getting a sneak preview before the rest of the Internet.
---
How The Internet Works
The Internet fascinates me. It is basically interconnected wires and other computer hardware components that enables us to use the World Wide Web that we all know today. The web is available in over 228 Countries to date.
This article describes what the Internet is and discusses the hardware components that make up the Internet.
The cabling that runs across oceans is something to behold, and the video of the shark biting the cable is spectacular.
We also look at what happens when you hit return after typing in a web address on your tablet to laptop.
There is a lot of power and activity that takes place in the background to display a web page on your screen. The speed and size of the ocean cables put our fibre broadband setups to shame.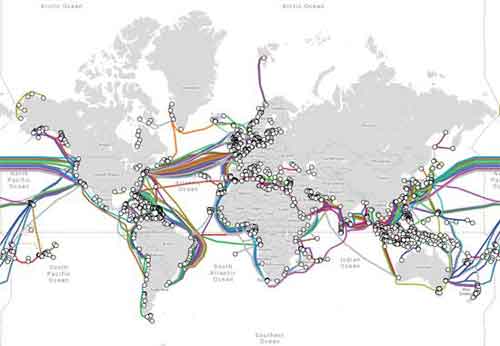 A Map of Worldwide Internet Cables
---
How Does Wireless Work
Most of us use a Wireless network today to access the Internet. In fact, over 80% of us.
You could be anywhere - in your car, a Hospital or attending a concert in the middle of a field somewhere, and there is every chance you will be able to take a selfie, or video of the band, and instantly upload it to your Instagram or Facebook page for your friends and family to enjoy.
This article reviews what Wi-Fi networks are and how we use them. We then take a look under at how wireless works, and cover the issues that can prevent wireless for working properly.
Take a look.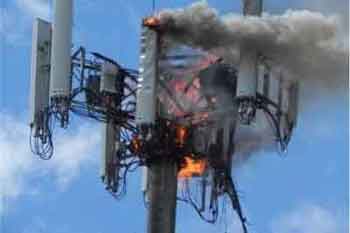 Wireless signals are a form of non-ionizing radiation.
This means they are not cancer causing due to their low electrical requirements.
Note to self - don't go setting fire to phone masts!
---
A Well Structured
File Management System
We are generating more digital files now than ever before. With the convenience of mobile phones, we are taking more and more photographs and videos to 'capture the moment'.
Storage such as hard disk drives are always increasing, and is becoming cheaper all the time. We can therefore store all these new files we are creating without much thought about running out of space any time soon.
However, with so many files, it is becoming increasingly difficult to find the file you need.
Therefore, this article looks further in to what file management is and why it is important. We then look at some file management best practices.
I then give you my personal file management approach and design, which has worked for me for years.
Well Structured File Management System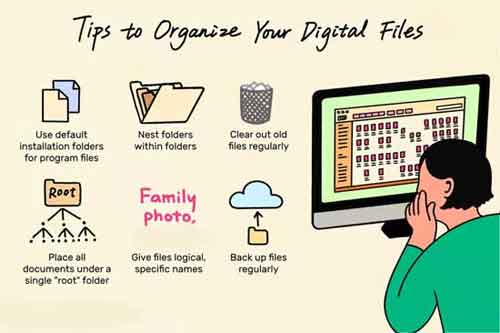 Tips To Organize Your Digital Files
---
Backup Files and Folders Quickly and Easily
Once you have your folders properly structured, and your files organized with good naming conventions, the next step is to understand how to back up files and folders quickly and easily.
This article describes the 3-2-1 backup rule and suggested methods for applying this approach, including local and cloud-based solutions.
We also look at the importance of backing up your data. The files we hold change over time as we add new photographs, and delete old files that are not needed any more. These changes need to be captured, otherwise you run the risk of losing them when you least expect it.
We then look at ideas for the type of data you should consider backing up. Personal files such as photos, music and home videos are a given, but there are other file types to potentially back up that you may not have considered, such as your web browser favourites or bookmarks.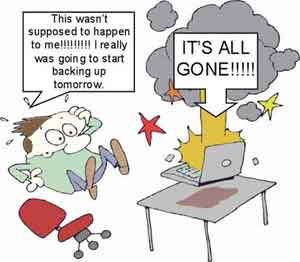 Don't Let This Be You - Backup Your Files Today
---
Thank You
That's it for this month's newsletter. Thank you for reading and your continued support. It is very much appreciated.
Don't forget to take a look at the social media links below. You are welcome to follow, like, and share.
Also, feel free to forward this e-mail on to all of your friends and family :)
---
Blogs and Social Media Links
Thank you again for taking the time to read my newsletter. Until next time, take a look at the following eComputerZ resources.