Welcome To The eBitz N ByteZ
Monthly Newsletter
---
Malware and Cyber Security
E-Mail not looking right? View Online
Welcome to the January 2021 edition of the eBits n ByteZ newsletter. I hope you all had a wonderful holiday season. I've had two weeks off work which has allowed me to make some good progress on the plans I have for developing the eComputerZ site.
In December, I've managed to complete the Computer Tablets section (for now). The final article focuses on Mobile Device and Tablet Knowledge. In short, we look at some ideas for how to make the best use of your Tablet device, whether it be at home, on the road, in Business or as a Student.
I've now moved on to developing a rather neglected, but important, section of the site, which focuses on Cyber Security.
The Malware Basics section had a couple of guest articles only, covering topics such as VPN and Computer Threats.
Now, there are articles covering Multi Factor Authentication, Identity Theft and Software Security Patching.
See below for further details about each article. If you are unfamiliar with the terms, don't worry, they are not as complicated as they sound.

---
The Benefits of Multi Factor Authentication
The benefits of multi factor authentication (MFA) cannot be underestimated. Traditional passwords are not good enough today to keep your data and online accounts secure.

If you are not using MFA, when it is available for accessing your accounts, then all other cybersecurity measures, such as anti virus products and Firewalls, can potentially be bypassed.

MFA is the process of verifying you are who you say you are, by validating at least two different methods of authentication, each from a different category of factors, such as something you own e.g. a Smartphone, and something you are e.g. biometric/fingerprint scanning.

The benefits of MFA include improved cyber security, online account protection, and login simplification.

Cybercrime is a lucrative business, and simply repeating traditional security measurers of changing your password to something else, that can be cracked, simply cannot continue.

If you haven't put MFA in place, read this article, then put it in place ASAP.

The Benefits of Multi Factor Authentication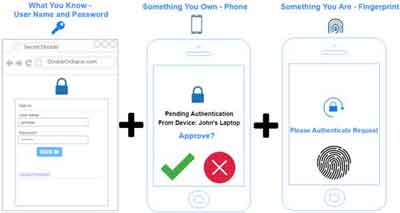 The Three Elements of Multi Factor Authentication
Something You Know
Something You Have or Own
Something You Are
---
Cyber Security and Identity Theft
This article describes how to protect yourself from identity theft. We look at what ID theft is, and how the subsequent fraudulent activity is committed.

We also look at ways to prevent identify theft and how to report it if it happens to you.

Identity theft can be defined as when a (cyber) criminal illegally represents themselves as you (online) for financial gain. It is usually about the money with cyber criminals, and this is their motivation for stealing and using your name, address, birth date, National Insurance or Social Security number, photographs from your social media accounts, and if accessible, details from your utility companies.

Cyber criminals acquire your personal information using techniques such as phishing and social engineering, i.e. fraudulent e-mails that look legit, hacking and theft.

Act now to reduce the risk of identity theft, including minimising the information you put up online, adopting Multi Factor Authentication, and opening a Digital Wallet.

Take a look at the article below for further details.

Cyber Security and Identity Theft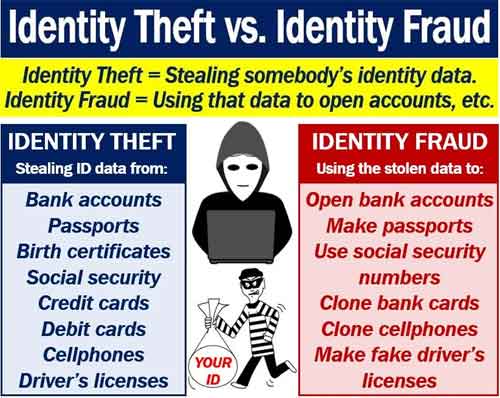 Identity Theft versus Identity Fraud
---
Software Application Security Patching Plan
A software application security patching plan is essential in today's world.

This article is focused on how you can keep your devices patched to protect against software vulnerabilities that could be exploited and put your personal data at risk.

I've taken the best practices businesses should follow, and adapted them for home users. The six-step plan for home users will, I think, at least generate some ideas for improving the security of your home devices.

We also look at how to automate software patching using native operating system settings, and 3rd party tools such as the excellent "Patch My PC".

Software Application Security Patching Plan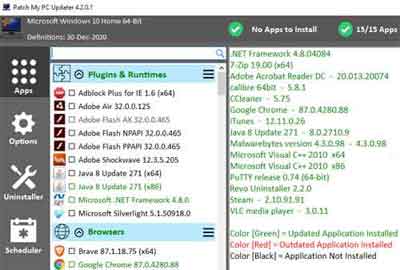 Patch My PC Screenshot
---
Final Thoughts
That concludes the first newsletter of 2021. Thank you for taking the time to read.

Feel free to forward this e-mail on to all of your friends and family.

I am looking forward to seeing how eComputerZ will develop over the next 12 months. I am already working on the next page, which looks at Mobile Phone Security Awareness.

One final thing to mention is that I've updated the About page to include the form that enables you to contact me directly if you have any questions or comments, or if you need any computer-related help. I'm happy to help out in any way I can.

Here's to hoping that 2021 will be a much better year than 2020, for all of us.

Thank you for your continued support.
---
Blogs and Social Media Links Thank you again for taking the time to read my newsletter. Until next time take a look at the following eComputerZ resources.
Site Blog
Twitter
Facebook