About Me | The eComputerZ Author
Why I Will Help You With Your Technology Problems

This is about me, firstly, thanking you for visiting my site. Your time is very much appreciated. My name is Stephen Harrison (Steve), and I live in the UK.
Attention!
Let me first say that the reason this site exists is because of my passion to help people understand technology and resolve their technical issues.
This includes passing on knowledge and education I have acquired in my 25+ years in the technology industry through the many site articles I've written.
I have added new articles to different areas of the site including
troubleshooting technical issues, online safety, and computing basics.
Take a look at the Contact Me Page, which includes a selection of site visitor requests for help, and my replies to do what I can to resolve their technology-related issues.
A Few Testimonies
"Thank you so much, that's precisely what I needed to know. 
I appreciate your response. You saved me from a lot of headache and heartaches."

- Jackie Brown, USA
"Thank you for your help. It worked."
- Shula, United Arab Emirates
"Wow. Thanks for all the constructive advice. I appreciate your help."
- Cynthia, USA
I have always been interested in computers. Growing up way back in the 1980s, my interest started with the Sinclair ZX Spectrum.
I loved playing games such as Manic Miner, Jet Set Willy, and Skool Daze. It is hard to believe that such fantastic games were written to use less than 48k of memory. That is tiny by today's standards.
However, I soon moved from playing games to interests in programming using BASIC, and then the components inside the console.
I had a curious mind growing up and was intrigued by how computer programs were written, and how the hardware worked. 
This set the foundation for my academic achievements, and what is likely to be the entirety of my professional career in Information Technology.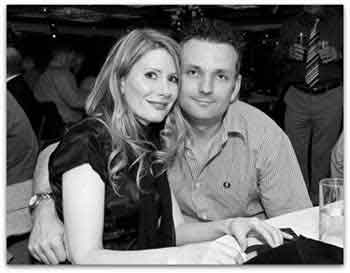 About Me
The eComputerZ Author
A Picture of Me And My Other Half
---
About My Academic Achievements
I completed a B.Sc. Business Information Technology honours degree back in the late 1990s, where I achieved a 2:1 classification. This was a 4-year course, with a 12-month student work experience placement.

I spent my year at Sellafield Ltd supporting project managers delivering technical infrastructure projects. One of the key skills I learned on this placement is report writing.
Following the completion of my degree, I started my working life as an IT support officer for the National Health Service. More on this later.
Fast-forward a good few years and I complete an M.Sc. in Computing for Commerce and Industry. In working towards the master's degree, I also attained the Postgraduate Certificate and Postgraduate Diploma in the same subject.
I completed all Computing for Commerce and Industry courses on top of a full-time job. I was also fortunate to be sponsored by my employer.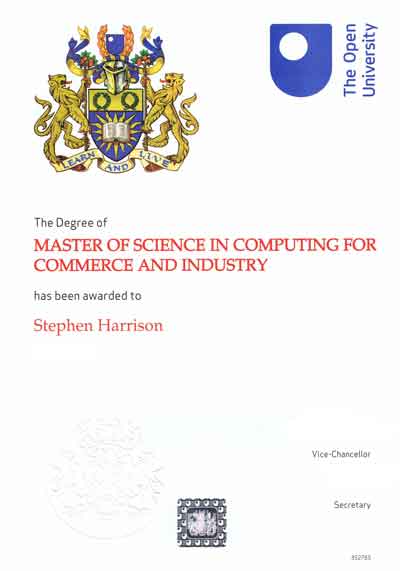 About Me
The eComputerZ Author
My Computing For Commerce And Industry
Masters Certificate
I wanted to do a masters, so I could improve my understanding of complex computing subjects. I could have undertaken an MBA instead.
Yet, my reasoning was the M.Sc. complemented my bachelor of science degree more, which was focused on business. To be honest, I also enjoyed the challenge too.
Academic work is a good grounding for undertaking research into specialist topics, and presenting your findings in writing that is easy to understand. I've taken all my years of academic experience and put it into practice throughout my site.
---
What About My Professional Career To Date?
I have over 25 years experience in the IT Industry, exclusively in the National Health Service, except for 14 months with Sellafield.
This is where I first cut my teeth learning about all areas of Information Technology as an IT support officer. In the public sector at the time, you were given early, high privilege access to key networks, systems and end user devices (PCs, Printers etc.). This was a great learning curve.
I was promoted to a Team Leader position with responsibility for all IT provision on a single NHS Trust site. This was also my first foray into managing people, which I found to be an enjoyable and rewarding experience.
I have had the privilege of managing some good technicians and engineers, in my time, and they have gone on to achieve great things in the IT Industry.
I was then promoted to an IT Manager role, managing several end user device teams across multiple NHS sectors.  There was a close focus on ensuring the services on staff PC's and Laptops, and supporting equipment, was optimized for clinical use.
Later I was promoted to the Technical Services Manager position, managing and Infrastructure (Networks and Servers) and Applications (Development and Support) Teams for my NHS Trust.
This has been an active 4 years, during which we were subjected to the Wannacry Ransomware Attack (5 months into the new role!). I found myself co-coordinating the response from IT with a fellow Technical Services Manager, liaising with the CEO and their Director Colleagues throughout the incident, and supporting the Executives on national response calls that were being relayed to the Secretary for Health!
Part of this role is supporting the engineers to complete the technical work to expected quality standards. Another part of this role is developing and contributing to technical strategies, where all of my professional and academic experience is vital.
Today, I am the Networks and Infrastructure Manager for a much larger NHS Trust, and I am enjoying this role.
Working in the Public Sector installs the 'value of a pound (or dollar)'. Money is always tight. So, when I am suggesting or recommending products, I only do so when I know there is value for money, and something my visitors would benefit from.
---
Professional Certifications and Chartered Status
Certifications and Chartered status demonstrate your professional status in the IT Industry.
I am a Professional Member of the British Computer Society (The Chartered Institute for IT). I have also achieved Chartered IT Professional Status. This is an independent standard of competence in the technology industry.
From the BCS Website:-
"Confirm your place among the most influential IT professionals in the IT industry by appearing in the public register of Chartered IT Professionals"
If you click the link above and enter my name, you'll find my registration at the top of the list (990058690) with my current competence verified.
I am also a member of the Institute of Leadership and Management to substantiate my 20+ years as a manager and leader in the IT industry.

I am currently studying to achieve the Cisco Certified Network Associate professional qualification (CCNA)
Undertaking these steps cements your knowledge, experience and dedication to the IT industry. I hope this is reassuring when reading the articles on my site. I take lots of care to get the quality content right for you. It has to be something I am proud to put my name against.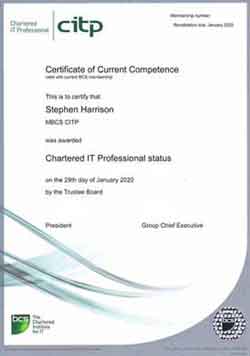 About Me
The eComputerZ Author
Here Is My Chartered IT Professional
Certificate Of Compliance
---
About Me And Why I Created This Site
There are few things in life more frustrating than experiencing computer problems, without any support available. Where do you start? What do you do?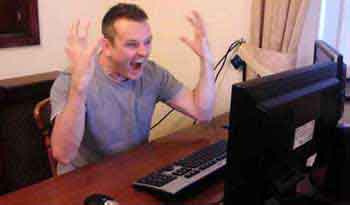 About Me
The eComputerZ Author
That Frustration Computers Make Us Feel Sometimes
With a passion for computing and writing, and over 20 years experience providing computer support and education to both home and business users, I want to share this knowledge and enthusiasm for the industry I love with you.
It may surprise you to know that both you as a home user, and business users, experience similar computing problems e.g. printers fail, tablets drop off the wireless network, malware infects machines.

Understanding computing basics and troubleshooting techniques can make your life easier when the computing gods target you for no good reason. Acquiring computing knowledge is now essential to interact with today's world.
I also happen to think that an awareness of key technology events in the past, and what is going on in the IT world today, is essential in keeping up with the modern world.
This is what my website is all about. I want you to leave my site with more computing knowledge and understanding than before you arrived, and I hope I can achieve this with all my knowledge, experience, and passion.

---
Website Vision and Philosophy
My vision for this site is to develop it in to an online encyclopedia of computing knowledge and experience that is helpful to you.
My philosophy in life is to help others where I can. The very nature of IT support is to help people who are having difficulty with their computer system. My entire working life to date has been dedicated to this cause.
There is a lot of continuous work to do to develop this website into what I have in mind for you. I am enjoying the journey so far. I hope you are too.

---
How You Can Contact Me
If you have any questions or comments, or if you need any computer-related help, complete the form on the Contact Me page, and I'll be more than happy to answer any technology-related questions, or help you out in any way I can.
---
About Me | My Newsletter Subscription
Keep up with the latest eComputerZ news and developments
Sign up to the eBits N ByteZ Newsletter
The free A to Z of performing BIOS updates guide that anyone can follow.

✔ A checklist of important actions to perform throughout the update process.
✔ Additional supporting information to aid your update plans.
✔ My unique approach for sourcing the latest BIOS versions for any motherboard manufacturer.
Sign up below for instant access to the guide, or by going to the Subscription page for more details.
I never share information with third parties and your details are secure.
I aim to issue newsletters at the start of each month.

Share With Others
Find Us On Social Media