Computer Tablets
Computer tablets are next-generation computing devices suitable for convenience and mobile working. This is a rapidly growing market, with new models released all the time.
They signalled the decline in worldwide PC sales when the Apple iPad, released in 2010, proved to be a hit with consumers such as me and you.
Evolving coverage, speed and stability of wireless technology, and the global cultural demand for lightweight, portable computers with instant Internet access, fuelled the popularity of tablet devices.
Processing power, memory and graphics improved to such an extent that components are made smaller with less heat output than in previous computing generations.
These factors and more culminate in to what we see today; the proliferation of computer tablets of all types, sizes and specifications.
Do you know which make and model best suits you at this time? In truth, me neither. Even computing professionals find it difficult to keep up with the latest trends!
Keep up with the latest news and developments




Sign up to the eComputerZ Newsletter



The free A to Z of performing BIOS updates guide that anyone can follow.

✔  A checklist of important actions to perform throughout the update process.
✔  Further supporting information to aid your update plans.
✔  My unique approach for sourcing the latest BIOS versions for any motherboard manufacturer.
Sign up below for instant access to the guide, or by going to the Subscription page for more details.
I never share information with third parties and your details are secure.
I aim to issue newsletters at the start of each month.
Due to the nature of mobile devices and how the market is rapidly evolving, it doesn't make sense to offer you a 'review of the best devices', page.

Information like this becomes outdated quickly. Besides, this type of information is available, and maintained, on hundreds of other websites.
Instead, this section focuses on areas including:-
Your considerations before buying such as performance, features and technical support
The different types of mobile devices such as Slates, Mini Tablets and Tablet Notebooks (or 'Laplets')

Tablet operating systems including the iPadOS, iOS and Android
Computer tablet accessories including screen protectors, battery packs and cases
Mobile applications
---
---
What is a Tablet Computer?
Lots of definitions are out there to describe computer tablets (see what is a tablet computer? Article). However, they all amount to the same basic descriptions, which is basically a highly portable, flat PC with touch screen gesture capabilities, and is between a Smartphone and Laptop in size.
They come with lithium rechargeable batteries and an extended version of a Smartphone operating system such as android, which usually has more features.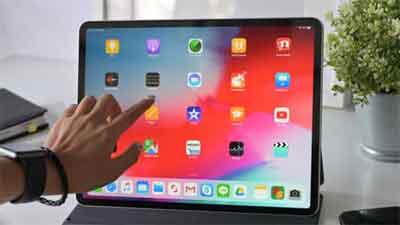 Computer Tablets
This is a Tablet Computer (iPad Pro)
Source:- expertreviews.co.uk
Computer Tablets come with all the mod cons expected in today's devices, including quality audio, camera, microphone and graphics. They also come in different shapes and sizes, and have different terminology such as Multimode tablets, or even Phablets.
Tablets are almost always exclusively wireless connected devices. This is in the form of your home wireless broadband or fibre service, free or guest Wi-Fi offered by pubs, café's or shops.
Tablet devices can also be enabled for connecting to native 4G or even 5G mobile services. This is usually a chargeable service for consumers like us and come with usage limits, so be careful with this option if available on your device.
Mobile Apps are often preferable for accessing modern-day services, games and social media platforms. However, through the app-based web browsers such as Safari or Google Chrome, you have the option to access services though the native desktop view.
Return to the Table of Contents

---
Tablet Notebook Computer
Tablet Notebook Computer is a common name for tablet-based devices that come with detachable keyboards or input devices that swivel 180° behind the tablet screen.
These Hybrid devices are set to become very popular in 2015 and beyond. As the capabilities of tablet devices improve, you can have the best of both laptop and tablet worlds.
We look at the benefits of such a device in today's world. This includes how the different notebook features fit in with your daily life and remain a help, not become a hindrance. 
You could be looking at a more mobile tablet device, or a more powerful but less mobile Laptop device, for example.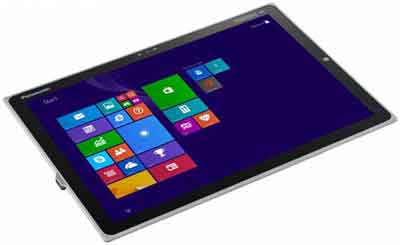 Panasonic Toughpad With 4K Screen Resolution
We also look at what your considerations should be when buying one of these devices. This includes the look and feel. For example, do you need a physical keyboard and if so, do you need the flexibility of a tilt and swivel screen?
Are you away from charging points or sockets for long periods of time? If so, then the specification of your device must include long battery life or include a portable charger, so you are not disconnected whilst on the move.
There are also support requirements. Are you familiar with technology, or a complete Luddite who wouldn't know where to start if something goes wrong? 
Return to the Table of Contents

---
Touch Screen Tablet Computer
A relative of the notebook is the Touch Screen Tablet Computer. The popularity of such devices is ever increasing, and there is more choice in today's market other than the Apple iPad!
As with notebooks, there are considerations to take into account before buying one of the many devices available today. These devices are lighter and more portable than Laptops, and larger than Smartphones. 
They also come with solid-state drives, which tend to be faster than traditional mechanical drives. Have you considered all the options available and paired them with your requirements?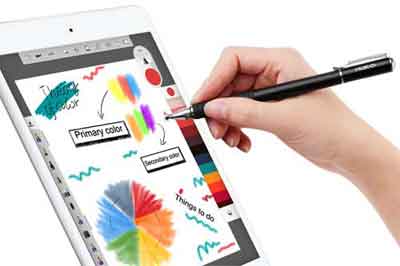 Computer Tablets
Artists Stylus Application
Source:- digitaltrends.com
Again, considerations when buying these devices should include the type of operating system. There are two main players in the market, but both work is different ways. Which one are you most comfortable with?
There is also the issue of providers not necessarily writing their applications for all available mobile operating systems. Therefore, a question to ask yourself is, which applications do I need or use, and are they available for the devices I am thinking of buying?
Look and feel also play an important role in your decision making. Are aesthetics important to you? Is the colour of the case or back of the device important to you? Is it available for the device you are thinking of buying?
There is lots to consider when you put your mind to it.
Return to the Table of Contents

---
Computer Tablet PC Accessories
Accessories are essential in mobile computing today. You see a whole host of different types of accessories in everyday life. For example, how many people have you seen wearing AirPods on the tube, exercising, or walking in parks with their dogs?
Screen protectors are also popular. Although screens are made of toughened glass, then can easily scratch when you put in your bag, or even smash if you accidentally drop your device. However, you don't want the screen protector to impede the touch screen quality.
Tablet cases also help protect your device from the bumps and scrapes of everyday life. There is a whole market dedicated to cases, aiming to meet all manners of eclectic tastes and styles.
Battery packs are another accessory that makes it convenient to be on the move and charge your device throughout the day. Again there are lots or choose from with different battery capacities and ports. Which model suits you best?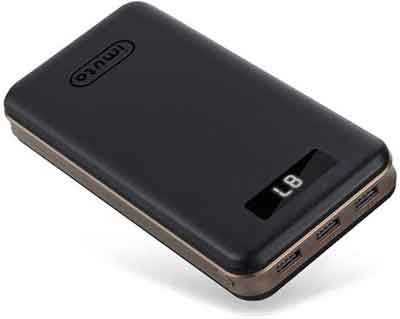 Computer Tablets
The Imuto Power Bank
Source:- amazon.com
Physical keyboards, wall mounts, and accessories such as pens are all available to compliment your device. It is worth looking around and choosing the accessories that are appropriate for you.
The computer tablet accessories part 1 article is a look at a selection of extra devices that can support and enhance our tablet experiences and hopefully make modern living a little easier. Accessories such as protective cases and power banks are reviewed.
The computer tablet accessories part 2 article continues the review of additional devices that can be used to improve our tablet experience. Accessories such as screen protectors and speakers are reviewed.
Return to the Table of Contents

---
Tablet Operating Systems
Tablet Operating Systems need to be understood if you have any chance of working a tablet computer efficiently and effectively.
Apple devices will always come with the iOS or iPadOS operating system. This is because the iOS is the proprietary operating system developed by Apple Inc. 
The majority of other tablet devices will come with a form of Google Android operating system. Each release is named after a sweet treat e.g. Ice Cream, Sandwich and Jelly Bean.
Microsoft Windows is the third operating system available on computer tablets. However, it is the Apple and Google operating systems that dominate the market today.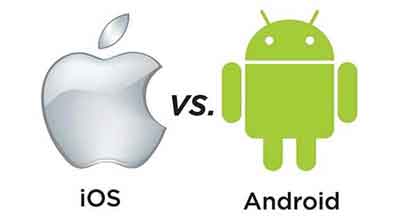 Computer Tablets
Apple and Android Logos
Source:- quora.com
Each update to the operating system brings new features and a slight change to the Graphical User Interface. These updates also fix known bugs and security flaws to make your device safer.
Apple tends to release iOS updates every six months or so, and are available for current and previously released devices for several years, before the hardware is eventually made obsolete, i.e. no further software updates will be made available to that device, but it will continue to work OK in the short and medium term.
Google tends to release a specific version of android that is compliant with the hardware it is applied to. Less frequent updates are made available through the hardware vendor. When Google release a new version of the android O/S, it is usually only applicable to new hardware devices.
Microsoft O/S updates are standardized across all devices with their operating system installed. Bundled releases are issued every month, and a product upgrade is issued every six months or so.
The tablet operating systems article looks at this subject in more detail by comparing the advantages and improvements that could be made to each O/S.
Return to the Table of Contents

---
Mobile App Stores
Apple and Google have mobile app stores that contains many applications covering a whole manner of genres. These are specially written programs for mobile devices that are improving in quality and aligning with native desktop functionality.
Often mobile devices do not have the same features as accessing that service through a web browser on a desktop device. For example, some mobile banking apps do not allow you to set up standing orders.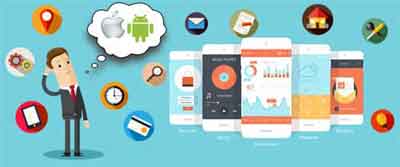 Computer Tablets
Mobile App Stores With Their Variety of Choice - Decisions Decisions
Source:- buildfire.com
It is understood that Apple are more stringent in approving applications for their Mobile App Stores than Google. This could explain why there are more applications available on the Android Store, but there is an inherently higher risk of installing an app on Android that has built in malware.
This does not give Apple a free pass as the perfect App Store. If you look hard enough, you can find 'jailbroken' apps for Apple devices that bypass certain 'genuine' app settings. For example, a jail broken app may prevent ads from running throughout YouTube videos.
These types of applications, although free, can be cumbersome to enable on your Apple device, and just like android applications, could include malware that steals your personal information.
Return to the Table of Contents

---
Kids Tablets
This is a growing industry. Kids tablets are more popular than ever, and all kids want one. They see these devices in the classroom, their friends houses, and on TV. They are part of everyday life.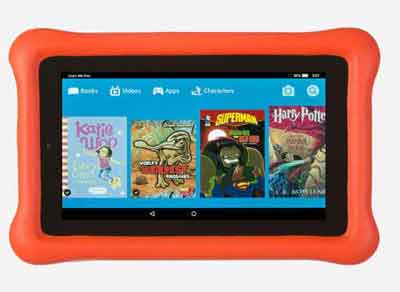 Tablets For Kids With Robust Protection Cases
Source:- consumerreports.org
In this article, we explore the safety precautions you need to consider before buying a tablet for your children. We also touch on the technical specifications to consider when buying kids tablets. It is important they perform and have appropriate storage capacity, otherwise you are likely to have a few tears and tantrums! 
It is also important the device is robust to cope with the rigours of excited children. We all know how easily children can break things, and tablets are no exception. 
Return to the Table of Contents

---
Tablets For Seniors
The Internet and online activity should be available for all people, irrespective of their age. It is pleasing to see there is a marked increase in senior citizens joining the new generations in online activities. Even my parents are online these days!
It is important when choosing tablets for seniors that the right type of device with the right set of appropriate features is bought. There are lots of tablet devices with great features that will help senior citizens navigate modern technology successfully and with ease. One of these devices is the GrandPad.
Click on the image below to see more details about this wonderful device.
In addition to tailored features and a decent technical specification, there is also the importance of online security and safety that should always be passed on to elderly people who venture online.
Unfortunately, they are seen as an easy target for online scammers. These cyber criminals have no scruples and will take everything elderly people have without a second thought.
Let's make such sickening acts a thing of the past by educating ourselves and those who we know that are more vulnerable when online. The tablets for seniors article looks in to this in more detail.
Return to the Table of Contents

---
Mobile Device And Tablet Knowledge
After reading through all the articles above, your understanding of Computer Tablets will be good. However, do you have an understanding of how to make the most of your Tablet investment(s)?
This is where the Mobile Device and Tablet Knowledge comes in. It is a collection of thought and ideas of how to leverage the technology as your disposal. More often than not, we are unaware of the ingenious ideas others come up with for using their Tablet devices. I even contribute with some of my own.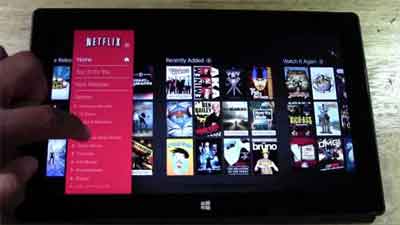 Computer Tablets Can Be Used For
Entertainment Like Watching Netflix
Source:- youtube.com
The article covers ideas for when you are at home alone, with family or on your travels. We also look at how Tablets can be used efficiently when in Education, either as a student or a teacher/lecturer.
I am even putting some ideas from my research into practice, as they never crossed my mind before. For example, I now have a Tablet stand in the Kitchen for use when I am cooking.
Finally, we pull all the thoughts and ideas together and explore how they can be of benefit in your working life and business people.
Return to the Table of Contents

---
Computer Tablets | Final Thoughts
Whatever your tablet of choice is the iPad Air, Samsung Galaxy or the Google Pixel Slate, you must ensure you keep your device safe and secure, but above all, enjoy what your device offers by making use of all the features available that are relevant to you.
Whether it is personal, educational or a business setting, computer tablets PCs are flexible devices that are suitable in a variety of circumstances.
Tablet computers are here to stay, and are set to exceed PC and Laptop worldwide sales. Falling prices of worldwide tablet devices is helping!
Just like computers, don't let different specifications, operating systems or accessories grind you down when buying your device. Know your needs, find a device that meets those needs (and price range!) and take the plunge.
Take a look at this PC Mag article for some tablet recommendations.
Share With Others
Find Us On Social Media