---
Welcome To The eComputerZ Monthly Newsletter
---
E-Mail not looking right? View Online
Please wait a few minutes for the newsletter to appear on the site if you open the e-mail immediately following its delivery
---
Welcome to the October 2021 edition of the eBits n ByteZ newsletter. I hope you are well.
Life has been very busy, outside eComputerZ, therefore no new articles this month :(
However, what I have done, is put together a list of tools and utilities that I use, and, I think, will also benefit you and your home computing activities. In addition, the Strong Random Password Generator has had a look and feel revamp. Take a look.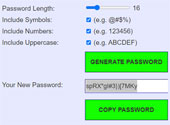 ---
eComputerZ Tools and Utilities
The first tool to mention is Revo Uninstaller. This program removes files and registry entries that are left behind by the uninstall executables that come with the application.
I've been using the free version for years, and it does help keep computing devices cleaner, and efficient.
The next tool to tell you about is Defraggler. This is a disk defragmentation tool, and essentially puts your hard disk back in to logical order, so your files and applications can be sourced and retrieved a little more quickly.
I've found this tool comes in handy when storing large files locally.
OpenDNS is essentially an open DNS protection service that enables you to block offensive content at your router level. Simply change your DNS settings and OpenDNS will manage content filtering on your behalf.
I've recommended this in the past as an alternative to paid solutions. Today, it protects all kinds of internet-connected devices, including mobiles and Smart TVs.
Comodo Cleaning Essentials and Combo Fix are both stealth malware removal tools, and are useful when traditional anti-virus programs are unable to remove persistent malware.
Comodo is still useful today, and I've used it recently on a case. However, Combo Fix is a little long in the tooth, and hasn't been updated for operating systems above Windows 7, which is a shame because it was one of my go-to tools. I thought I would mention it here in case you find it works for you.
---
Tools and Utilities On The Wider Web
I think nanite is fantastic. Simply tick the programs you want to install, and press the button to make it happen, silently.
I've lost count of the number of times I've used this over the course of my career.
f.lux is another useful tool that adjusts your device's colour scheme to the time of day, protecting your eyes.
I think we all know, using devices later at night can affect sleep patterns. This tool is great in supporting your health.
Finally, I've included the techtalk site for its references to Foxit Reader, VLC, and 7-zip.
Foxit is better than Adobe Reader, and likely more secure, for reading PDF files. The VLC media player work with almost all video formats, and 7-zip is an excellent compression tool, which is also used in some corporate settings.
---
Quick Article Reminder
Below is a quick list of previously published articles that you may find useful. This month's theme is Educational Articles.
Common PC Troubleshooting Answers
Troubleshooting Hard Disk Drive Failures
---
Previous Newsletters
I thought it was worth mentioning previous Computer newsletters. They are packed with unique content that I know new subscribers are unaware of.
For example, the January 2021 Edition includes articles covering topics such as multi-factor authentication, Identity Theft, and Software Patching.
The June 2021 Edition covers the famous Stuxnet Virus Attack, and what happened with Cambridge Analytica that ended up with Mark Zuckerberg issuing a public apology.
Previous newsletters are worth reviewing to make sure you haven't missed out on anything important and/or interesting.
---
Final Thoughts
Thank you for taking the time to read this month's newsletter. If you need any help, or would like to get in touch for any reason, please do so.
Until next time, take a moment to review my social media platforms. You are welcome to like or follow.
---