ComboFix In Action
by Gareth
(Winnipeg, Canada)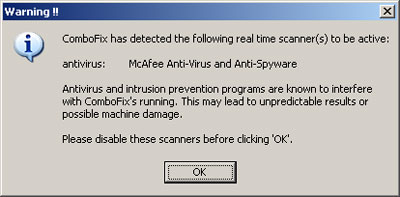 ComboFix Anti-Virus Warning
I use Combo Fix to remove stubborn Malware other anti malware programs fail to remove. It seems to be good that way.

When you install ComboFix one of the first things it does is create a System Restore Point and backup your computer's Registry.

This is so you can revert the status of your computer back to its current state in the event something goes wrong.

If you have any installed anti virus or anti malware programs running, you will receive an on-screen warning.

ComboFix closes these programs down for you, but it is advisable to do this yourself first.

ComboFix then starts scanning your computer for infected files. It is usually quick, but this depends on the nature of your infections and how many you have.

ComboFix doesn't look particularly impressive compared to other anti malware programs. However, it is good at removing Rootkits and other types of Malware.

When it is done scanning your computer, it will reboot it, then prepare a log report when your machine has restarted.

I've never looked at the report. It doesn't make much sense to me. All I know is MalwareBytes didn't remove some infections my computer had, but ComboFix did.

I can't recommend this tool highly enough!



Thank you, Gareth, for your overview of ComboFix.

I have always considered ComboFix one of your last resorts in your fight against Malware.

It is a program that is usually reserved for seasoned IT Professionals.

This is due to the nature of the program and the damage you can do to your computer if you try and apply some Log Report recommendations when you don't know what you are doing.

Having said that, I know there are numerous home computer users that are very technically savvy. Therefore, the decision on whether to use this tool is entirely up to you.

I can believe that ComboFix has the ability to remove certain types of Malware that other excellent tools such as MalwareBytes struggle with.

However, as ComboFix is an advanced tool that does not monitor your computer in real time, I don't see it as a permanent replacement for your installed anti virus and/or anti malware program(s).

My advice to you is, only use this tool if you know what you are doing. If you are feeling brave, then take a look at this excellent ComboFix tutorial on the Bleeping Computer website.

Note, ComboFIX is not supported on Windows 8.1 at this time.