La PC Menciende Pero No Responde A Ninguna Acción
by Carlos
(Cartagena de indias (Colombia))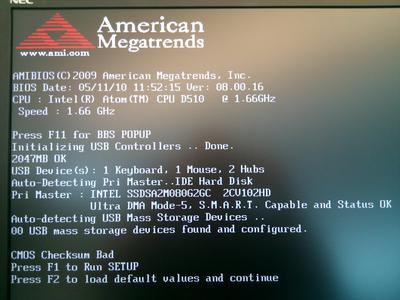 AMI BIOS Bad Checksum Error Message
Hola mi nombre es Carlos Torres.

La pc enciende pero en el pre arranque no responde a ninguna accion. Solo queda en la pantalla una imagen con el logo de American Megatrends y letras que indican las teclas de las diferentes funciones tales como: entrar al Bios, boot menu, etc.

No se que problema pueda tener ya que no escucho ningun pitido porque mi gabinete no tienes esa opcion.

Les agradezco si me pueden ayudar, pues ya busque ayuda en la web pero no he dado con el problema.
Muchas Gracias desde Colombia.

Aqui les dejo una imagen de como queda la pantalla.



Query Translated to English
Hi my name is Carlos Torres.
The PC is on but the pre start does not respond to any action. There is only one image on the screen with the logo of American Megatrends and letters indicating the keys of different functions such as entering the BIOS, boot menu, etc.
I can not have a problem because I do not hear any beeps.
I would appreciate it if you could help. I seek help for the web but I cannot find an answer.
Many Thanks from Colombia.
I have included a screenshot for information.
My Response in English
Many Thanks Carlos for writing to me.
Looking at your screenshot there is an error towards the bottom titled
CMOS Checksum Bad
. Usually pressing the
F2
key enables your PC to boot up, although I am aware on occasion this doesn't work too.
The most common reason for this error is your PC's CMOS Battery is faulty. This is usually down to the fact that the battery is either running low or has expired completely.
The solution, therefore, is to replace the battery, located on the motherboard, with a new Battery.
Almost all motherboard batteries use a CR2032 Lithium Ion Battery (Li). Your local computer repair shop should stock these. You can also buy them over the Internet from outlets such as Amazon, eBay, DABS etc. They are usually cheap too.
Fitting a new battery is easy:


Switch off and unplug your computer


Remove the chassis lid of your machine and locate the battery. I have added an image for reference


Lift the battery out of it's container. I have found on some motherboards the battery is held in by little clips. You can usually push them back to release the battery. Sometimes you need the help of a small screwdriver to ease it out of position. Be careful not to damage anything!


Fit your new battery. Ensure it clips into place and is flat and secure


Re-assemble your computer chassis, plug back in and switch on


It is likely you will need to rest your computers clock. Go into the BIOS/CMOS settings and rest to today's date and time


Your computer should now boot normally

If this does not work I am aware of other reasons that can cause this Checksum error, albeit not as often as a depleted battery, including:



Faulty motherboard (New motherboard usually required)


Not shutting Windows down properly i.e. via Start/Shutdown. Booting using the F2 key then shutting down properly usually solves this issue


Virus infection


Faulty on-board device, such as a network card. Try disabling each device in turn until the fault is identified


Faulty peripheral. Try removing printers, scanners, USB hubs etc. until the fault is identified


Outdated Device Drivers. Boot to the Operating System and update your drivers


I hope this is of some help for your Carlos. Please let me know how you get on, and how you manage to fix your problem.
Thanks,
Steve
My Response Translated to Spanish
Muchos Carlos Gracias por escribirme.
En cuanto a su pantalla hay un error hacia la parte inferior titulada
CMOS Checksum Bad
. Por lo general, presionando el
F2
Tecla permite a su PC para arrancar, aunque soy consciente de vez en cuando esto no funciona demasiado.
La razón más común de este error es CMOS batería de su PC está defectuoso. Esto es por lo general al hecho de que la batería está funcionando ya sea bajo o ha expirado por completo.
La solución, por tanto , consiste en sustituir la batería , que se encuentra en la placa base, con una nueva batería.
Casi todas las baterías de la placa base utiliza una batería de iones de litio CR2032 ( Li). Tu tienda de reparación de equipo local debe almacenar estos. También podrá comprar a través de Internet en puntos de venta como Amazon, eBay, DABS etc., por lo general son baratos también.
El montaje de una nueva batería es fácil:


Apague y desenchufe el ordenador


Retire la tapa del chasis de su máquina y localizar la batería. He añadido una imagen de referencia


Extraiga la batería de su contenedor. He encontrado en algunas placas base que la batería se mantiene en por pequeños clips. Generalmente, usted puede empujar de nuevo para liberar la batería. A veces se necesita la ayuda de un pequeño destornillador para aliviarlo de su posición. Tenga cuidado de no dañar nada!


Adaptarse a su nuevo batería. Asegúrese de que encaje en su lugar y es plano y seguro


Vuelva a montar el chasis del equipo, conecte de nuevo y se enciende


Es probable que necesite para descansar su reloj de computadoras. Entre en la configuración del BIOS / CMOS y descansar hasta la fecha y la hora actual


Su ordenador debería arrancar con normalidad

Si esto no funciona, soy consciente de otras razones que pueden causar este error de suma de comprobación, aunque no tan a menudo como una batería agotada, incluyendo:



Placa base es defectuosa (placa base nueva por lo general se requiere)


No cierre de Windows de manera apropiada, es decir, a través de Inicio / Apagar. El arranque con las teclas Tecla F2 luego de apagar correctamente suele resolver este problema


Infección por el virus


Defectuoso a bordo del dispositivo, como una tarjeta de red. Pruebe a desactivar todos los dispositivos a su vez, hasta que se identifique el fallo


Defectuoso periférica. Intente quitar impresoras, escáneres, hubs USB, etc hasta que se identifique el fallo


Controladores de dispositivos obsoletos. Arrancar con el sistema operativo y actualizar los controladores


Espero que esto sea de alguna ayuda para su Carlos. Por favor, hágamelo saber cómo le va, y cómo se las arreglo para arreglar el problema.
Gracias,
Steve