Sound Card Not Working? Learn How To Fix It Here
Is your Sound card not working? Here, we look at some things you can do to fix sound card problems.
Built by people, for people; computers will always have hardware and/or software issues from time to time. Sound cards are no exception.

The IT technicians secret approach to resolving such issues, is to start from the outside-in. What do I mean by that?
I have outlined five approaches for troubleshooting sound cards based on the outside-in principle. You start with your computer's peripherals, then the software, then the internal components.
This approach is a proven method to get things working again on your machine. All becomes clearer after you finish reading the article. Listed below is a link to each part of the troubleshooting process.
Keep up with the latest news and developments




Sign up to the eComputerZ Newsletter



The free A to Z of performing BIOS updates guide that anyone can follow.

✔  A checklist of important actions to perform throughout the update process.
✔  Further supporting information to aid your update plans.
✔  My unique approach for sourcing the latest BIOS versions for any motherboard manufacturer.
Sign up below for instant access to the guide, or by going to the Subscription page for more details.
I never share information with third parties and your details are secure.
I aim to issue newsletters at the start of each month.
---
Sound Card Not Working | Check the Peripherals
If you find your audio card has stopped working, there are a few quick checks you can make on your external speakers.
If you have a Laptop, or you don't have speakers connected to your computer, skip this section and move onto the control panel test section below.
Check your speakers are plugged into the mains and switched on at the power socket, and on the speakers themselves if appropriate;
Check the audio cable for the speakers is plugged into the correct sound card port (Line In);
Remove the speaker's audio cable from the sound card and plug it back in. It is surprising how often computer wires look like they are plugged in correctly only to 're-seat them' and find it resolves the problem;
If you suspect your speakers are the culprit, you can try plugging them into another known working computer, or even something like an MP3 player, to confirm whether your speakers are in working order.
If you confirm your speakers are working properly, the next step is to look at any potential issues with your computer software.
Return to the Table of Contents

---
Check The PC Software | Windows Sound
Sound card not working still? This section looks where to check for sound card problems within your computer's operating system.
It is surprising how the simplest things can catch you out. Even seasoned computer technicians are caught out from time to time. I certainly have been.

Low Volume Control
If you still have a problem, right-click the speakers icon and select open volume mixer from the menu. Confirm the volume is turned up for all the applications you have loaded.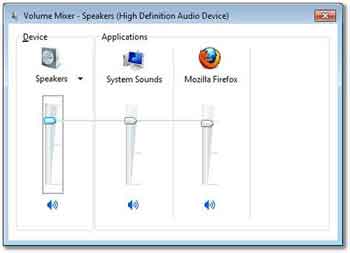 Sound Card Not Working
Volume Mixer Showing Sound Adjustment Options For Each Loaded Application
Return to the Table of Contents
---
Check the Computer Software | Control Panel Sound Test
If you are still having problems getting things working again, the next step is to test your card using the control panel.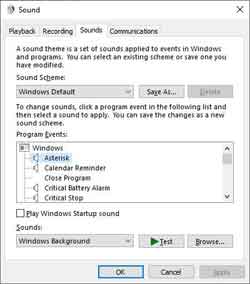 Sound Card Not Working
Testing Options
If you still hear no sound recheck your windows sound settings as shown above. If the sound test option is greyed out like in the image below, the next step is to check your device driver.

Sound Card Not Working
Potential Driver Or Hardware Issues If The Test Option Is Greyed Out
Return to the Table of Contents
---
Check the Computer Software | Device Manager
This is where things get a little complicated. Therefore, I have broken the steps down into extra detail with images. Read through each step carefully, then decide if you want to give it a go.
Load File Explorer, right click 'This PC', then left click Properties from the menu.

Select the Device Manager option in the top left-hand corner.
Sound Card Not Working
How To Open The Device Manager In Windows 10
Double left-click your 

Sound Card Driver.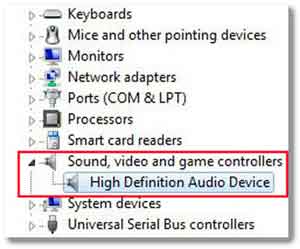 Sound Card Not Working
Open Your Sound Card Driver Properties
Select the correct sound card device driver if there are a few options listed. One way to do this is to know your card's make and model. Refer to the creative labs sound card drivers tutorial for a reminder;


Does the device status say:- The device is working properly on the General tab? If so, work through all the steps above, just in case you have missed something obvious (It happens to the best of us!).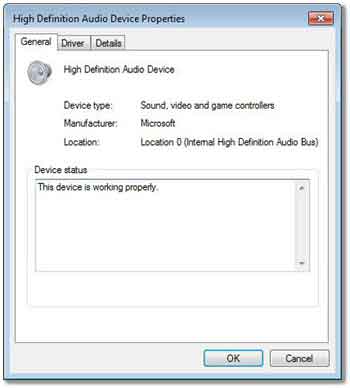 Sound Card Not Working
A Working Sound Card Device Driver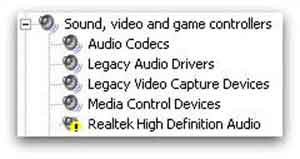 A Sound Card Device Driver Issue Sign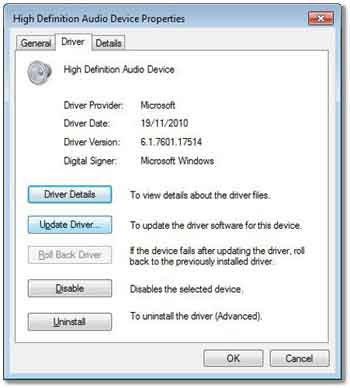 Sound Card Device Driver Options
The first option searches for the latest device driver, including searching the Internet, detecting and installing the Microsoft Windows version. 

This is OK, but it is better if you have the device drivers from your audio card manufacturer installed. Their drivers are better suited to your sound card settings.
 
Therefore, review the creative labs sound card drivers tutorial, download your sound card drivers then select the second option. Browse your computer and select the device driver.


When the latest driver is installed, repeat the check sound card steps above to see if this has solved your problems.


If the sound card problem continues to occur, uninstall the driver, then run through your set-up procedure to re-install. 

This is quite technical. Only proceed if you are confident, otherwise consult your local computer repair shop for assistance.
Return to the Table of Contents

---
Check the Internal Components
If you are still having problems, and you are confident you have followed the steps above correctly, review the how to install a sound card tutorial. Remove and re-install your PCI sound card.
If this does not work, remove your sound card and plug it into another PCI slot on your motherboard.
If this does not work, then it is likely you have a faulty sound card. If you are not professionally producing music etc., on your PC, I would suggest buying a cheaper sound card as a replacement.

It is possible there is a corruption in the registry of your Operating System, but this is highly unusual for this type of issue. You could try re-installing your Operating System. However, this would be extreme.
Computer hardware components do fail, and audio cards are no exception. If you have the knowledge and confidence, you could plug your current audio card into another computer.
However, at this point it is worth seriously considering investing in a new audio card, especially if your sound card is integrated into the motherboard. If all else fails, take your computer to your local repair shop.
---
Final Thoughts
The principles of fixing sound card issues have not changed  through the various versions of Linux and Windows released over the past few years.
However, the options you have and the buttons you press can change ever so slightly in some cases, which is confusing, especially when you are not familiar with a new operating system.
The Windows Club have an excellent article on fixing sound issues on Windows 10. Written by a certified Microsoft professional. Well worth a read.
Share With Others
Find Us On Social Media