Computer-Help Provided By Site Visitors
Computer-Help is a collection of informative suggestions, advice and recommendations from contributors to this website.
I aim to bring to your attention those pages that are useful as you attempt to fix your own computer-related problems.
One contributor suggests you should always download drivers manually whenever possible. Another contributor, Claire from Massachusetts, resolved an issue with her printer leaving smudged ink marks on her print-outs.
This is a regular occurrence, especially for inkjet printers, so it is worth reviewing Claire's page, so you know what to do if/when it happens to you. It is also worth noting that printing is generally becoming less frequent.
The cost of printing consumables, such as the ink cartridges/toner, and the cost of the printers themselves, is rising as the cost of living crisis develops. With the advent of cloud computing, do you need a printer after all?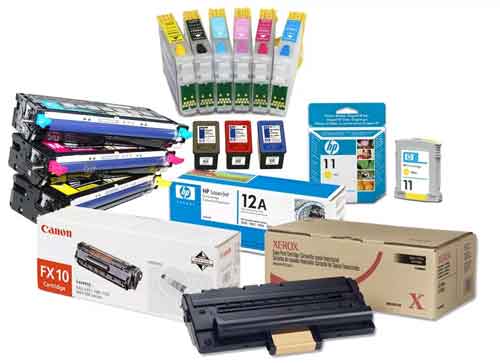 Computer-Help
Printing Consumables
There is a wealth of knowledge here, all in one place, for you to take a look at. You also have the opportunity to comment on any contribution (which is a Social Media standard that has been in place for many years now.)
You could say this is the eComputerZ forum where like-minded people interested in technology and have something to say, can share their views and experiences, for everyone to review and use in their daily lives.
Keep up with the latest news and developments




Sign up to the eComputerZ Newsletter



The free A to Z of performing BIOS updates guide that anyone can follow.

✔  A checklist of important actions to perform throughout the update process.
✔  Further supporting information to aid your update plans.
✔  My unique approach for sourcing the latest BIOS versions for any motherboard manufacturer.
Sign up below for instant access to the guide, or by going to the Subscription page for more details.
I never share information with third parties and your details are secure.
I aim to issue newsletters at the start of each month.
Now it is your turn! I would love to learn what you know about computers, mobile phones, tablets, malware and anything else technology related. I am just as eager to learn new things as everyone else. The IT industry is so big, it is impossible to know everything, about everything, and every day is a school day.
Click to share your experiences of computer problems and how you fix them. Any computer-help you are willing to share helps everyone to avoid or fix computer problems, quickly and easily.
This is your place to share with the world what you know. It does not have to be complicated. Even the simplest of issues and fixes can be a lifesaver for someone else! This is something I have seen and experienced over the years.
For example, it could be how to create a simple desktop shortcut to an application, or even to a specific web page, such as online banking, or e-mail; or, how to add a link to a web page into Edge favourites. You would be surprised how many people do not know how to do the "simplest" of tasks.
Also, take a look at the contributions from other visitors. Please add your comments where you can. Thank you. 
Attention!
All submitted contributions are reviewed (in a timely manner, of course) before publication on this page.
---
Computer-Help BIOS-Related Contributions 
Also, before you take a look at the wealth of knowledge and information below, it is worth noting that the following visitor contributions are available for your perusal on the American Megatrends BIOS Update page. These contributions include:-
BIOS Access When Fast Boot Is Enabled
What is Fast Boot? How do you access it in Windows 10? How do you disable it in BIOS/UEFI? Often overlooked for maintaining/patching, The BIOS/UEFI is just as vulnerable as other software on your device, and should be patched in the same manner.
La PC Menciende Pero No Responde A Ninguna Acción
What do you do when your computer is stuck on the BIOS display screen? Carlos from Colombia had this issue. What Carlos did not notice was a message right at the bottom of his screen which pointed to a bad CMOS battery. Note the page is written in Spanish, but modern web browsers have inbuilt translators, so reading should not be an issue if Spanish is not your first language.
Forgotten BIOS Password reset Steps
We all have too many passwords to remember these days, and an infrequent password used such as this can easily be forgotten. Take a look to fund out how you can reset this password using IT computer professional techniques. Remember to apply a complex password, so it is more difficulty to hack. Use the strong random password generator to great your unique password.
BIOS Update Via Program or Software Utility Available
This contribution focuses on what you can do to identify the BIOS types and version on any device. Not all computer devices are willing to give up such technical information easily, especially when the BIOS screen (with this detail) only fleetingly appears on your screen.
BIOS Update By Command Prompt
Parth from India shared his knowledge of how he updates his computer's BIOS using the Windows command prompt using a six-step approach. This can be useful if you cannot get Windows to load properly.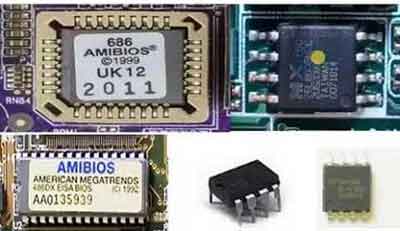 Computer-Help
Computer BIOS ROM Chips
---
Computer-Help (The eComputerZ Visitor Forum)
Contribute your ideas, thoughts, opinions, hints, tips, troubleshooting techniques, tutorials and suggestions on all things technology and computer related.
Other Visitors Contributions
Click below to see contributions from other visitors to this page...

---
For more computer-help, take a look at the eComputerZ  Sitemap. In addition, the following pages are excellent sources of further information.