Free Computer Help That is Easy To Understand

Introducing the free computer help website packed with useful articles and tutorials to choose from.
Each article enables you to understand the everyday technology you use, making your life easier.

From expanding your computing knowledge to basic troubleshooting techniques, this site navigates you through all the confusion in a simple, easy to understand way. 
We also reflect on the history of computing. The past is an important lesson for all, and ignoring this is not an option.

We also keep tabs on what is happening in the computing world, to prepare for what is to come in the fast-moving IT industry. The Twitter Technology News Wall is a good reference to all things #technology related.
Keep up with the latest news and developments




Sign up to the eComputerZ Newsletter



The free A to Z of performing BIOS updates guide that anyone can follow.

✔  A checklist of important actions to perform throughout the update process.
✔  Further supporting information to aid your update plans.
✔  My unique approach for sourcing the latest BIOS versions for any motherboard manufacturer.
Sign up below for instant access to the guide, or by going to the Subscription page for more details.
I never share information with third parties and your details are secure.
I aim to issue newsletters at the start of each month.
An Understanding of Computing Basics & Troubleshooting Practices
The best place to start is the computer basics section. Understanding the fundamentals of how computers work is essential, whatever hardware or software you are using. Here you also find articles introducing you to cloud computing, how the Internet works, and fibre broadband.
Armed with fundamental knowledge, head over to the troubleshooting section.  Here you will find articles teaching you the principles of how to troubleshoot your devices like a professional, including home wireless networks, troublesome hard disk drives, and what computer repair technician tools you need to support your endeavours.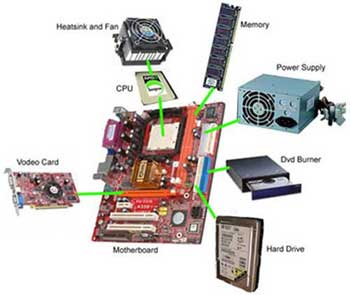 Computer Help
Typical Computer Hardware Components
Courtesy of warepin.com
You can then use your new-found troubleshooting principles and acquired tools to resolve issues, such as when your sound card is not working.
Understanding and troubleshooting computer hardware is not as complicated as you may think. With my guidance, This is something you can do yourself.

Developing Your Computer Knowledge
It is now time to improve or recap on your computer knowledge.  This section teaches you about certain hardware components in more detail, and specific software-related activities that you can undertake yourself.
One of the most confusing activities is updating the BIOS (or Basic Input Output System), and the UEFI Firmware. For this reason, I created a 4-part tutorial on the American Megatrends BIOS Update process, that gives clear and concise instructions that every adult and teen computer whizz can follow.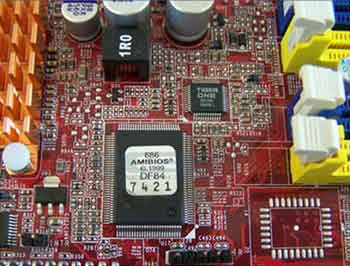 Computer Help
The American Megatrends BIOS Chip
This section includes articles on how to upgrade RAM, and how computer monitors work, and also the Apple iPad manual which focuses on gestures, multitasking, settings and application management. This knowledge is essential for making the best use of modern tablet technology.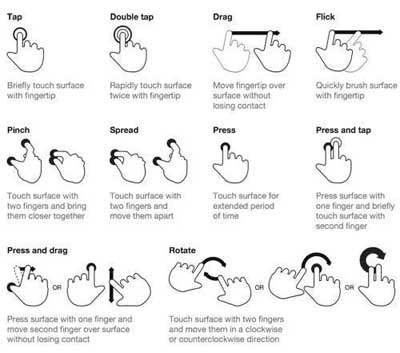 Computer Help
Apple iPad (iPhone) Gestures
Computer Help For Mobile Devices
Mobile computing is ubiquitous today. Smartphones and computer tablet devices are everywhere and appear to be growing in both popularity and capability. You are likely reading this on a mobile device right now!

No matter how good (or bad) you think you are using mobile devices, there is always something new to learn and understand.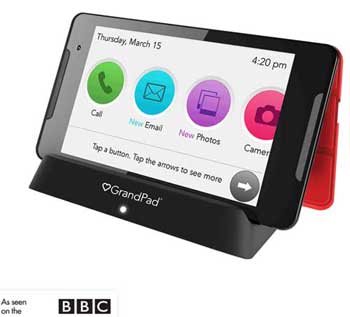 Computer Help
The GrandPad is a Tablet Device Customised to Help Older People Become Connected
This section is packed with information. We explore what computer tablets are and explore the popular operating systems that come with modern devices.
We also look at specialist devices and the positive impact they have on our lives, including kids tablets and tablets for seniors.  
Do Not Forget About Security or Underestimate Its Importance in Today's World
Cybersecurity is the buzz name for keeping you and your family safe online. A lot of you are aware of online fraud, identity theft and ransomware attacks.
We have all read the stories in the newspapers, and I suspect you know someone (yourself included) who was the subject of cyber crime.
To protect yourself from different types of malware attacks you need to understand what is out there, and how to protect yourself, including Identity theft, multi-factor authentication, and software patching.
Free anti-virus software is usually good quality these days. There is no need to spend a lot of money on well-known commercial anti-virus software. Take a look at the tutorials that teach you how to set up security software like a professional.
Cybersecurity is a vital part of the IT Industry, and so I intend to provide you with all the computer help I can to protect yourself and stay safe.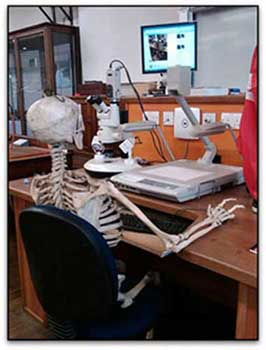 Computer Help
Keep The Cyber Criminals Waiting Forever For Your Money
The Importance of Computing in the Past to Computing in the Future
It is important to acknowledge the past in computing. Where we are today, for good and for bad, is down to the actions and decisions that are written in history.
Take a look at the 2010s Computer History section. The key events throughout this decade set the precedent for what we are seeing today. The technological advancement is staggering, and should not be underestimated. The future is both exciting and concerning.
The purpose of this section is to delve deeper into some of these momentous events, such as the Wannacry attack of 2017.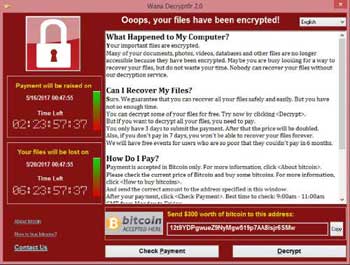 Computer Help
The WannaCry Ransomware Attack Screen
On the 12th May 2017, the largest Ransomware event in history happened. The WannaCry Ransomware Attack affected hundred of thousands of computers worldwide. It is the go-to cyberattack to extort money from the victim.
This type of attack encrypts your files e.g. documents, music, photographs, and the Cyber Criminal asks for a ransom to be paid to release them. Never Pay The Ransom! It is unlikely you will get your files back in working order, if at all
Legacy Software Aide-mémoire
The archive section focuses on Old Software and explains why legacy software exists and how this is 'perpetrated' by the IT Industry for both good and insidious reasons.
Legacy software such as Internet Explorer is incompatible with today's Operating Systems. Legacy Operating Systems become obsolete and are subject to increased cyberattack as vendors stop producing security patches.
It is crucial to know about legacy software, including articles covering older cybersecurity tools. Are you still using an older version? Time for an upgrade!
Are you generally using old software and unaware of the risk and consequences of not upgrading to software that is in support?
This section looks at these issues and also holds a collection of legacy software tutorials that are a useful aide memoir if you are still using old software, and are committed to the continued use of old software. 
Support Tools
This is a new section that focuses on providing good quality tools that improve the computer help experience you receive on my site. These tools often support a theme or a specific article.
For example, the account hacking article underlines the importance of assigning different complex passwords to each of your online accounts. There are significant risks online and if hackers get hold of your only password for one account, they can access them all.
So, instead of creating complex passwords, how about visiting the strong random password generator tool. Here you can create secure passwords for each of your accounts, without having to leave the eComputerZ site.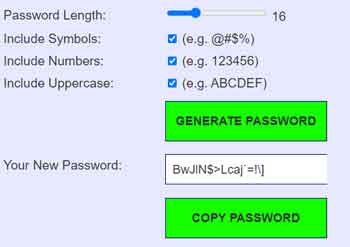 Computer Help
Strong Random Password Generator tool
What eComputerZ Offers YOU!
It may surprise you to know that both you and business users experience similar computing problems, and ask similar questions.
Whether you work from home, use a PC at work, or are a casual PC, or Mobile Device user, there is something here for everyone of all ages.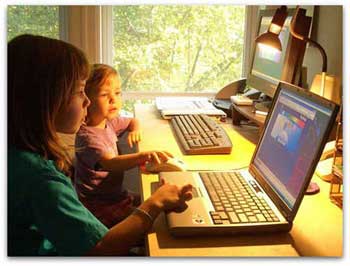 Computer Help Should Be For Everyone, Everywhere, Whatever Your Knowledge or Ability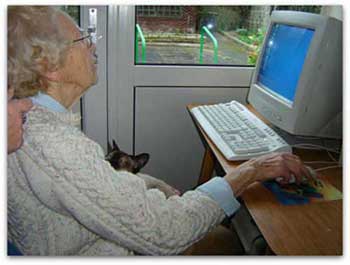 Computer Help
Age Does Not Matter - Computers Are For Everyone!
Learn from my education, mistakes and successes, the business secrets I am sharing with you are guaranteed to save you money.
If you are an entry-level technician, or a home user who would like to learn more about how to fix broken IT equipment, there is plenty of material for you throughout this website.
Some site visitors have written their own Computer-Help web pages covering a variety of software recommendations and troubleshooting stories.
If you are concerned about your safety online, there is lots of information on Cybersecurity. If you are nostalgic, take a look at the Computer History section.
Also take a brief look at the About page under the Extras heading for an insight in to my background and motivations for creating this website.
Providing computer help free of charge is a rewarding experience for me, and learning about computer support is fun and easy to put into practice.

Take your first steps now.
Share With Others
Find Us On Social Media