How Modern Tablets For Seniors Can Improve All Our Lives

Modern tablets for seniors are essential to keep in contact with family and friends; some of which may be living in other parts of the world.
Elder members of our society can often be isolated, and this can be a trigger for loneliness that is detrimental to people's mental health. Thankfully, today's modern technology means our friends, family and loved ones are only a few taps away, wherever they are in the world.
The evolution of modern technology, and in particular over the past 20 years or so, means there is a steep learning curve for some senior citizens in how to use today's technology, even when 'ease of use' is a priority for manufacturers.
Some older people are fine with technology and can pick up how to use tablet devices quickly and easily.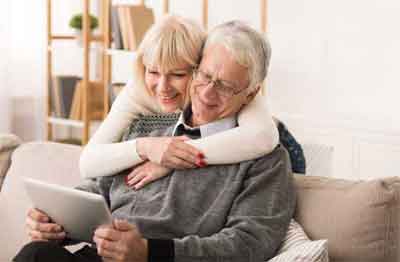 Tablets for Seniors
It Doesn't Matter How Old You Are!
Source:- caring.com
Fortunately, there are some tablets for seniors that are designed specifically to help people of older stature. In this article, we look at some considerations when buying tablet computers, including the technical specs and what they will be used for.
We also look at online safety, which is something everyone of all ages that are online should take notice of, and put in to practice.
Keep up with the latest news and developments




Sign up to the eComputerZ Newsletter



The free A to Z of performing BIOS updates guide that anyone can follow.

✔  A checklist of important actions to perform throughout the update process.
✔  Further supporting information to aid your update plans.
✔  My unique approach for sourcing the latest BIOS versions for any motherboard manufacturer.
Sign up below for instant access to the guide, or by going to the Subscription page for more details.
I never share information with third parties and your details are secure.
I aim to issue newsletters at the start of each month.
---
What Are The Considerations When Buying Tablet Computers For Senior Citizens?
It is worth noting from the off that tablets for seniors, or for anyone in fact, cannot perform all the tasks we are familiar with when using laptops or desktop computers. Tablet apps are effectively cut down versions of their laptop and desktop equivalents.
For activities such as surfing the web and checking social media accounts, tablet technology is what you want. However, if you are into photography and image manipulation, or writing large documents, for example, tablet technology is less appropriate.
If you have used a smartphone before, then tablet technology is effectively a larger version of smartphone technology. This means they are easier to use than traditional devices, and smartphones, which is a huge bonus for introducing older people to new technology. 
The popularity of social media and the increase in silver surfers means it is easier now more than ever for older people to get in touch with old friends from the past. Traditional e-mail correspondence  and video calls are all possible.
With the increase in numbers of senior citizens online, the sharing of moments and photographs from the past is also increasing. This means there are many old photographs that are just a click, or tap, away, Reminiscing about the past can bring comfort. 
When choosing a tablet device, there are various factors to be taken into consideration, including cost, features, and special needs for elder people such as hearing and visual impairment.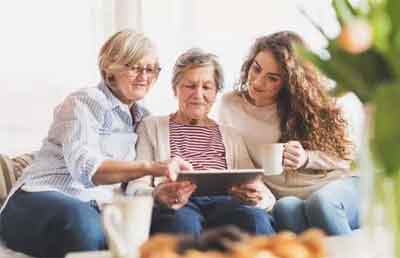 Tablets for Seniors
Tablets Are Often Easier To Use Than Traditional PC's or Smartphones
Source:- choose.co.uk
Many older people like to read. My mother and grandmother were avid readers of traditional books. Today these are available online, and tablet devices such as the Amazon Kindle Fire are ideal reading tools.
However, failing eyesight can make modern reading a challenge, which is a shame because often online books are cheaper than their physical counterparts. Taking all of your books with you on your travels is a bonus for bookworms, and it saves storage space for all those physical books you do not need any more.
It is therefore important tablets for seniors come with certain support features, such as larger fonts and text text-to-speech apps. Apps such as Oscar Senior makes enlarging fonts a simple task.
A stylus make executing gestures much easier, too, especially for those who have arthritis or similar conditions that cause unsteadiness of the hands. The screen size is also important, as larger fonts can be viewed easily.
Other features to consider for older people include:-
Icon or screen size adjustments
Magnification so specific areas of the screen can be focused on
Good audio capability so sounds can be heard clearly through hearing aids
Onboard voice assistants that explain what is happening
Remote caregiver controls that enable support when things go wrong
Apps to support memory functions, like puzzles or mind-stimulating games
Reminder apps for taking medication, loved one's birthdays, anniversaries etc.
It is also worth considering tablet covers and screen protectors to protect the device from drops and spills.
In the next section, we look at some devices on the market that are suitable for senior citizens.
Return to the Table of Contents

---
What Are The Technical Specifications You Should Consider For Silver Surfers?
We have mentioned large screens and accessibility features as key components of tablet computers for older people (the screen should be bright to aid visibility, too). However, what are the other technical specifications that should be considered?
Some devices come with features that enable larger buttons and icons, so they can be seen and used clearly. The weight of the device should be light as possible, so they can be carried around easily. A long battery life should also be considered to reduce the need for constant device charging.
Some tablet-type devices come with detachable physical keyboards and a traditional operating system such as Microsoft Windows that will actually enable full application features that go beyond simple Internet surfing.

It is also worth checking out tablet computer accessories to aid use around the home. For example, there are tablet stands that make it easy to watch a film or have a video chat with family and friends, without having to hold the device for long periods, or trying to prop them up. Click the image below to see an example.
Other features can be found on tablet devices such as the Amazon Kindle Fire, such as the Voice View screen reader. This enables most of the tablet's features to be spoken, so the visually impaired can confirm the action the intended to undertake is the one that was undertaken.

Devices also come with other accessibility features such as screen magnifiers so zoom into specific areas of the screen. Subtitle features for films are also an excellent addition for those that are hard of hearing.

Other devices come with assistant menus that enable you to access physical buttons and all areas of the screen by using gestures (tapping or swiping). This is useful of those with motor control impairments.
The GrandPad, from Tech silver, is one of the popular tablets for seniors on the market.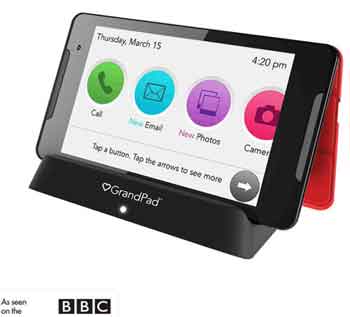 Tablets for Seniors
The GrandPad
Source:- techsilver.co.uk
The GrandPad is designed on a popular Google Tablet design, so it has a good quality technical specification. It comes with a range of software specifically aimed at senior citizens to make the user experience as easy as possible.

The owner receives one-on-one support via a video call or in person to help learn the user to set up the device correctly, including emergency contacts, transferring any files from other devices, and automatically downloading photos and videos from close family social media accounts.
The GrandPad come with software that enables caregivers to remotely manage the tablet. Device navigation is also simplified for ease of use.
Now you have the device you need, it's time to take a brief look at online security.
Return to the Table of Contents

---
Online Safety For Senior Citizens (And Everyone Else)
Online safety is for everyone. However, there is a chance of those who are less tech savvy being caught out by modern sophisticated online scams, especially as senior citizens are an increasingly targeted demographic.
Meeting strangers in person is a well-known risk that most people generally avoid. However, it is also the case that many more strangers with malicious intentions exist online too.  It is worth considering cyber insurance for elderly people.
It is always worthwhile recapping on the basics of online security. They are:-
Never assume anyone you engage with online is trustworthy
Never give out any personal or sensitive information about yourself whilst online
Never assume that someone who knows derails about you can be trusted
If you are a senior citizen, it is worthwhile spending some time learning about online dangers and how to avoid them. Not all e-mails are legit, even those who some from people you know. Do not give out your banking details to transfer any money!
Also, do not click or tap on website pop-ups that claim you have won a prize, or your device is infected with viruses or malware.
It is also worth noting the tips below:-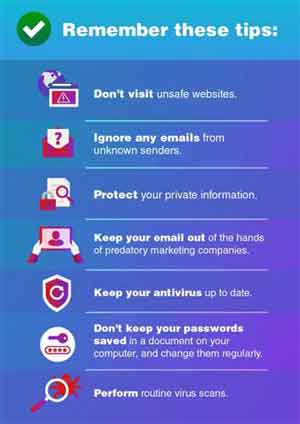 Tablets for Seniors
Online Safety Tips For Everyone Not Just Seniors
Source:- safetydetectives.com
If you have elderly relatives, it is worth spending some time with them to explain the dangers online. Discuss the different types of scams that exist and be available to help sense check any actions they are thinking of undertaking, before they are undertaken.
Also spend some time to check their devices are properly secured, so they are a low risk of being hacked, or losing valuable and sentimental photographs (backup, backup, backup!).
Take a look at this excellent page dedicated to online safety for seniors, and this fantastic senior scams resource from the Retire Guide, that details the different types of fraud that targets senior citizens, and how to avoid being scammed.
Return to the Table of Contents

---
Tablets For Seniors | Final Thoughts
The wonders of the Internet should be accessible by all, regardless of age. It is human nature to be social, and for those who are isolated, the Internet can be a lifesaver.
Lots of products are available today that cater for senior citizens. The video below explains the benefits of a tailored tablet device for older people, and hoe it can help transform their lives.
Tablets for Seniors | The Benefits of Tailored Tablet Devices For Older People Video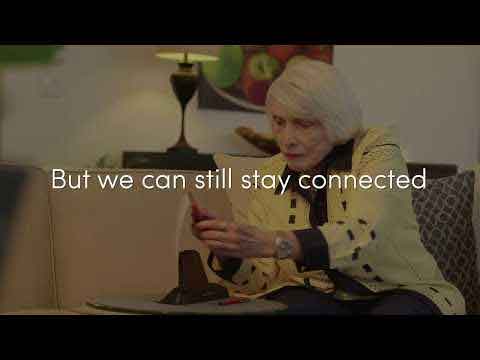 It is critical that all online safety measures are taken. There are too many heart-breaking stories of elderly people losing all their money by being too trusting when online, and falling for sophisticated but fraudulent scams. Do not make your elderly relatives, or you yourself, another one of these stories.
Share With Others
Find Us On Social Media