Malwarebytes Anti Malware Guide and Review
The Malwarebytes Anti Malware application is reviewed, in detail, in this second part of the MBAM tutorial series. When you have finished reading through this page, you will:-
Understand the different options available in Malware bytes

Know how I set up my copy of Malwarebytes and why I choose to set the program up in this way

Learn about additional tools offered for free by Malwarebytes
This tutorial shows you how to make the best use of your potential investment by demonstrating the application on a live machine.
My humble opinions on how you can set up and use the program are to ensure you can make an informed choice whether you want to invest in Malwarebytes or not.
Part 1 of the tutorial shows you how to download and install the Malwarebytes program. If you are unsure how to do this, please click the link before continuing.
MBAM is possibly one of the best malicious software removal programs available today. Will you agree after reading through the tutorial series?
With up to 97% of all online threats attributed to Malware, it is essential you have an effective malicious software detector installed on your home computer.
Security measures such as computer virus removal programs are not enough for today's online world. An efficient malware removal tool is essential for your ongoing protection whilst online.
Malwarebytes Anti Malware (MBAM) is NOT a replacement for an Anti Virus (AV) program!
Some AV programs scan for malware other than viruses, but may not be as effective as a dedicated anti malware software tool.
Keep up with the latest news and developments




Sign up to the eComputerZ Newsletter



The free A to Z of performing BIOS updates guide that anyone can follow.

✔  A checklist of important actions to perform throughout the update process.
✔  Further supporting information to aid your update plans.
✔  My unique approach for sourcing the latest BIOS versions for any motherboard manufacturer.
Sign up below for instant access to the guide, or by going to the Subscription page for more details.
I never share information with third parties and your details are secure.
I aim to issue newsletters at the start of each month.
---
Malware Removal And Setup Options
To load the Malware Removal software, you can:
Go to Start > Programs > Malwarebytes' Anti-Malware and load the Malwarebytes Program (Windows 7 and below)


Load the program from the Desktop Icon or Quick Launch Icon if you created them during the installation steps


Double left-click the Malwarebytes icon in the system tray


Click the Start button and navigate the Windows 8/8.1/10 Tiles for the MBAM program
When the program loads, you are presented with a Dashboard summarizing the state of your machine, including protection status and database version.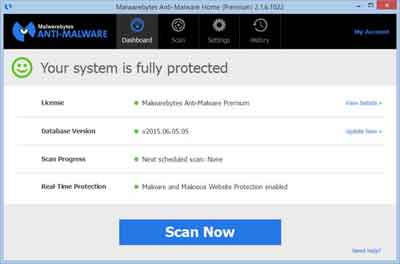 MBAM Dashboard
The Scan button at the top of the dashboard or the Scan Now button at the bottom is where you can initiate 3 different types of removal scans. They are:
Threat Scan analyses all known malware locations for your O/S including memory, filesystem and registry. This is the most comprehensive scan option


Custom Scan enables you to choose where and what you scan, including DVD drives and USB pens


Hyper Scan quickly scans your machine for active malware threats
Select your option and click the Start Scan button. Your choice of scan, speed of your computer and the number of files you have all determined how long the scan will take. 
If you have an older computer and find the scan is slowing things down, you have the option to Pause the scan while you complete your other tasks. 

Malwarebytes Anti Malware monitoring service takes up about 235Mb RAM (Random Access Memory) - A small amount by today's standards. 

An active Scan can take up some CPU (Central Processing Unit) power, but this fluctuates throughout the scanning process. 

You can then select the Resume Scan button to pick up the scanning where it left off.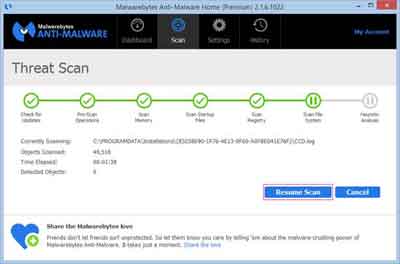 Resuming A Paused Scan
When the Malwarebytes Anti Malware scan completes, and assuming your computer is free from malicious programs, you receive the hyper scan completed successfully message.
However, if you have any Malware infections, you will see a window that details the threats detected, and option(s)  to deal with each threat.
If you see this message, ensure all infections are selected, then click the Remove Selected button. The Malwarebytes Anti Malware program removes the captured Malware from your machine.
You have the option to save the results of your scans to a text file or other file format if you wish.
Alternatively, click the History button to view any threats quarantined, and application logs detailing the outcomes of system scans performed by you or on a predefined schedule.
You control how many log files you keep, or delete. You also control which quarantined files to keep or delete from your system. I can count on one hand how many times I have restored a quarantined file.
Ultra VNC (a remote access program) is often quarantined when in fact it is a legitimate program. This is known in the IT Industry as a False-Positive. If this happens, I restore the quarantined file(s).

In almost all circumstances I delete quarantined files/programs from my machine. 

Personally, I tend to run a full scan once a week, usually at the end of a web browsing session on a Sunday evening. I'll leave it running (switch the monitors off!) then shutdown before bed.
The Detection and Protection option in Settings is the proactive module that ensures your machine does not get infected and damaged by malicious software.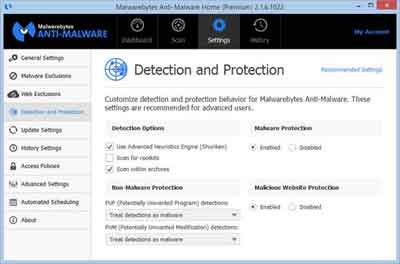 Malwarebytes Anti Malware
Detection and Protection Options
When the Malware (Website) Protection options are enabled, certain system files subject to malicious attacks are protected, and websites known for their malicious content are blocked.
I leave all these options ticked, as they should be by default.
To ensure you have the latest database version, ensuring maximum protection, go to the Dashboard (pictured above) and click the Update Now link.
This is useful if you have not switched on your computer for several days. MBAM periodically detects whether your database of malware threats is out of date.
However, proactively updated by you closes the window of opportunity for infection by more recent malicious programs.
The General Settings option is where you customize your notifications. The only setting I change here is the Close Notifications option from 3 seconds to 7 seconds.
This I because I have two TFT monitors connected to my computer at home, and need more time to notice an alert if I am concentrating on the other screen.
In Update Settings, I change the notification for an out of date database to 1 day. I think 7 days is far too long to wait! All other options are left on the default settings.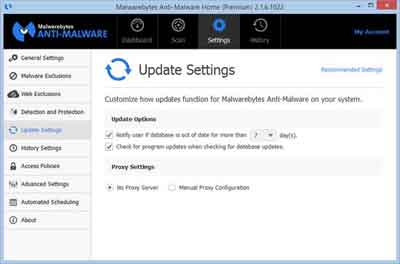 Update Settings
In Automated Scheduling, I sometimes set up a full scan for a Tuesday evening and leave my machine on when I am not using it.
This ties in with the release of security updates from Microsoft (2 birds, 1 stone!).
Note that automated Scheduling is not available in the free version of MBAM. If you decide to keep the free version, I recommend you manually perform a Threat Scan of your machine on a regular basis (Daily).
In the next section, we look at free tools offered by Malwarebytes to further protect your machine.
We focus specifically on FileASSASSIN and Chameleon.
Return to the Table of Contents

---
Malwarebytes Tools
Malwarebytes offer free tools to further enhance your computer protection. At the time of writing, the following tools are available from their website.
Anti-Rootkit is a stealth rootkit removal tool


RegASSASSIN is a registry cleaning tool that targets difficult to remove 'parasitic registry keys'


StartUpLite 'eliminates unnecessary applications' that load when your computer starts up, making the boot process quicker
Chameleon install and runs MBAM even when blocked by malicious programs.
Download the free tool and run the mbam-chameleon.exe. A series of checks, tests and actions occur to load MBAM and get your machine cleaned.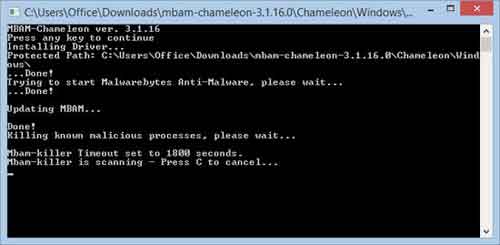 Chameleon In Action
FileASSASSIN removes locked files from your machine. Common messages such as those listed below are all signs of locked files.
FileASSASSIN is for advanced computer users only. The stability of your operating system is easily compromised if you do not know what you are doing.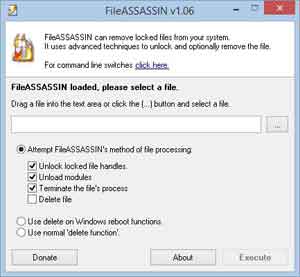 FileASSASSIN
Next, we look briefly at the messages you may see on your monitor when Malwarebytes Anti Malware is enabled.
Return to the Table of Contents

---
Malwarebytes Anti Malware Messages
Here we briefly review Malwarebytes Anti Malware related messages you may see on your screen.
If you do not have an Anti-Virus program installed, Windows lets you know.
Remember, the Malwarebytes Anti Malware program is NOT a replacement for an anti-virus program.


System Tray Security Risk Message
Malwarebytes Anti Malware is set up by default to let you know when the Malware database is updated.
If you place your mouse over the Malwarebytes Anti Malware icon in the system tray, additional information appears, such as how many days you have left on your trial version.
The message below is informing you that the program has successfully locked access to a known malicious website.
These messages are informative. Web pages can host information from various sources, include comments from visitors, and social media plugin's from Facebook, Twitter etc.

MBAM System Tray Message
If you right-click the Malwarebytes icon in the system tray, you can amend and trigger several options, including database updates and scans.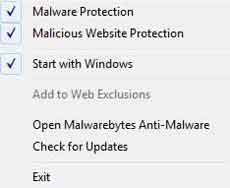 System Tray Right Click Menu Options
Return to the Table of Contents
---
A Word On The Purchased Version
The free and premium versions of Malwarebytes offer exactly the same functionality. The only difference is the premium version offers additional features.
Proactive prevention of malware activating on your machines


Malicious website blocking


Hyper Scan Mode


Automatic Scheduling
How secure are you at the moment? Are your existing Malware tools doing the job? Consider your families web surfing habits before deciding to invest, or stick with the free version. The choice is yours.
Return to the Table of Contents

---
Links And Videos Of Interest
The following links help you get the most out of your Malwarebytes Anti Malware program.
Finally, take a look at the Types of Malware page for further details and articles about this important subject.

Share With Others
Find Us On Social Media