McAfee Removal Tool Tutorial
The McAfee Removal Tool tutorial shows you how to remove McAfee programs cleanly from your computer.
There are many Internet articles reporting problems removing McAfee products.
A standard uninstall seems to leave something behind (files and registry keys) that could affect future software installs and the stability of your machine.
Once you complete reading this article, you will know the secrets of the IT professional, so you can avoid issues that cause other home users problems!
This is the 3rd of a 4 part series, providing you with information to make the best use of McAfee home user products and services.
Part 1 McAfee Free Virus Scan walks you through the McAfee antivirus package features. It describes how to obtain the 30-day trial version and the differences between commercial and free anti virus programs.
Part 2 looks at the McAfee Computer Virus Remover tools I think help further protect your PC. Are you aware of these invaluable stealth virus removal tools?
Part 4 looks at what McAfee Customer Service has to offer home users. This includes free utilities such as the McAfee Virtual Technician. 
Customer Service advice on how to surf the World Wide Web safely and how to contact McAfee directly is also provided.
Keep up with the latest news and developments




Sign up to the eComputerZ Newsletter



The free A to Z of performing BIOS updates guide that anyone can follow.

✔  A checklist of important actions to perform throughout the update process.
✔  Further supporting information to aid your update plans.
✔  My unique approach for sourcing the latest BIOS versions for any motherboard manufacturer.
Sign up below for instant access to the guide, or by going to the Subscription page for more details.
I never share information with third parties and your details are secure.
I aim to issue newsletters at the start of each month.
McAfee Removal Tool Instructions
The following steps are helpful if you want to cleanly remove McAfee products from your machine. It can also help in fixing problematic installs and uninstalls.
Make sure you have no other programs running before starting this process.
Always begin by uninstalling the McAfee product via Programs and Features (Windows 7) or Uninstall a Program (Windows 8+)


In Windows 7 click Start  > Control Panel > Programs and Features. Select the McAfee product from the list of programs and select the uninstall button


Restart your computer if prompted


This is enough for most programs. However, to cleanly uninstall McAfee antivirus or any other McAfee programs from your machine, download and run the McAfee Removal Tool:


Download the McAfee Consumer Product Removal tool


Double left-click the MCPR.exe file you have downloaded. Select Next on the first screen.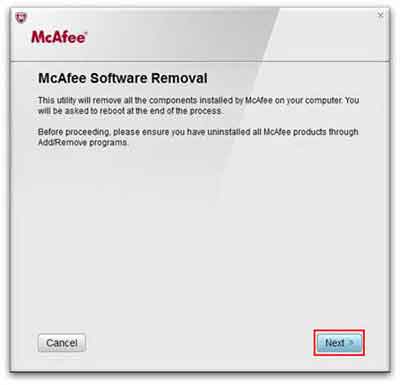 McAfee Software Removal Start
At the licence prompt select the:- Agree radio button then select the Next button.

Enter the Security Validation in the white field below it. The characters on screen are CASE Sensitive. If the letter is a capital, enter it as a CAPITAL, e.g. LU3FJ. Then select the Next button.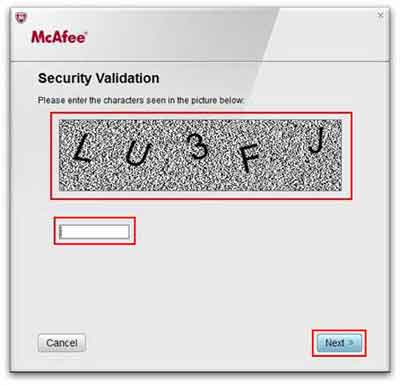 Security Validation
The Removal Tool begins looking for any McAfee programs it supports and removes them for you.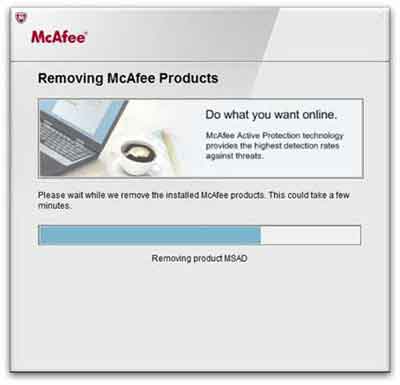 McAfee Removal Tool In Action
Once the tool has finished, select the Restart button, followed by the Yes button to confirm.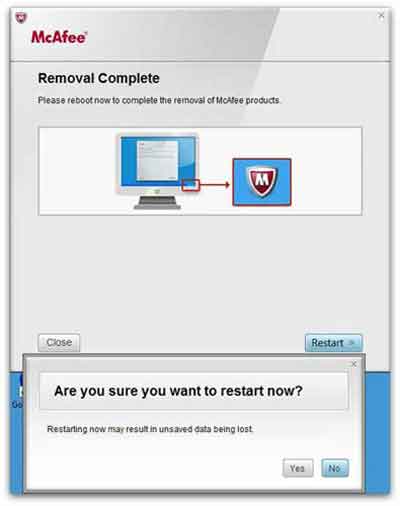 McAfee Removal Tool Complete
When your machine restarts, all installed McAfee programs should be removed. However, if you find you are having issues installing other anti virus programs, or notice any other issues, run the removal tool again.

---
Final Thoughts
If you find you are still having problems after working through the process above, take a look at this post on the Community Forums.
McAfee Technical Support explain another course of action to remove their products from your machine.
However, this can be quite complicated if you are unsure about what you are doing in your computer's registry. If you have any doubts, contact your local Computer Repair Business for assistance.
The PCS Hell site offers another good tutorial on how to remove McAfee products from your PC.
In the next part of the tutorial series takes a look at what McAfee Customer Service can offer home users.
Share With Others
Find Us On Social Media