About SBI!
The Secret To Building Your Own E-Business
This is About SBI! A mechanism to develop your e-business, in the comfort of your own home.
Creating this website is a labour of love, and one of my proudest achievements. Even as a seasoned IT professional, the knowledge gained, the opportunities experienced, and the rewards received, are unrivalled.
This page is about SBI and my experiences developing an online e-business, and how you can do it too!

It is easy to create a website or a blog these days based on something you are interested in or passionate about. However, to build a successful e-business that brings in an income? That is a different proposition altogether!
This is where Solo Build It! Comes in. It's like one big education on how to do e-business properly! At times, it is not easy, and sometimes you come up against challenges to be overcome. Today there is even an option to use the power of SBI for WordPress users. 
However, the whole experience since 2011 has been worthwhile. It could be for you too!

---
About SBI!
Why Create Your Own E-Business?
Creating a professional e-business, in the right way, appeals to me on so many levels. Here are some reasons to get your creative juices flowing!

You Are The Boss!

You have complete ownership and control over all the major decisions. What you write about, when you write it, and how you deliver it to your visitors and customers.
Does this sound more appealing to you than working 9-5, or shifts? Do you prefer working for someone, or yourself? This is an opportunity to do something special for yourself.
E-Business websites, when done properly, can earn you money around the clock. For many customers, this means they can quit their day jobs and run their online business in their time.
Don't believe me? Read some of their Testimonials. I would love to be in their position. I hope one day I am, and you could be too!

Get Creative And Passionate!
Sharing your knowledge, skills and experiences, in whatever you are passionate about, in your own, unique way, is something special.
Everyday interaction with your visitors or customers through contact forms, reaction and discussions that ensue from your published newsletters/e-zines, and the web pages your visitors contribute to your site with their own, unique perspective, is truly rewarding.
This interaction with like-minded people creates new ideas, therefore new content for your site, which in turn generates revenue for your business. Now that is true, self-fulfilment.
You do not have to be a professional writer, or even know anything about the technology that creates your web pages. What you do need is drive, determination and the right support from a facilitator such as SBI.

Earning Potential
You have the idea, generated the content, and now lots of people are visiting and re-visiting your site. Next you monetize - google ad-sense, affiliates, sponsorship, selling your products and services - and lots more ways to generate income under SBI's guidance.
Over the past 9 years, I've worked on my site for around 90 minutes a day. Due to the 24/7 nature of the internet, SBI sites continue to generate an income, whether you are actively developing your site, or not.
---
About SBI | My Story
My passion for computing and all things IT related dates back as far as I remember. As mentioned on the About page, I started with the ZX Spectrum, and even had a website dedicated to my passion.
I thought I structured the site professionally, written the content clearly, and even placed some adverts thinking this would make my fortune. In hindsight, a million miles off doesn't even begin to describe it.
The structure - too flat. The Content - too thin. Traffic - non-existent. Pre-Sell - never heard of it. Monetization - badly structured (no wonder I didn't get a single click!).
Years later, I learned about SBI via a self-help site. It looked appealing, but wondered if it was just another scam you find all over the internet.
After reading up some more, I decided to take the plunge and purchased my first subscription (90-day money-back guarantee).
I read in detail the Action Guide - twice! Made copious amounts of notes, then planned my site. The guide teaches you how to find the right niche in your area of expertise that gives you a chance to develop your content using the right keywords to get your pages near the top of the search engines.
Once you have this in place, the world is your oyster!
---
About SBI In Detail
SBI hosts your site - all of it - irrespective of how big your site grows. No additional or hidden costs!
It is like studying for an MBA in business, but without complexity, as it teaches you how to build your e-business successfully. What you learn (the theory) you put in to practice (the practical).
SBI includes all the tools, software and guides (in written and video format) to help you along. 

In addition, there is an active community of fellow success-driven people on the same mission as you with their own e-businesses.
The multitude of information sources means you have your finger on the pulse of the e-business world, without having to delve in to all sorts of internet marketing or business research.
Take a look at the about SBI video tour for further details.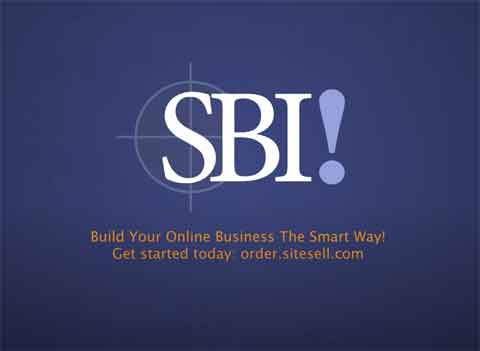 About SBI! Promotional Video
In SiteSell founder's own, words, this is what separates SBI from the rest:
It delivers it at an unmatched RATE of success





It does it at unmatched LEVELS, too. People reach their financial goals, however modest or ambitious they may be





It does it all at a price that no other product, or combination of products, can match



But of course founder would say that about their company! True, but speaking from personal experience as an SBI customer of 5 years, I can vouch for every word! It is without a shadow of a doubt, the best $299 I have ever invested!
So, there you have it. Are you convinced? Are you ready? Click the banners on this page to get started right now!
For any clarifications speak to a real person about Solo Build It

Share With Others
Find Us On Social Media