Search Results For eComputerZ
This is the Search Results page for eComputerZ. Simply enter your search term into the search box below and hit return, and discover a treasure trove of interesting articles and information.
Attention!
An example would be good. Say you are wanting to find all articles on eComputerZ that are related to, or mention, the phrase "BIOS Update".
This is what you should see when you hit the return key. The search engine has returned 141 articles that include the words "BIOS Update". The search engine displays your results in blocks of 10 pages at a time.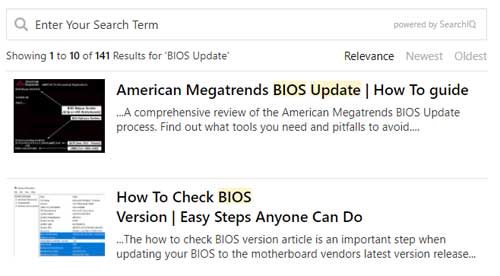 Search Results Example
The eComputerZ Search Results Center
Return to the Search Results Center
---
Attention!
A shout-out to the search results authors, SearchIQ (Opens New Window). Their slogan is:-
"Give your visitors what they are looking for faster. Easy installation takes only minutes. Absolutely free to get started."
I hope you get good use out of the new search function on eComputerZ. I'm really excited to see what my visitors are searching for, and you never know, the phrases you enter may well result in a new article based on that theme, if it is not currently available on my site.
Also, don't forget you can perform site searches at the hop of most pages, and now you can access the new search bar at the top of all mobiles pages too.
Finally, don't forget to subscribe to the monthly eBits n ByteZ newsletter. Simply enter your e-mail address in the box below, or on the right-hand side.
Search Results Site Header Example
Search Results
Site Header Mobile Example
Keep up with the latest eComputerZ news and developments. Sign up to the eBits N ByteZ Newsletter

Now Available!

The free A to Z of performing BIOS updates guide that anyone can follow:-
✔ A checklist of important actions to perform before, during and after the BIOS update;
✔ Additional supporting information to aid your BIOS update plans;
✔ My unique approach for sourcing the latest BIOS versions released by your computer's vendor or motherboard manufacturer.
Sign up below or by going to the Subscription page (Opens New Window) for more details, and you will soon receive this free BIOS update guide
I never share information with third parties and your details are secure.
I aim to issue newsletters at the start of each month.
Attention!
Just letting you know there are personal ads published on this site
If you are running an Ad Block you can whitelist my site to see them
Thank you for your time
Attention!
Just a quick note to let you know the Computer-Help forum has  lots of knowledgeable articles written by site visitors on all subjects technology-related.
Also, browse through the previous eBits N ByteZ newsletters for details on all new site articles and news updates.