Computer Repair Technician Tools
Computer repair technician tools come in all shapes and size. Here, we look at some other accessory type tools you need in your kit bag, including wireless mice and Velcro ties.
These accessories will save you time and, in some cases, your health. Read on!
Keep up with the latest news and developments




Sign up to the eComputerZ Newsletter



The free A to Z of performing BIOS updates guide that anyone can follow.

✔  A checklist of important actions to perform throughout the update process.
✔  Further supporting information to aid your update plans.
✔  My unique approach for sourcing the latest BIOS versions for any motherboard manufacturer.
Sign up below for instant access to the guide, or by going to the Subscription page for more details.
I never share information with third parties and your details are secure.
I aim to issue newsletters at the start of each month.
---
Computer Repair Technician Tools And Accessories
The first item to mention is the pocket mouse, or mini mouse. As the name suggests, this is a small mouse designed to fit in your bag, and is useful when working on laptops with a suspect faulty mouse pad or associated device driver issue.
Pocket mice come in both wired and wireless options. I have the wireless purely for the convenience of minimizing the number of cables that can quickly become unwieldy when working on computers.
However, you must ensure you do not lose the mini nano receiver that plugs in to the device's USB port. Also carry an unused, spare battery. Although batteries tend to last around 18 months, this is cut short if you forget to switch the mouse off after use.
Alternatively, you could invest in a rechargeable mouse, although they can come with inbuilt rechargeable batteries that have a finite recharge cycle, like the Inphic mouse I have.
However, for infrequent, and 3 months of life per charge, these devices can last a very long time.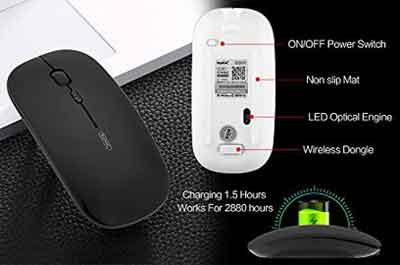 Computer Repair Technician Tools
Wireless Mouse Instructions
The next set of accessories are a must for your health and are an essential part of computer repair technician tools for your kit bag. These items include:
An eComputersZ reader has written an excellent article for this site that covers the use of such products. How to Properly Clean Your Computer takes you through how to use each item, so you make a proper job of your cleaning activities.
Below is a very brief video tutorial on how to used compressed air. Take a look at the comments on YouTube to see the debate on the rights and wrongs of the tutor's actions.

How To Use Compressed Air Tutorial Video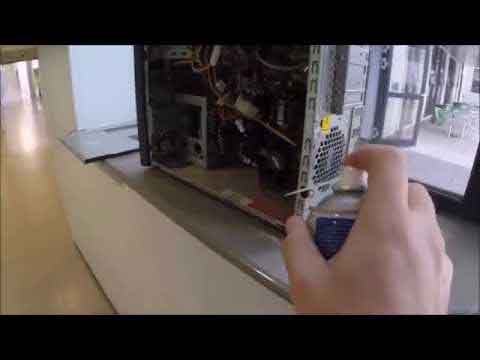 A Pill Box is handy for keeping chassis screws and other small items together. These can get easily lost in a toolkit.
I always try to keep the same types of screws together with a note of where they come from e.g. Chassis, CD/DVD cradle, RAM cover (for Laptops) etc.
When you have a lot going on during a repair, it is easy to become distracted. How often have you ended up with screws left over, and you don't know where they come from or go?
Some tool boxes come with a removable container that can also be used for this purpose.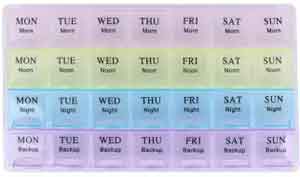 A typical Pill Box used to store small computer items
Cable Ties, or Zip Ties, can be used for various activities. For example, computers with numerous internal components will naturally create a lot of cabling. This cabling can interfere with CPU and Graphics Card fans, especially in ultra-small form chassis types, and this can put the components at risk of overheating.
Cable ties are also useful for managing cabling you are carrying around with you in your toolkit. 
For cable management, I use Velcro ties. They are more expensive but worth it, as they can be reused, and saves the hassle of having to cut off cable ties when you need to use one of the spare internal PSU cables.
These are the Velcro ties I use. Click on the image, and it will take you to Amazon, where you can buy them too.

I also have an assortment of plug converters for power cables and USB adapters, and I always take my mobile phone with me. Taking photographs can help you retrace your steps when undertaking complex tasks.
Finally, take a look at this Nerd Techy article that describes that author's best computer repair technician tools.
---
Final Thoughts
When considering computer repair technician tools, there are many things to think about. I hope this six-part tutorial helps in some small way to put together the items you need that will make your life easier. Thank you for reading.
Share With Others
Find Us On Social Media