Author:- Stephen Harrison, B.Sc., M.Sc., MBCS, CITP, MInstM
Sharing over 20 years of IT experience with you 
More about me here

How To Install
Sound Card Instructions
The how to install sound card tutorial walks you through the simple steps of physically installing a sound card. This is part 2 of a 4 part tutorial series.
Part 1, sound card definition, explains what a sound card is. It also explains what modern audio cards can be used for.
Part 3 looks at how to install creative labs sound card drivers. If you want your new sound card to work correctly, you need to install the drivers. The process is similar for all types of audio cards.
Sound card not working? The 4th and final part of the tutorial series looks at what you can do if you are having problems.
Take this opportunity to write your own web page, detailing your own sound card activities and experiences, by completing the form at the bottom of this page.

Read what other visitors have said about their experiences in this area.
Attention!
Just to let you know there are computer related adverts, or adverts personal to you, on this page that you may find useful
They help with the running of my site
If you are running an Ad Block and wish to see them, you can whitelist my site

Thank you for your time
Installing A Sound Card
The how to install sound card process is straightforward, but can be daunting if you have never done it before.
Therefore, I have outlined the basic sound card installation steps, and included a 10-minute video demonstrating the entire process.
If a picture is worth a thousand words, a video must be worth much more, right? The video is from a typical home PC user. I think it captures the steps well.
You will find installing a sound card is straightforward after working your way through this tutorial.
This gives you the confidence to try it for yourself and be your own computer support technician!
The following steps guide you through the installation process:-
Restart or switch on 

your computer, and enter your BIOS to disable the integrated sound card; assuming your computer has one - most modern machines do.



Switch off 

your PC and unplug it from the wall.



Unplug

 your monitor, keyboard, mouse and any other peripherals you have connected to your machine, e.g. printer, USB stick, etc.



Remove 

the top of your computer case. How you do this depends on the type of computer chassis you have. You may need to remove some screws, push two buttons at each side of the case, and/or lift a leaver. 

Refer to your computer manual to work out how to do this.


If you have a tower chassis, lay it on its side, motherboard down, then remove the side panel.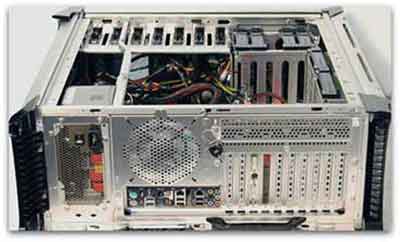 How To Install Sound Card Tutorial
Open Tower Chassis With Side Panel Removed
Put the screws, or anything else that needs to be re-attached to your PC case, in a safe place so you don't lose them. From experience, I can tell your computer case screws grow legs and run away!


I recommended wearing an 

anti-static wristband.

This prevents static build up which can damage the computer hardware components inside your machine.

If you don't have one, buy one. Alternatively, you can touch a metal object to ground yourself. If you do this make sure you do it properly.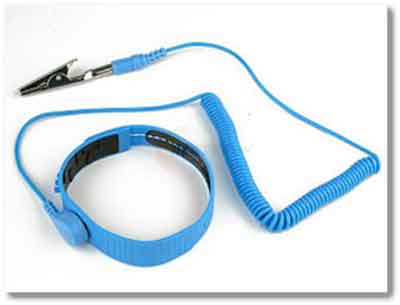 How To Install Sound Card Tutorial
Wristband For Protection Against Static Electricity When Working Inside Of PC's
Are you replacing an existing card? If so, 

r

emove

 the screw that pins the sound card to the computer case, then remove it by carefully pulling it from the PCI slot with both hands.

Be careful when removing internal components. Don't bend the card. Pull it vertically. If it is difficult to remove, pinch either end of the component and rock it until it comes loose.


If there is no existing sound card, identify which PCI slot you are going to use. If possible, pick one that has the most surrounding space.

For example, if I have 3 free PCI slots next to each other, I'll use the middle one.

How To Install Sound Card Tutorial
Peripheral Component Interconnect (PCI) Slots
Remove 

the metal plate for the identified PCI slot. A screw may need to be removed. In some PCs, you push the metal plate out of position.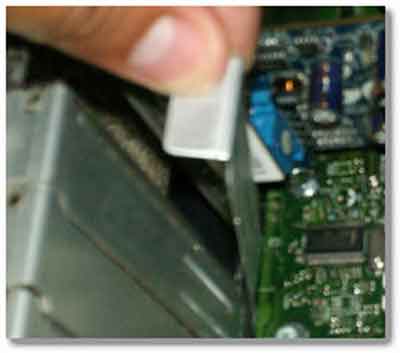 A Computer Blanking Plate Being Removed
Insert 

your new diamond sound card (or whatever make you have bought). Align it correctly with the PCI slot. 

The 'gap' in the PCI sound card connector aligns with the raised bit(s) in the PCI slot. 

Look at the PCI slot image with the red box above. The gap in the sound card PCI connector in the image below (red box) align with the highlighted raised bits on the PCI slot. 

Attention!
Sometimes they have more than one gap. This is OK. Just align the raised bit with the appropriate gap if only one exists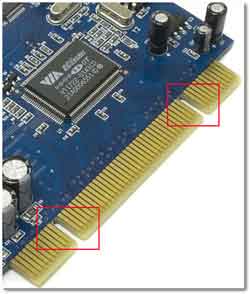 A Close Up Of The PCI Connectors On A Sound Card
Carefully 

push or rock

 the sound card gently into the PCI slot. Make sure both ends of the card are firmly clipped in place. You should be able to see the sound card ports on the outside of your machine.


Connect your CD/DVD drive to your new sound card if applicable. The audio cable comes with the CD/DVD drive. 

Connect one end to the 

CD-In

 socket on the card, and the other end into the 

Audio Out

 socket on your CD/DVD drive. Each part is highlighted in the images below.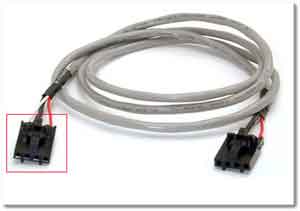 A Close Up Of A CD/DVD Audio Cable

A Close Up Of A CD/DVD Audio Out Port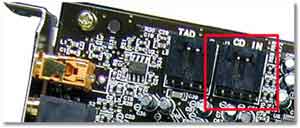 A Close Up Of A Sound Card CD In Port
Screw the new sound card to the computer case and put the computer case back together. You are confident this will work first time, right...? 

IT technician professionals will leave the case open and test the new device before putting the case back together. 

This is because it saves time if there is a reason to remove or replace the component.


Reconnect all your peripherals: Keyboard, Mouse, Monitor, Printer, 

Speakers

 etc., and replace the computer chassis lid/case as required.
---
How To Install Sound Card | Final Thoughts
This tutorial shows you just how straightforward the process is. The next step is to switch on your machine and install the sound card drivers. This is covered in part 3 of the series.
If you find the steps above a little confusing, I recommend watching the video below. It will hopefully clarify the sound card installation process for you.
If you would like to read more about the how to install sound card process, take a look at the PC Hardware site (Opens New Window) for another description on how to install a sound card.
---
You Are Here:-
---
What Do You Use Your Sound Card For?
What type of Sound Card do you have and what do you use it for?
What Other Visitors Have Said
Click below to see contributions from other visitors to this page...


Asus Xonar Essence STX

I have an Asus Xonar Essence STX Sound Card . It is an internal Sound Card 'designed for the music enthusiast'. I am one of the music enthusiasts the …