Old Versions of Software Programs | Microsoft Windows and Internet Explorer
Old versions of software programs are still very sought after by lots of people, for lots of different reasons.
The discussion in the old software article does into detail about why legacy software still exists and how to resolve issues running old software on new devices.
Here, we focus on written articles that have been archived on eComputerZ, covering Microsoft Operating Systems and the Internet Explorer web browser.
This includes Windows XP and features such as system restoration and patching, and tips to improve Internet Explorer performance, in addition to reviews of release features.
To compliment the legacy articles, I have included additional information that, I thought, would be of interest. Having lived through a lot of Microsoft product release, one thing that fascinated me was hidden Easter eggs. More on these later.
Keep up with the latest news and developments




Sign up to the eComputerZ Newsletter



The free A to Z of performing BIOS updates guide that anyone can follow.

✔  A checklist of important actions to perform throughout the update process.
✔  Further supporting information to aid your update plans.
✔  My unique approach for sourcing the latest BIOS versions for any motherboard manufacturer.
Sign up below for instant access to the guide, or by going to the Subscription page for more details.
I never share information with third parties and your details are secure.
I aim to issue newsletters at the start of each month.
---
Old Versions of Software Programs | Microsoft Product History Overview
I think it's fair to say Microsoft has come a long way since its inception in 1975. One of the early programming languages the fledgling company released was BASIC, or Beginners All-purpose Symbolic Instruction Code.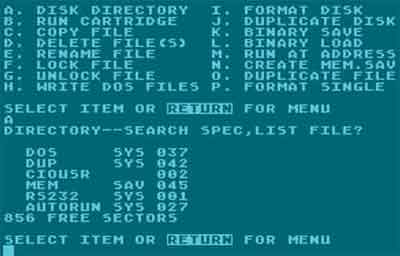 Old Versions of Software Programs
Microsoft Basic
Source:- atarinside.com
From there the company went strength to strength. Throughout the 1980s, Microsoft focused on developing MS-DOS and associated applications.
IBM included MS-DOS with its new computer releases, and Microsoft continued to focus on its development due to the competition from the early Apple Operating Systems.
In addition, Microsoft was also developing the Windows Operating System as a method to bring in Graphical User Interfaces and make computers easier to use.
By the time version 3 was released in May 1990, Microsoft's popularity resulted in over 3 million sales.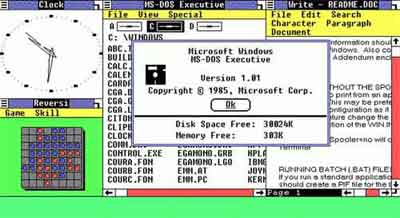 Old Versions of Software Programs
Microsoft Windows Version 1.0
Source:- cnet.com
In the late 1980s and the early 1990s, Microsoft was also developing business productivity software, and called it Microsoft Office.
This was responding to other software vendors growing popularity in word processing, spreadsheets, and presentation software, such as Lotus 1-2-3.
I recall using Microsoft Word 6.0 in my first Business job, on Windows for Workgroups 3.11. The evolution since the early 1990s is astounding, but the basic principles from those early versions are still present today, including the Bold, Italics and Underline options.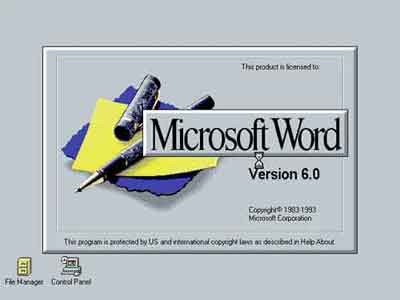 Old Versions of Software Programs
Microsoft Word Version 6.0 Release In 1993
Source:- versionmuseum.com
Throughout the 1990s, Microsoft focused on developing various software products. The release of Windows 95 was a serious shift in previous windows GUI layouts, and was focused purely on supporting home users rather than business users exclusively.
Windows 95 also heralded the new era of the Start Menu, which is so engrained in a generation of computer users that Microsoft's attempts to retire it in subsequent years have failed miserably.
I recall the excitement the release of Windows 95 generated. I was in my first year at University and the rich kids in my class bought it. I was blown away by the GUI enhancements compared to what we were used to at that time.
When I could eventually afford a computer and Windows 95, I had lots of trouble getting device drivers to install properly. I spent hours tweaking configuration files and what, I thought, was the drivers source code to get it working, with mixed results.
Fortunately, Windows 98 was much better for establishing device drivers, albeit Microsoft's own proprietary drivers. They did the job of getting you up and running, but the manufacturers' drivers were always much better and more stable.
Microsoft's further Operating System developments were a mixed bag. Windows Vista wasn't great, but was much better than Windows ME, which was a complete disaster.
Windows XP, however, was a great success, which is why some of my early articles on eComputerZ was focused on this O/S. Windows 7 was also a huge success, as was Windows 10 form the mid-2010s.
It was around the mid to late 1990s when Microsoft joined the web browser race, and for a while it was leading the way against its arch rival, Netscape, with the release of Internet Explorer 3 is 1996.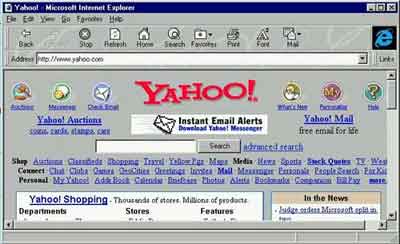 Old Versions of Software Programs
Internet Explorer 3 Released in 1996
Source:- donmouth.co.uk
There were many iterations of Internet Explorer released throughout the early 2000s, and the web browser wars continue until this day.
I was an avid user of Internet Explorer and is the main reason behind the various IE articles I wrote in the early days of eComputerZ.
Return to the Table of Contents

---
Old Versions of Software Programs | Easter Eggs
Before we move on to the Windows XP and Internet Explorer articles, I just wanted to briefly mention a little present the Microsoft programmers used to include in their software programs, called Easter Eggs.
Easter Eggs were the result of competition between developers to stand out when receiving credit for their work, in the form of little games, features and hidden jokes, which required a series of steps to access, just like an Easter Egg hunt.
I loved Easter Eggs, and with the Internet in its fledgling years, it was often through fellow computer technicians and engineers that you would discover the discreet steps to access these hidden Easter Eggs. The feeling of being in the know was exciting.
For example, Microsoft Excel 95 had a hidden Easter Egg called Hall of Tortured Souls. The programmers built in a series of steps to access, which included highlighting row 95 of a blank spread sheet then selecting key on order when the Help > About splash screen was open.
The result is captured brilliantly in the video below. This was the height of excitement in the mid-1990s. The Hall of Tortured Souls was a series of tasks to access a room with all the developers names on a wall with some of their photographs included. 
Old Versions of Software Programs | The Halls Of Tortured Souls Video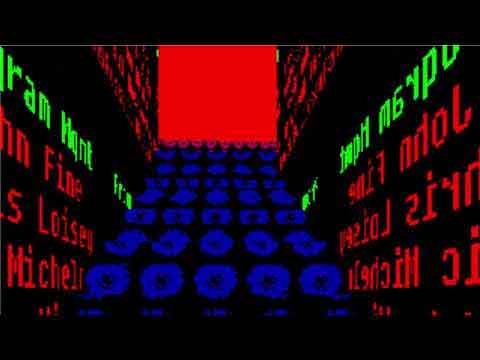 Microsoft Word 97 included a game of Pinball alongside the rolling list of developers names. The obscure steps needed to access this game are listed below, purely to underline the absurdity of the whole Easter Egg 'genre'
1. Open a new Word document
2. Type "Blue"
3. Highlight the word "Blue"
4. Go to Format > Font
5. Choose Font Style Bold and Colour Blue
6. Type two commas with a space between them (" ") after word "Blue"
7. Go to Help > About
8. Ctrl-Shift and Left-click the Word icon/banner to access the Pinball game
9. Use Z for left flipper, M for right flipper, and ESC to exit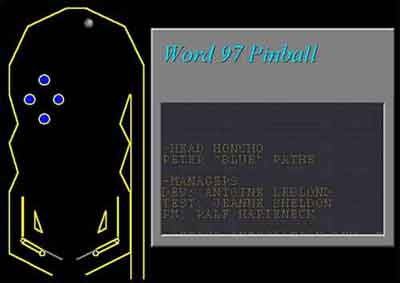 Old Versions of Software Programs
Microsoft Word 97 Hidden Easter Egg Pinball Game
Source:- howtogeek.com
Unfortunately, the Easter Egg practice was ceased by Microsoft in the early-2000s because of security concerns. 
Return to the Table of Contents

---
Site Archive | Microsoft Windows Articles
In this section, we focus on the Microsoft Windows articles written in the early days of eComputerZ. What follows is related to the Windows XP Operating System.
This is a four part series on how to install Windows XP Home Edition yourself. It covers all the technical details you need to know to complete a new install of the Operating System successfully.
1: How To Install XP shows you how to navigate through the initial text based prerequisite decisions.
2: Windows XP Clean Install takes you through the initial choices such as Personalizing Your Installation and entering Your Product Key.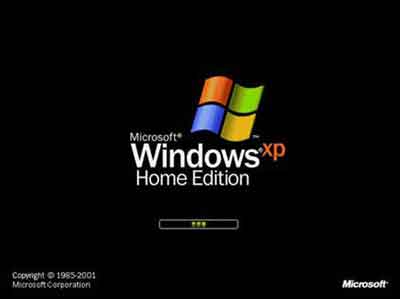 Old Versions of Software Programs
Windows XP Home edition Splash Screen
3: New install of Windows XP look at the final choices you need to make such as adding your computer to a Domain and changing your Display Settings.
4: Clean Install XP completes the installation process, and suggests some post implementation tasks before installing your applications.
In this section, we focus on patching and applying Service Packs to Windows XP.

1: Microsoft Windows XP Updates discusses what Windows Security Updates are and why we need them. 
We take a look at the different types of technical updates Microsoft issues and when Microsoft release their updates to the public.
We also review the Microsoft Technical Severity Rating Table, so you know what to do when updates ranging from types Critical to Low are released. This tutorial gives you the bigger picture in regard to Microsoft XP updates.

Old Versions of Software Programs
Windows XP System Tray New Updates Prompt
2: Microsoft XP Updates walks you through the technical steps to set up, install and test the updates applied to your home computers. We also look at how to fix updates that are causing your computer problems.
The last Service Pack to be issued for XP is Service Pack 3. Do you have SP3 installed? Does your Operating System CD include Service Pack 3? If not, don't worry.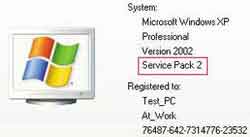 Old Versions of Software Programs
Windows XP Service Pack 2 System Properties
1: Do Not Download Windows XP SP2 explains why staying on SP2 is not a good idea! The biggest technical problem is missing out on new Security Updates, leaving your computer vulnerable to attack.
2: Windows XP SP3 Download talks you through the technical process of installing the latest Service Pack onto your home computers.
In this section, we focus on how to restore the Operating system.
System Restore Windows XP shows you what the restore process is, how to create restore points and use them to help fix new technical problems with your computer.
For example, has a new device driver caused your printer to stop working? Are things not working properly after running the Disk Defragmenter tool? Think of System Restore as a tool that can help you overcome such issues.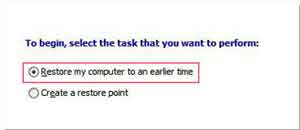 Old Versions of Software Programs
Windows XP System restore
If System Restore does not resolve your technical problems, consider using the Windows XP Recovery Console.
This tool is what IT professionals use to resolve technical issues such as a computer that does not start up properly. You can use this tool too. Read the tutorial to find out how.
Return to the Table of Contents

---
Site Archive | Internet Explorer Articles
In this section, we focus on Microsoft's Internet Explorer web browser; specifically, IE8 and IE9, covering topics such as how to make the best use of IE features, to improving IE performance.
Here, we review in detail Microsoft's Internet Explorer Web Browser. It is a 7-part series looks at Internet Explorer 8 and Internet Explorer 9:

1: Internet Explorer 8 introduces you to some new web browser features.
2: Internet Explorer Software continues the introduction, including how to make the best use of IE8 so you and your family are secure online.
3: Internet Explorer Updates gives my views on how to set up certain options such as Parental Controls for maximum home user effect.
4: Internet Explorer Slow  discusses how to speed up IE. We look at technical options such as how to Disable Extensions and clear out Temporary Internet Files
5: Internet Explorer Running Slow continues with more technical suggestions on how to prevent IE from slowing down.
6: Reinstall Internet Explorer when all else fails. Sometimes you have no choice.
7: Internet Explorer 9 outlines what is different compared to Internet Explorer 8 and how to use new features such as the Address Bar Search.
Return to the Table of Contents

---
Old Versions of Software Programs | Final Thoughts

I enjoyed writing this page. I was a trip down memory lane, and a realization that these articles are still relevant today, even though Microsoft abandoned these particular software versions a long time ago.
I particularly enjoyed revisiting Microsoft's history, and had a blast researching, and repeating, the Easter Egg hunts of yesteryear. I had actually forgotten about some of them.
That leads us nicely into a series of external links to web pages that supplement this article very well.
Share With Others
Find Us On Social Media