Computer Hard Drive Repair
by Christina
(Opelika, AL)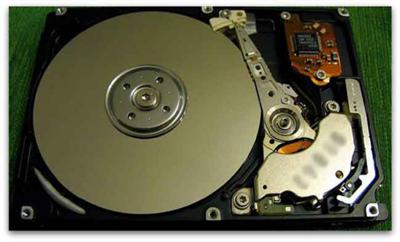 Inside an Internal Hard Drive
I bought a new computer but still had my old, secondary hard drive from my old computer that was no longer working.

The secondary drive (80 GB) was originally supposed to replace the older hard drive (40 GB) in the old computer. However, I decided to keep the 40 GB hard drive, and used the 80 GB hard drive as a secondary one instead.

I copied most of my files to the secondary drive before the old computer finally crashed due to lack of space. The issue was: I couldn't get the new computer to read the 80 GB drive so that I could get access to my music, photos and other data files.

To get the drive connected to the new computer, I used an adapter that plugged into the USB port in my new computer. But I kept getting an error message. I kept researching the error message and changing lots of settings in the BIOS, but nothing I tried worked.

Finally, I read something about changing a setting with the hard drives PINS. I did that and the computer immediately recognized the drive as an external drive!

I believe the issue was that I was trying to tell the computer that the old drive was the master (or Primary) and it wasn't buying it. Once I changed it to slave (or secondary), it worked fine.

I could copy everything from that secondary drive over to my current external hard drive. It was great to have my iTunes library back again, as well as my family photos and various other data files.

The lesson I learned from all this is to always have a backup for all your files and never wait till the last minute before replacing a computer or hard drive.

You can spend years building up your music and photograph collection, but it only takes a second to lose everything when you don't regularly back up your files.
Share With Others
Find Us On Social Media