PC Randomly Shuts Down
by Olga
(Canada)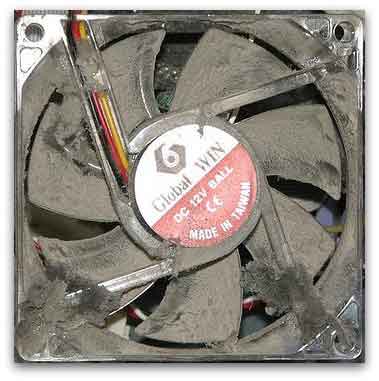 Dusty Computer Fan
One of the most weird problems with my home PC started unexpectedly, as they all do. My PC was about 4 years old and running fine.


My PC would suddenly start up and work for a little bit, then turn off randomly. I would lose my work. At times I could recover some of my data, but it was frustrating having to do it all of the time.
This was no way to go.
One would argue that it's time to get a new PC, but my frugal nature dismissed this kind of thought, especially in the current financial climate.
Another thought was to call a technician, as there are some good quality small business computer repair companies in my area, but I decided to at least try to troubleshoot the problem myself.
I read documentation about my motherboard, and found out that it had intelligence to shut down when temperature around it increased to certain level, unsafe for its components.
The temperature is supported by the fan that cools the motherboard down.
I opened my PC up and found out an enormous amount of dust on my fan. It was stuck to it. This explained why my fan had produced bizarre noises.
My fan was trying hard to work through the resistance built up by years of dust, and do its work.
It seems instead of cooling the environment, it was heating it up, and tripping the motherboards inbuilt intelligence to shut down.
After a little clean up and careful vacuuming, my PC was back to business. My PC is now over 7 years old, and it is still doing great!
The best advice I can give is don't hurry to replace your equipment.
Read the manual first!
Then have the confidence to give it a go yourself.
You will surprise yourself at what you can achieve :)