ERAR And Other Removal Tools
by Ian
(Cali, US)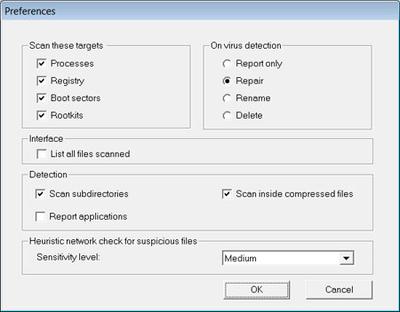 McAfee Stinger Setup Options
I think the Free McAfee Tools provide by this site are invaluable to all Computer Users in today's advanced Internet world.

I, too, have used McAfee Stinger to help remove viruses that my normal anti-virus program can't remove.

One thing I do is set the Heuristic Sensitivity Level< to High and change the On virus detection option to Report Only.

This is for my piece of mind. I can check every single file flagged by Stinger to ensure I can review any suspicious files before ignoring or removing.

Stinger and the other tools provided by McAfee are a part of my staple eComputerZ diet!

I regularly use the ESET Rogue Application Remover (ERAR). Rogue Applications (or Rogue Security Software, or Rogueware) is fake security software that deceives you into thinking you have Malware on your computer, and claims to remove it for you.

Instead, you are duped into installing the Rogueware which is filled with Malware that infects your computer.

It triggers simulated Malware or virus attacks, Operating System problems and System Reboots.

Some Rogueware even point the unsuspecting user to pay for Software that will clean these viruses or fix their computer faults.

In reality, they are paying for more Rogueware that will cause them more problems.

To use ERAR the best thing to do is load your computer is Safe Mode. When it checks your computer, it will tell you whether any Malware is detected.

Note, this utility is updated on a regular basis. Therefore, I advise all of your readers to check the ESET website regularly and use the latest version rather than a saved copy.

This type of utility goes out of date quickly!

Organizations such as Kaspersky, F-Secure and Norton release lots of free tools to help combat Malware and virus proliferation.

However, Stinger is a personal favourite and I haven't come across anything else that works as well.
Share With Others
Find Us On Social Media