Norton Anti Virus Protection
The issue with Norton anti virus protection and other commercial security products is their cost versus their quality compared to free anti virus programs.
As mentioned in other tutorials, I prefer free anti virus programs because for basic virus/malware detection I think they are every bit as good as their commercial counterparts.
They perform real-time and heuristic scanning, exclude specified files or file types, and present a range of actions when a virus is detected.
The only difference as far as virus scanning goes is commercial products update their virus definition files a little quicker.
So, how do commercial products that charge up to £50 for their products and then subscription fees in some instances differ from their free counterparts? At this juncture I am not too sure. 
This tutorial works through the installation, configuration and utilization processes of Norton Anti Virus 2015.
Comparing each stage to free programs such as Microsoft Security Essentials, the answer to how commercial products differentiate themselves and add value/quality to their products may be found.
Keep up with the latest news and developments




Sign up to the eComputerZ Newsletter



The free A to Z of performing BIOS updates guide that anyone can follow.

✔  A checklist of important actions to perform throughout the update process.
✔  Further supporting information to aid your update plans.
✔  My unique approach for sourcing the latest BIOS versions for any motherboard manufacturer.
Sign up below for instant access to the guide, or by going to the Subscription page for more details.
I never share information with third parties and your details are secure.
I aim to issue newsletters at the start of each month.
---
Norton Anti Virus Protection Installation Steps
Step 1 in reviewing Norton Anti Virus protection is the installation process. How easy is this compared to other programs?
After downloading the installation file from the Norton website and running the file, the first thing you see is the initialization screen.
Next, click Agree & Install to comply with the Norton Licence Agreement and have the choice to opt in to the Norton Community. I opted out, but the choice is yours.
Next, the installation process takes place. The time taken to install depends on your machine's capabilities.
I performed the install on a Windows 8 virtual machine (using  Oracle VM Virtual Box). My physical machine is about 7 years old now, but has 8 GB RAM, so performance is OK.
Installation time of around 8 minutes for this particular instance does not represent an accurate install time. However, on modern machines, I think installation times would be much less than this.
On completion, the following screen appears, confirming your machine is now protected. Installation of this trial version is very straightforward. Just what a typical home computer user needs.
My only issue with this is for more advanced users, some configuration choices are welcome during the installation process. This saves time finding specific settings after install.
Click Explore to continue.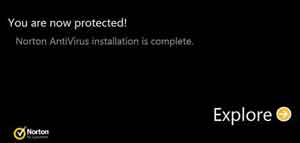 Norton Anti Virus Protection
Installation Complete Screenshot
After connecting to the Symantec Server, complete the Activation process by entering your e-mail address and click Next.
Unfortunately, part of the Activation process is to set up a Norton online account. It asks you for your Name and Country; verification of your e-mail address and a password.
The Norton Anti Virus Protection installation process was going so well! What is your take on setting up an account with Norton (or any other vendor) when trialling their product?
I do not recall any of the free anti virus programs I use asking me for this information? In my opinion, this is just another way to tie you in to their product.
If you want to avoid being inundated with lots of e-mails from Norton with special offers, newsletters etc., make sure you DO NOT check the 'Email me product updates, offers and security newsletters' option.
On completion of the Activation process, you are presented with the Norton Anti Virus protection dashboard.
I like the look and feel of this Dashboard. Lots of choices and information without too much clutter. Very intuitive.
Free anti virus program Dashboards are also easy to navigate. Most are similar in look and feel, and the core functionality is broadly the same too.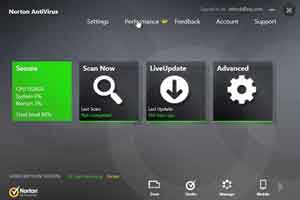 Norton Anti Virus Protection
Norton Anti Virus Dashboard, 2014
Return to the Table of Contents
---
Live Updates and Scan Options
The first thing you must do with all Norton products is connected to the LiveUpdate Server and run all program and, in this case, virus definition file updates.
Click the LiveUpdate button on the dashboard then click the Run Liveupdate button on the following screen.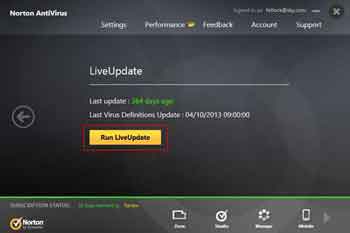 Norton Anti Virus Protection
Live Update Screen
This instance of Norton Anti Virus Protection is almost 12 months out of date and the updates totalled over 300Mb. With today's super fast broadband speeds downloading data of this size is not an issue.
However, is areas that do not have fibre broadband this will take some time to complete, leaving your machine vulnerable for and extended period.
To be fair to Norton, though, I have seen free anti virus programs take a while to update and apply their virus definition files. Microsoft Security Essentials, especially.
Scan Options are exactly the same as in all commercial and free program I have experience of. Let's have a quick reminder of what they are:
Quick Scan of essential files, folders and registry entries where modern virus payloads and malware emended themselves


Full System Scan of every single file and folder on your computer, including additional storage devices such as external hard drives


Custom Scan of targeted files and folders of your choice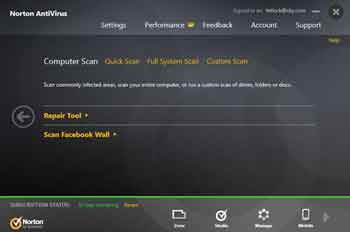 Norton Anti Virus Protection
Norton's Scan Options
In my Lab tests a quick scan takes between 15 MB and 18 MB of memory (RAM) and roughly 13% of CPU resource. This is a reasonably low resource footprint. Much improved on earlier versions of Norton AV programs.
A useful feature in the Norton Anti Virus Protection program is, while a scan of your machine is taking place, you can interrogate the breakdown of the results Summary.
The image below shows a quick scan in progress and the total number of items scanned. This is pretty much standard for all anti virus programs.
However, the image below that shows a breakdown of total items scanned, including how many directories and registry entries, whilst the quick scan continues. Simply click the title to display the breakdown content.
I think this is a great feature. It allows you to monitor progress in more detail and decide whether to proceed with your manual scan.
If you are unfamiliar with anti virus programs, always run your manual scans to completion, just to be on the safe side.
One 'benefit' to this Commercial package is its ability to perform a scan of your Social Media data, such as your Facebook Wall.
However, I am always cautious with this type of functionality. Do you really want to give and Security Company access to your Facebook Wall?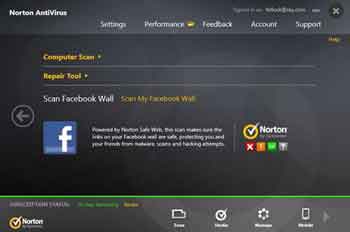 Norton Anti Virus Protection
Social Media Scanning Option
Return to the Table of Contents
---
Configuration Options
There are many configuration options in this version of the Norton Anti Virus Protection program. The good thing is by default all the major configurations and settings are enabled!
Click the Advanced button on the Dashboard to disable (or re-enable) any of the computer or Network functions.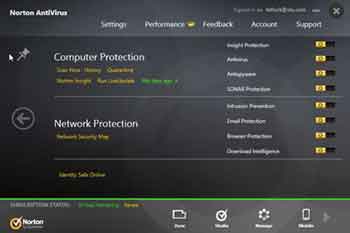 Norton Anti Virus Protection
Advanced Configuration Options
If you decide to disable any of the options, left click next to the yellow 'on' button to slide it to an 'off' position.
A security request box pops up on some options, warning you that disabling them reduces the level of your systems protection.
You are also presented with an option to time limit the disablement of your option, ranging from 15 minutes too permanently.
I like this step as it gives you choices. There are occasions where I don't want to disable options permanently.
For example, I may disable Email protection for 15 minutes whilst I receive a specific message with an attachment I know will be flagged by this setting.
Next click the Settings link at the top of the window. This presents 3 main options with sub options and settings within. The main options are Computer, Network and General.
Network covers options such as:
Web Browser and Download protection
Intrusion Prevention (From online attacks)
E-Mail protection
Network connectivity protection
General covers options such as:
Performance Monitoring (Displayed on the Dashboard)
Product Security (e.g. Preventing non-Admins from accessing certain settings)
Computer covers options such as:

Items to exclude from scans, such as all text files (*.txt)
Computer scans such as whether to scan compressed/zipped files or not and set your Heuristic Protection levels
Whether Live Updates are applied automatically or not
The screenshot above shows the options for Real-time Protection. Some options are self explanatory such as enabling Anti Spyware and protecting against Removable Media.

Some options are less self-explanatory. However, there are guides to assist. Simply click the question mark next to each option for more details.
Attention!
Norton community forums explanation of  SONAR protection
Symantec Online Network for Advanced Response
"An advanced form of Norton protection designed to give you a line of defence against malware that hasn't been encountered yet, and therefore cannot be identified and blocked by traditional, signature-based malware protection."
This appears to be an enhanced level of Heuristic scanning, which performs the same function. 
I would love to know just how much better SONAR is compared to Heuristic scanning. I'm not convinced this is worth paying for!
The latter has a Low, Medium or High-level setting built in the most anti virus programs. The reason is that on occasion legitimate system and application program packages get mistaken for something sinister if the set too high.
Return to the Table of Contents
---
Final Thoughts
Norton Anti Virus Protection comes with many more options and features than what we can cover in one session.
However, below, I round up some other features worth a mention:-
Norton Performance Graphs display a convenient time-stamp trend analysis of CPU and Memory performance levels. Useful if performance changes for 'no reason'
Norton Mobile Security presents a QR Code (Barcode) you scan with your Smartphone to enable Norton Security App to be installed on your phone.
Other modules built in to Norton Anti Virus Protection includes:
Norton Zone (Free Cloud File Storage/Sharing like OneDrive and Google Docs)


Norton Studio (Monitor your devices security online wherever you are at)
Finally, the Service running in your system tray presents pop-ups to alert you to activity such as virus/malware infections, and performance issues.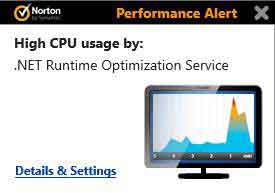 Norton Anti Virus Protection
Performance Alert Pop Up
In conclusion, Norton Anti Virus Protection offer some good enhancements over free anti virus programs. However, for me, the cost is simply not worth it.
Watch your Internet activity, be cautious about unfamiliar files, attachments, e-mails, and adopt a common-sense approach overall, and a free virus scan program is a suitable solution for you home machines.
When all said and one, is the day of the anti virus program dead? Take a look at this article on PC World and draw your own conclusions.
Finally, take a look at the Types of Malware page for further details and articles about this important subject.

Share With Others
Find Us On Social Media