Microsoft Surface Tablet
by Barry
(Seattle, US)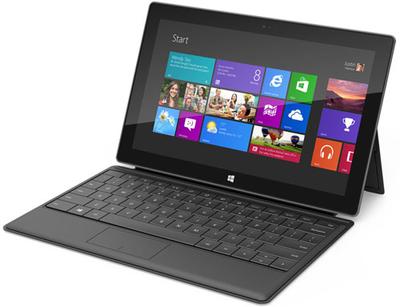 Microsoft Surface Tablet Front View
Hello Steve.

My idea for your site is to write some pages on the Surface Tablet. This is a new tablet computer produced by Microsoft.

It is a good idea to write about new products, as it shows you are up-to-date with the Industry you work in. It also shows you know what you are talking about.

From what I can gather, it is a response from Microsoft to the worldwide success of the Apple iPad.

It runs Windows 8 which is due for release on the 26th October 2012.

There isn't a great deal of information on the web already, but I'm confident that will change later on in the year.



Hello Barry. Thank you for taking the time to write.

The Microsoft Surface tablet is eagerly awaiting at the time of writing. There are 2 models to be offered: the RT version and the Pro version.

The Surface RT version is to be released the same day as Windows 8. RT is actually the version of Windows 8 the Tablet will run.

It is seen as the version aimed at home computer users and to challenge the Apple iPad.

No price is available at the time of writing.

UPDATE December 2014:- Price of a Microsoft Surface Pro 3 is around £639 in the UK ($994).

Will Microsoft look to undercut the price of the iPad and risk the perception of an inferior product? Will it be received as a high-quality budget price tablet?

Will Microsoft market at a premium price to underline the quality of their product? Will it be received as an overpriced white elephant with no benefits for the price?

Only time will tell. We don't have long to wait now.

The Microsoft Surface Pro is aimed at Businesses.

It is a better specification than the RT version. For example, the Pro version comes with true High Definition (HD) quality Display and more Memory.

The specification of both versions look good by today's standards. They are also configurable.

For example, the keyboards come in 2 types: a standard keyboard (Type cover) or a touch type keyboard (Touch Cover).

The keyboards also come in different colours if you want to customize them.

One of the best things for me about this offering is that the CPU is an Intel Core i5 Processor (Dual core).

A lot of the tablets that entered the market in 2012 comes with the Intel Atom processor, which struggled with performance issues.

I like your idea, Barry. I'm sure there will be several pages written on the product in the future.

I hope the information provided whets your appetite!
Join in and write your own page! It's easy to do. How? Simply click here to return to Computer-Help (The eComputerZ Visitor Forum).
Share With Others
Find Us On Social Media