My Technical Experiences
by Claire
(Massachusetts)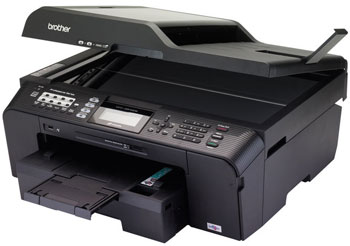 Brother MFC J6510DW Printer
My issue was not with a computer as such, it was with a printer. We had recently bought a Brother MFC-J6510DW Printer. This is a Multi Function device that prints, scans, faxes and photocopies.

We encountered an issue where the card we were
printing on was leaving smudged ink marks around the edges. We only had the printer for a few months when this started happening.

We worked through the standard troubleshooting steps of cleaning the print cartridge nozzles and aligning the print heads, and the problems appeared to improve.

It didn't cease completely, but the smudging was minor, therefore acceptable. However, a month or so later it returned with a vengeance.

Considering returning the printer to the supplier with a few choice words, I noticed the edges of the card were turned up.

Defeated by the technology, and without really thinking, I massaged the edges back, so the card was almost flat.

Imagine my surprise when I put this card into the printer and there were no smudges when it comes out the other end!

I tried it again on another card, then another. All come out free of ink smudges. Issue solved.

It turned out we were storing the card in a box which was slightly too small to hold it flat. As a result, the edges were all curved, resulting in the smudges appearing.

I must admit, I have never cleaned the inside of my computer. I wouldn't know where to start. I did have a brief look at the fans at the back and there is some dust.

Maybe I should open the case up and take a proper look...

I also don't know a great deal about computer components, but I understand the CPU is also called a processor, and it is the 'brain' of the computer.