Wireless Display Application Available
by Jordan
(Halifax, Canada)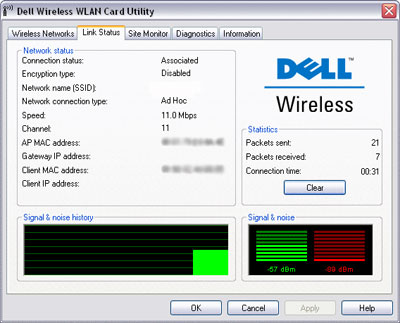 Dell Wireless WLAN Card Utility Link Status
I have an old Dell Inspiron Laptop running Windows XP SP2 I use on a daily basis. I know it's old, but it does what I need it to do!

It comes with loads of software already installed, which I have never taken any notice of.

However, I was at a loose end and decided to take a look at some of the software that was already installed, and what do I find, the Dell Support Center Software.

When I loaded the software, the following message appeared on-screen as a Critical Alert:-

Wireless Display Application Available

I think I know my way around PCs, but I am no expert. Anyway, without thinking, I clicked on the install button. A few moves later and the Wireless Software was installed on my Laptop.

I noticed my icon in the System tray has changed. It didn't look like the Windows icon I am used to. When I double-clicked it, I was pleased to see a green light, signifying that my Wireless connection was still OK. Phew!!

If it had broken my connection, I would have been kicking myself, as I wouldn't have known where to start to try and fix it.

Anyway, I had a look around the options and found out some very useful information, some of which I understand and some of which I haven't got a clue about.

My Link Status seems to be OK? It talks about Signal & Noise. Who knows what that's all about, :) All I know it my Laptop connects to the Wireless router at home and I can browse the Internet OK.

The site monitor shows a green bar where my Wireless router is. This is also good.

I ran all the Diagnostics tests. Yes, me! It disconnected my Laptop from the home router, and I was so nervous as I thought I had definitely broken the link then.

However, when it finished it reconnected, and I was so relieved! I take it that means my Laptops Wireless Card is working OK?

I am working my way through the Dell Support Center Software to see what else my Laptop is missing. You never know, I may even be able to improve things with the help of this application.

Fingers crossed I can do this by following your tutorials. Thank you for providing them.

Love your Website by the way!