How To Install XP For Home Computer Users
This tutorial is the first of a four part series on how to install XP on an unused PC or new hard disk.
I strongly recommend you install a new instance rather than upgrade from a previous Operating System. This removes the risk of older device drivers and registry keys impacting the stability of your new install.
Even though most new PCs come with Microsoft Windows 8 or above pre-installed, there is still many home computer users that want to continue with Windows XP. If you are one, this tutorial is for you!
This part of the tutorial looks at some prerequisite tasks you need to complete before installing the Operating System.
Attention!
Windows XP has gone End of Life (EOL) on April 8th 2014. This means no further security patches or updates for this Operating System. My advice is to move to the latest operating system version as soon as possible

Keep up with the latest news and developments




Sign up to the eComputerZ Newsletter



The free A to Z of performing BIOS updates guide that anyone can follow.

✔  A checklist of important actions to perform throughout the update process.
✔  Further supporting information to aid your update plans.
✔  My unique approach for sourcing the latest BIOS versions for any motherboard manufacturer.
Sign up below for instant access to the guide, or by going to the Subscription page for more details.
I never share information with third parties and your details are secure.
I aim to issue newsletters at the start of each month.
Part Two and part three talks you through the choices you have through the installation process, such as selecting your Region and Input Languages.
Part four talks you through the final steps of the install process and suggests some post-implementation tasks before installing your applications.
Each tutorial includes Hints And Tips for your consideration, based on my personal experiences as a technical support officer. Keep and eye out for them.
Each step in the process is supported by an image to help you on your way. Give it a go and surprise yourself!
The how to install XP Table of Contents enables you to jump to the part of the installation process that interests you, or you are having trouble with.

---
Pre-Requisite Considerations
Before we begin a new install of Windows XP, we need to ensure we have the correct tools and complete the recommended prerequisite tasks. This checklist will save you pain later on. Try not to skip it!
Original Windows XP install CD and Licence Key
If you do not have an original copy, you should buy Microsoft Windows XP before continuing


Download Windows XP Service Pack 3
Burn to CD or have available on a USB stick. You need SP3 installed before connecting to the Internet, otherwise your new install will be exploited by all types of Malware


Download the latest version of all your device drivers e.g. Sound Card drivers, Wireless Network drivers, Video drivers, etc.


Is Your Computer Hardware Capable Of Running XP
Modern computers will have no issues. Older computers must meet the Windows XP System Requirements.
I recommend you have at least 1 GB RAM (ideally 2 GB RAM) and a much more powerful processor to cope with running your applications without affecting performance

For example, products such as Microsoft Security Essentials slow down your machine as they scan your files in the background for unwanted infections


Backup Everything You Need To Keep!
Copy all your documents, web browsing shortcuts and anything else you need to an external hard drive, USB pen or CD/DVD. Verify your files are accessible before you begin
A comprehensive pre-installation checklist can be found at here.
Next we take our first steps of the installation process - loading the text-based interface and accepting the Microsoft Licence (EULA) Agreement.
Return to the Table of Contents

---
First Steps
Put your original Windows XP install CD into your CD/DVD Drive and restart your computer. The following screen should appear on reboot.

Press the Return Key or Any Other Key On Your Keyboard to start the install process. If this does not happen, you need to change your computers BIOS settings to boot from CD.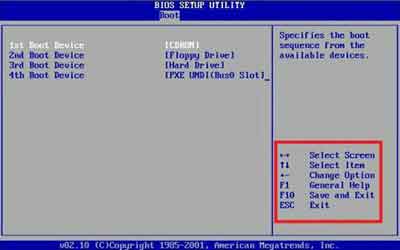 How To install XP
AMIBIOS Options
Once the CD is booted, you are prompted to take action on the Welcome To Set up page. Press your Enter or Return key on your keyboard to set up Windows XP now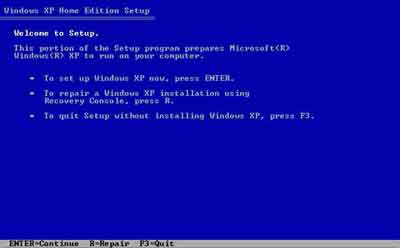 How To install XP
Welcome To setup
Press the F8 key on your keyboard to agree with the Windows XP Licence Agreement.
The EULA goes into some detail with quite complicated language, some of which you should be aware of as a home computer user. Most people ignore the detail and never know what it says.
Installation And Use: You can only install Windows XP on one computer. Have a 2nd computer? You need a 2nd licence, unless you remove it from the 1st PC


You must activate your licence by telephone or over the Internet


If you share files or print queues between computers in your home, you can share between no ore than 5 computers in total


Microsoft can install software onto your computer(s) without your explicit consent. Microsoft has taken advantage of this agreement in the past to prevent/reduce piracy of their software


If your Microsoft Windows CD is marked Not For Resale, you are not permitted to sell the CD!


Microsoft is not responsible for what happens on your computer - viruses, error messages, etc.
The next step is to show you the options for creating and formatting disk partitions.
Return to the Table of Contents

---
Creating And Formatting Partitions
The tutorial continues with demonstrating the options for creating and formatting partitions.
Most home computer users simply press Enter to install the operating system onto the C:\ Drive.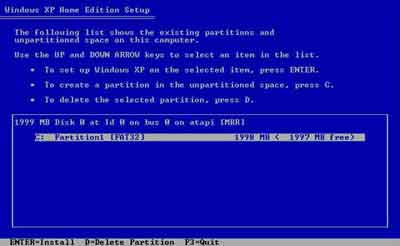 How To install XP
Hard Drive Partition
Home computer users do not need to delete and recreate partitions. Doing so greatly increases the installation time. However, if you have a new hard drive, or have another requirement to delete and create a new partition, read on.
Press D to delete the selected partition. A warning screen appears with information on the consequences of proceeding. Press Enter to continue.

Press L to delete the selected partition. This is your last chance to back out. Only continue if you are certain.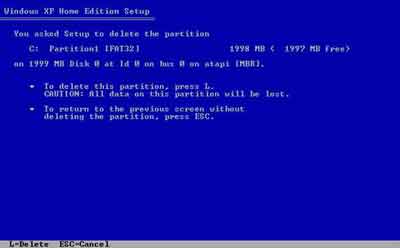 How To Install XP
Delete Partition Confirmation
You will see a large Unpartitioned Space on the next screen. Select this using your UP and DOWN arrow keyboard keys, then press C to create a new partition.
Next, enter the size of the partition you want to create. The most common choice is to enter the maximum size suggested on the screen. Press Enter to continue.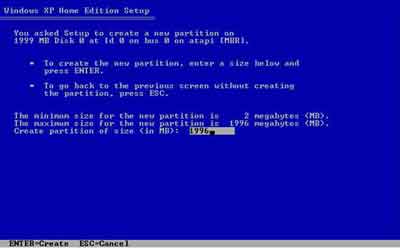 How To Install XP
Create Partition Size
Ensure you highlight the C: Partition [New] partition, and press Enter to proceed with the partition setup.
On the next screen, I recommend selecting the Format The Partition Using The NTFS File System option. NTFS stands for New Technology File System NTFS is more secure that the FAT file system (FAT stands for File Allocation Table). It also works with larger hard disks, so it is practically a prerequisite choice these days. Press Enter to continue.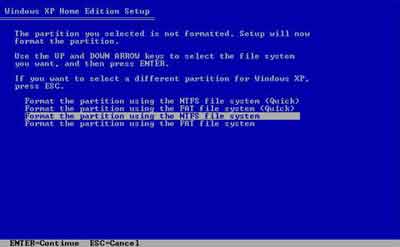 How To install XP
Partition File System Choice
The newly created partition is now formatting with the NTFS file system. This takes a while to complete. Be patient until it is finished. Do not switch off your computer during this process!
How To install XP
Formatting Partition
Return to the Table of Contents

---
Completing The Pre-Requisites
The tutorial continues with showing you what happens next in the installation process.
On completion of the formatting stage, the process continues with installation files copied from the CD to the hard disk. These files are essential for the next stage of the installation process. The time it takes to do this varies depending on your machines hardware specification.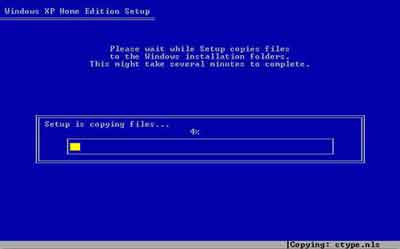 How To install XP
Setup Copies Files
Once the files are copied, the installation process spends some time initializing those files to proceed with the next stage of the process.
Press Enter to restart your computer when prompted. Microsoft includes a 15-second countdown to reboot automatically. This is especially handy if you leave your computer during the preparation stage for some reason.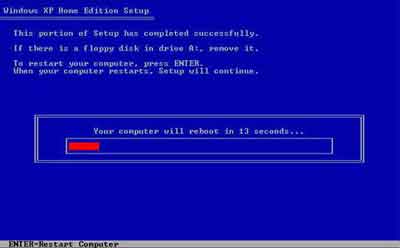 How To Install XP
First Reboot
Return to the Table of Contents
---
Final Thoughts on How to Install XP
This concludes the first part of this tutorial series. Part two walks you through the next steps of the installation process.
For additional support with installing Windows XP take a brief look at the Lifehacker tutorial.
Share With Others
Find Us On Social Media