F-Secure Anti-Virus 2012
by Lynda
(Alaska)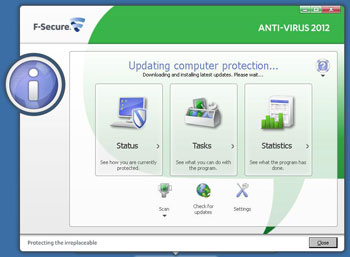 F-Secure Anti Virus 2012 Simple Options
OK, so F-Secure 2012 is not a free Anti Virus program. However, I just wanted to mention a few things about it, as I think it is a great product.

At the time of writing it costs $25.90 every year or $2.16 per month to subscribe, and it loads into All Windows XP, Vista and Windows 7 platforms.

Most computers over the past 5 years will run the program without any issues.

My computer is about 4 years old and hasn't been upgraded or anything like that, and it runs F-Secure OK.

Before deciding on F-secure, I tried several programs, including Norton Antivirus and Kaspersky Anti-Virus.

I really like F-Secure because it is so easy to install (even for me!) and use.

For example, it shows the statistics in simple pie charts depicting things like how many files it has scanned and cleaned.

It also explains the choice you have in easy to understand language.

For example, when configuring the Virus and Spyware Scanning settings, the actions when something is found are:



If Unclear, ask me


Always ask me


This makes the set-up simple for people like me to do. I would recommend to your reader if they decide to buy an anti-virus program then they should choose this one.
Thank you, Lynda, for taking the time to write your web page. I am impressed by your enthusiasm for the F-Secure program.
I must admit, I have never used this program before. I have heard of F-Secure but only in the Corporate Mobile Device Management market (Smartphones, iPad's etc. in the business environment).
I downloaded the trial version and agree the User Interface is easy to navigate and the explanations for setting it up are clear for home computer users.
I do, however, think there are free virus removal tools out there that is just as good as the F-Secure commercial product –
Microsoft Security Essentials
or
Panda Cloud Antivirus Free Edition
, for example.
Having said that, it is personal choice, and you are clearly happy with what F-Secure offer. Thank you again for your submission