Microsoft Virus Protection Microsoft Security Essentials
Microsoft Virus Protection is the 3rd of a 3-part tutorial series on Microsoft Security Essentials (MSE). In Part 3 we will look at:
How to set up Microsoft Security Essentials (in my humble opinion) by working through all options


How to quickly see whether MSE is updating definition files (to capture the latest threats) and protecting your home computer.
Attention
Microsoft Security Essentials reached end of life on the 14th January 2020 and is no longer available for download. Microsoft will continue to release signature updates (including engine) to service systems running MSE until 2023.
Microsoft Security Essentials is the 2nd most popular anti virus program in the world in 2013. Are you considering using this program? If so, it is worth your while to take a look at Part 1, the Microsoft Free Anti Virus tutorial.
Part 1 tells you about:-
Microsoft Security Essentials hardware requirements


What you should do before you install MSE


How to download and install MSE
Do you already use this antivirus program? Would you know what to do if a virus was detected on your computer? Part 2, the Microsoft Security Essentials tutorial, tells you about:
What real-time protection is


The different proactive scan options available


What steps to take if a virus is detected on your computer
I use Microsoft Security Essentials on all of my home computers. Microsoft tends to get a rough press in the IT Industry. However, in my opinion, this Free Computer Virus Scan software is one of the better ones out there.
The Table of Contents enables you to go to the part of the page you are interested in:-

Keep up with the latest news and developments




Sign up to the eComputerZ Newsletter



The free A to Z of performing BIOS updates guide that anyone can follow.

✔  A checklist of important actions to perform throughout the update process.
✔  Further supporting information to aid your update plans.
✔  My unique approach for sourcing the latest BIOS versions for any motherboard manufacturer.
Sign up below for instant access to the guide, or by going to the Subscription page for more details.
I never share information with third parties and your details are secure.
I aim to issue newsletters at the start of each month.
---
Virus and Spyware Definition Update Process
If you decided to tick the Scan My Computer For Potential Threats After Getting The Latest Updates box at the end of the installation process, the Microsoft Security Essentials program does exactly that!
The first thing you see is the screen below. Make sure you have an Internet connection for the latest updates to be applied.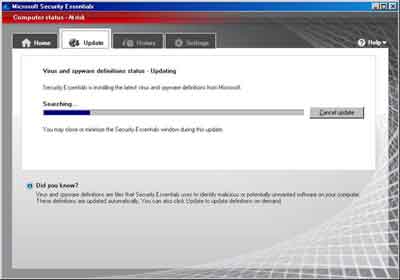 Microsoft Security Essentials Update Definitions
If you take a look at your MSE system tray icon, you will see a 'green arrow' running down the 'blue castle'. This is your confirmation that the definition update process is running.

Once the virus removal definition files are updated a Quick Scan of your computer is performed. Hopefully, your machine is clear of any threats.

However, what do you do if suspicious programs are detected on your computer? Go to the Microsoft Security Essentials tutorial to find the answers. 

It is worth noting that you don't have to wait for Windows Updates every week to receive the latest definition files. You can click the Update button at any time.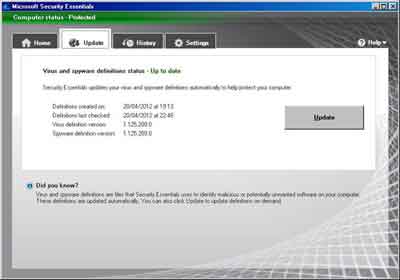 Microsoft Virus Protection Update Button
Return to the Table of Contents
---
Microsoft Security Essentials Settings Decisions
The Microsoft Virus protection settings section is where I can share my knowledge and experience of Microsoft Security Essentials with you.
There are a few amendments I make to my setup at home. So let's go through each option in turn, starting with the Scheduled Scan.
A Scheduled Scan should always be enabled! I leave the Scan Type on Quick Scan because I am using my computer a lot of the time and I want to minimize the impact on performance whilst I am working. 

You have the flexibility to schedule a scan to suit your circumstances. Take the time to think about this, then schedule accordingly. 

For example, if you leave your computer on 24/7, you could select a Full Scan to run Daily in the small hours of the morning. 

You could also untick the Limit CPU Usage During Scan option if you are not using your computer when the scheduled scan begins, enabling the scan to complete quicker. 

I tend to leave all options ticked.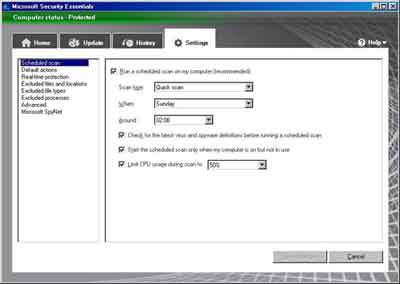 Scheduled Scan
Default Actions is where you can decide what happens when Microsoft Security Essentials detects potential threats. 

Microsoft Virus protection classifies each threat by level of severity, depending on the level of damage they can cause you. 

A Severe Alert Level is for Malware that can cause serious damage to your computer, stealing information and preventing your device from working properly. 

I have this alert level set to Remove the offending threat when detected. 

I recommend you apply the same setting. You need to remove computer virus threats with this threat level ASAP! 

You can change any alert level by clicking the drop-down arrow and selecting your option from the list presented. 

I also recommend the High Alert Level be set to Remove. Threats classified as high can be just as disruptive as threats rated severe! 

I have Medium and Low Alert Level threats set to Recommend. 

This means you benefit from Microsoft Security Essentials recommended actions, but ultimately decide on the course of action. 

Sometimes threats with these alert levels are genuine software on your computer that is misinterpreted as a virus or other form of malware. 

If you have a Medium or Low alert, check to confirm whether you recognize the software in question. 

If it is something you have intentionally installed, or you know is installed on your computer, choose the Allow option. 

If you do not recognize the software, do a little research online first. Choose the Remove option if you cannot determine what the program is e.g. a genuine Operating System program. 

I also leave the:- Apply Recommended Actions option ticked.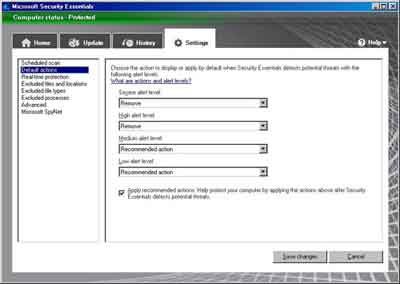 Microsoft Virus Protection Settings
Default Actions
Real-Time Protection should be left with the default settings. Ensure all the boxes are ticked. 

Real-time protection is a live computer virus scan that checks activity on your PC as it happens. This way potential threats are dealt with, so they do not become problems. 

There are lots of sites that host downloadable files that look legitimate, but are actually Malware or Viruses, or programs that contain hidden nasties that install without your knowledge. 

This is why you need the Scan All Downloads option ticked. 

I also recommend the Monitor File And Program Activity On Your Computer is set to Monitor All Files. 

Enable Behavior Monitoring and Enable Network Inspection System are two additional security protection settings. 

The intelligence built into real-time protection enables Microsoft Security Essentials to identify virus and malware 'patterns'. 

Any suspect files that look like malware is flagged.

Note, the latest version of MSE only gives you the Turn on real-time protection (recommended) option.
I assume that the importance of having all the other options enabled means that you do not get the choice to disable them any more. This is a good thing.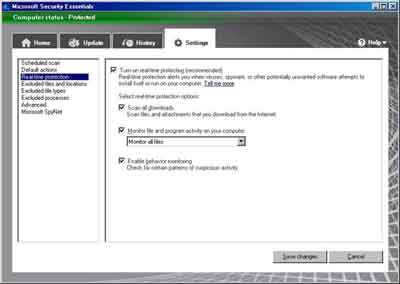 Microsoft Virus Protection Settings
Real Time Protection
I don't use Excluded Files and Locations as I prefer a scan to cover everything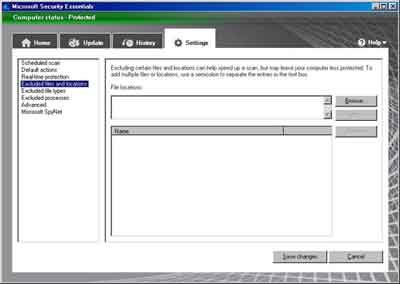 Microsoft Virus Protection Settings
Excluded Files and Locations
Viruses and Malware can't execute in a text file. Cyber Criminals tend not to use these types of files. 

Professional IT Companies exclude text files (*.txt) from the scanning process to speed things up. 

I prefer all files and file types to be scanned. Better safe than sorry. 

However, if you wanted to exclude a certain file type, enter *.txt or alternative into the File Extensions field then click the Add button.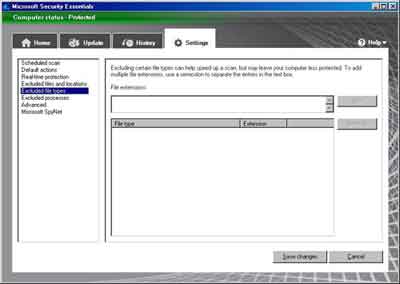 Microsoft Security Essentials
Excluded Files Types
I have the same stance with Excluded Processes. Exclude none! I'll be patient and wait for the scan to complete. 

Processes are what happens when you double-click on an icon to load a program. 

There are also lots of other processes that run instructions to do things like make your Operating System work. Suffice to say, they are necessary to the workings of your home computer system.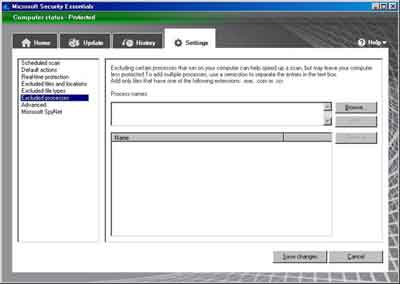 Microsoft Security Essentials
Excluded Processes
I tend to use all the Advanced settings except the Remove Quarantined Files After: option. This is simply because my Default Actions settings do not include quarantined threats. 

I prefer to Scan Archive Files in case any nasties have made their way into my compressed files. This is a little belt and braces, but I think you can't take chances! 

I Scan Removable Drives for precisely the same reason, and I prefer to create a System Restore Point in the event a problem occurs, and I need to return the system files back a working state. 

I also Allow All Users To View The Full History Results. I have nothing to hide!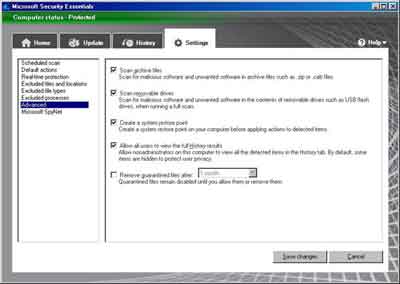 Microsoft Virus Protection Settings Advanced
The final settings option is whether you want to join the Microsoft Spynet - "an online community that helps you choose how you respond to potential threats". 

I choose not to join. However, If you would like assistance from the online community, then there are Basic and Advanced membership options to choose from. 

Return to the Table of Contents

---
Microsoft Virus Protection | Final Thoughts
Couple of final thing to mention. You can open Microsoft Security Essentials by right-clicking the System Tray and selecting Open from the menu.
You can also view the History of detected items on your computer. The Alert Level and Action Taken are just some details you can see in this window.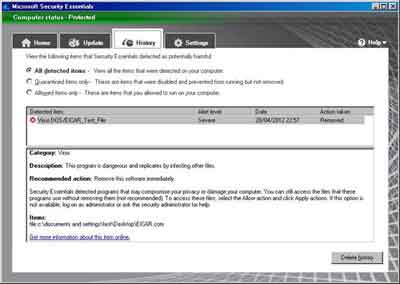 Microsoft Virus Protection
History Log
I hope the discussion helps you to make the right choices for setting up Microsoft Security Essentials. For more information on Microsoft Security Essentials virus removal take a look at Techradar.
If you haven't read it already take a look at part 1 of this tutorial series Microsoft Free Anti Virus.
Finally, take a look at the Types of Malware page for further details and articles about this important subject.

Share With Others
Find Us On Social Media