Creative Labs Sound Card Drivers | Easy Installation Article
The Creative Labs sound card drivers article describes a framework that can be applied to any type of driver installation, not just specific to sound cards.
Device drivers are the corner stone of any computer setup. Without drivers, your computer's hardware, such as audio cards and peripherals such as printers, would not be able to communicate with the device's operating system.
Lots of drivers are installed on your computer. Some are more generic and inbuilt in to the operating system, which is why some new hardware is 'auto-detected'.
However, it is often the case that drivers provided by the manufacturer are more complete and compatible with your hardware, and often come with additional control features you can use to set up the behaviour that suited you best.
Before you identify and install the right drivers for your hardware, make sure you have successfully connected or installed your hardware first. This goes for installing internal sound cards too.
This article walks you through the simple steps of downloading and installing sound card drivers; specifically Creative Labs sound card drivers.
This is because Creative Labs is one of the most popular audio card manufacturers in the computing Industry.
If you want your new sound card to work correctly, you need to install the drivers. The steps below are similar for all types of sound cards.
Keep up with the latest news and developments




Sign up to the eComputerZ Newsletter



The free A to Z of performing BIOS updates guide that anyone can follow.

✔  A checklist of important actions to perform throughout the update process.
✔  Further supporting information to aid your update plans.
✔  My unique approach for sourcing the latest BIOS versions for any motherboard manufacturer.
Sign up below for instant access to the guide, or by going to the Subscription page for more details.
I never share information with third parties and your details are secure.
I aim to issue newsletters at the start of each month.
---
Downloading Hardware Drivers
If you have bought a new sound card, the drivers are usually on the CD that come with the card. Simply insert the CD into your computer's CD/DVD Drive and follow the on-screen instructions.
However, it is increasingly popular for manufacturers to make their product's device drivers available for download from their website, free of charge
There are a couple of things you need to do first before you can download the correct drivers for your audio card.
First, identify the (make and) model of your audio card. If you do not know, you may need to open your computer and look on the card itself. Note the make, model, serial number and/or model number.
Alternatively, download and install the free Speccy tool to identify your sound card without having to open up your machine.


Creative Labs Sound Card Drivers
My Audio Card Details
To find your drivers in this example, go to the Creative Products site and select the Sound Blaster products link. This shows you how to identify your card.
Once you know what model you have, go to the Sound Blaster products page and left-click your model. You should now see the option to download the latest Creative Labs sound card drivers for your card type.
Most audio card manufacturers offer supporting applications, such as the Creative Labs media toolbox, which is an audio manipulation package.
Next, left-click the download link for the latest drivers. Click the agree option on the end-user software licence agreement and answer the verification question if prompted.
If you have made it this far successfully, you should be watching your driver package downloading to your computer. In the next section, we take a brief look at the driver installation process.
Return to the Table of Contents

---
Installing Device Drivers
Drivers, or device drivers, are a software program that enables your operating system to communicate with your computer's internal hardware components, such as graphics cards and hard disk drives.
When you first switch on your computer, your operating system detects the new card and looks to install the native Microsoft version of the driver.
A message similar to Detected High Definition Audio Device appears on your screen in this instance.
This is OK. However, I always find installing the drivers that are provided by the manufacturer are technically a much better option.
This is the time to have the accompanying drivers CD loaded and ready to go. If the driver installation process does not start automatically, go to your CD/DVD drive letter in File Explorer, and double left-click the Setup.exe file.
However, it is more likely you will use the latest version of the drivers if you download from the manufacturer's website. The latest versions include bug fixes and sometime new or improved functionality.
Double left-click the self-extracting file you downloaded. The driver files are extracted to a temporary location.


Creative Labs Drivers Extract In Progress
Next, select your language (Shown below). Select Next, then Yes to progress past the software licence agreement stage.
After the read me file prompt and choosing to install to a specific directory, select the Typical Installation option.
The device drivers will now install. You may be prompted to restart your computer. Do this until the driver installation is complete.
After restarting your machine, have your speakers switched on and turned up. You should hear sound from your computer. Test and confirm this is the case.
Make sure your computer's sound is not muted! I can't tell you how many times this has caught an unsuspecting home computer user out.
The installation process described is specific to Creative Labs sound card drivers. However, the installation process is very similar whatever type of hardware you have.

---
Creative Labs Sound Card Drivers | Final Thoughts
Device driver installation is straightforward today. In years gone by, I have experienced a whole host of issues centred on operating system compatibility, plug and play, and differences between 32-bit and 64-bit technology.
Thankfully, most of those days are long gone. However, one of the obvious problems you have if your drivers fail to install correctly is no audio!
If you are experiencing issues with your sound card, take a look at the sound card not working article, which looks at common issues and solutions.
Finally, take a look at the video below. It shows the full device driver installation process (You may want to put on mute - if you have a working audio card - because the video is purely visible, and the accompanying music isn't that great!).
The Full Device Driver Installation Process Video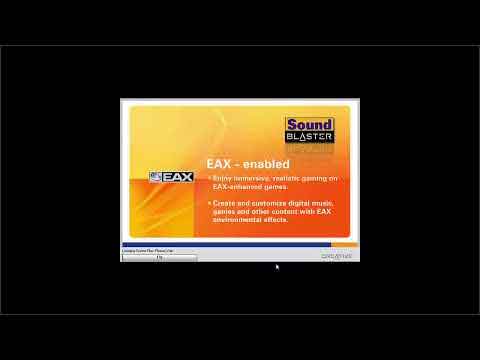 Share With Others
Find Us On Social Media