Touch Screen Tablet Computer
The Touch Screen Tablet Computer is playing an increasing role in today's society. Since the announcement of the first generation Apple iPad in 2010, a plethora of companies invests huge sums to develop the next big thing in mobile computing.
Tablet makes, models, hardware capabilities and software, including operating systems and applications, is fiercely competitive. Markets rapidly shift focus and models quickly become obsolete.
Therefore, if you are looking for a Tablet, and the market is so fluid you are spoilt for choice, how do you decide what is best for you?
In this article, we look at the reasons why a touch screen tablet computer is appropriate for you. We review the benefits of such devices, and look at what is available on the market at present.
I aim to provide you with overall information on which you can make an informed choice about the best device for you.
A relative (or extension) of the Tablet is the Hybrid, or Tablet Notebook Computer. This is a tablet device with a detachable keyboard or non-detachable keyboard that swivels 180° behind the tablet screen.
The aim of these devices is to provide you with the best of both the Tablet and Laptop worlds. Is this type of device more appropriate for you? Take a look at the article for further details.
Keep up with the latest news and developments




Sign up to the eComputerZ Newsletter



The free A to Z of performing BIOS updates guide that anyone can follow.

✔  A checklist of important actions to perform throughout the update process.
✔  Further supporting information to aid your update plans.
✔  My unique approach for sourcing the latest BIOS versions for any motherboard manufacturer.
Sign up below for instant access to the guide, or by going to the Subscription page for more details.
I never share information with third parties and your details are secure.
I aim to issue newsletters at the start of each month.
---
Case For The Touch Screen Tablet Computer

The Tablet computer is a convenience device. Light, easily portable, and lots of battery power.
Tablet devices are less cumbersome than laptops and larger than smartphones, particularly useful for watching films and other streaming multimedia.
In addition, the solid state hard drive's that come as standard in tablet devices are quick at loading the operating system and applications. This is much quicker than desktop computers or laptops.
The convenience of touch screen tablet computers is underlined in a variety of circumstances, including:
Web Browsing when out and about or searching for somewhere to park or eat
Reading while in bed

Following a recipe in the kitchen and reading about how others tweaked their ingredients to improve the flavour
Keeping the kids quiet by playing games on it in the back of the car
The tablet is not perfect for everyone. Take the following circumstances as examples:-
Native tablet devices are almost always touch screen keyboards. This is OK for web browsing, but not for editing spread sheets or writing long documents;
The technical spec of a tablet is generally less than computers, meaning these devices are less suitable for things like editing images or video files;
Tablet apps tend not to include the full feature set of the equivalent application on a desktop or laptop computer.
What it comes down to, like it always does, is what do you want and need to do on your tablet? Depending on the type of tablet you buy, they can be expensive.
You want to avoid buying one only for it to collect dust in a drawer because you have no real use for it.
If you believe you have a genuine need for a touch screen tablet computer, there are a few things you need to be aware of upfront.
Hardware
Lots of vendors are producing lots of tablets at a wide range of prices, depending on who they are aimed at. Names such as these are common place when talking about consumer tablets:-
Apple (iPad Mini, iPad Air)
Google (Pixel)
Samsung (Galaxy Series)
Sony (Xperia Series)
Companies such as HP, Dell and Panasonic also produce tablets aimed at the business market. We look in more detail below at the different types of hardware specifications available today.
Operating System
There are two main operating systems on the market today.
Apple iOS/iPadOS
Google Android (Various versions)
There are others, but these two are currently the big players in the software market. The Google Android is the market leader. 
I think iOS and Android are broadly similar in terms of use and functions. Microsoft Windows for tablet devices is still a shrinking market.
Personally, I find both iOS and Android easy to use. Ultimately, it is personal preference which is best for you. No harm in trying both, though, is there?!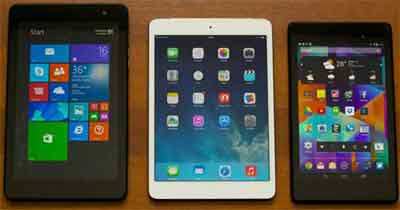 Windows/iOS/Android Device College
Source:- arstechnica.com/
Whichever tablet and operating system you end up choosing, it is likely for the duration of your device ownership, and therefore you are going to be tied in to that provider's offerings.
Next, we look at some things to consider before buying your touch screen tablet computer.
Return to the Table of Contents

---
Considerations Before Buying
The information below is intended to be an unbiased set of criteria for you to consider before investing in a touch screen tablet computer.
Some specifications will change as technology evolves. However, the principles of selecting a touch screen tablet computer remains the same.
This section covers the following areas:
Hardware Details
The look and feel of a touch screen tablet computer is similar to that of a tablet notebook computer where the following considerations are discussed:-
Device weight for ease of portability
Screen size (Watch many films? Go for a larger screen but accept increased device weight in general)
Touch screen quality, i.e. how sensitive is the tablet screen to your gestures - taps, swipes etc. It is reported Android Devices are less sensitive than Apple iPad devices (touchscreen lag). Try each for yourself and make up your mind
Is the design, style and colour of the device appealing to you? Does it matter to you?
Hardware features. Do you need USB or HDMI ports? Do you need a high-quality web cam?
Some touch screen tablet computers come with 13.3-inch screens and larger. If you consider notebook computers with touchscreens and detachable physical keyboards,  the size is even larger.
7-inch screens are considered small, even though only 4 or 5 inches separate smallest from largest. For what tablets are generally used for, this is a big difference!
The screen size of a tablet is the actual size of the touchscreen, measured diagonally, just like a standard TV. The actual size of the tablet are in most cases bigger than this.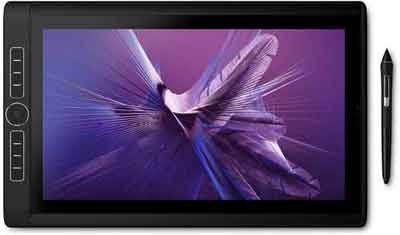 The Wacom MobileStudio Pro 16 Comes With A 16 Inch Screen
Source:- amazon.com/
Tablet display information can get quite detailed and complicated. For example, things like pixel density per inch (ppi) is different to standard screen resolution.
Pixel density refers to the sharpness of the display, depending on the distance you are from the device. A low pixel density means the further away you are from your device, the more distorted the screen becomes.
Apples' Retina Display ensures the typical viewing distance of your tablet does not show any individual pixel.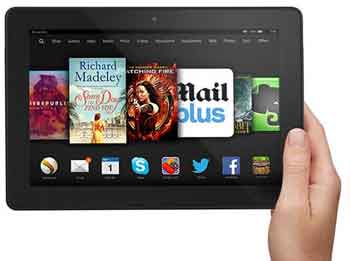 Amazon Kindle Fire
Source:- amazon.com
Storage and RAM are also important considerations. Most vendors now offer Cloud storage free of charge, so you can access your data from anywhere at any time.
However, 'on board' or local storage is significant, particularly if you use many apps and keep music, video and photographs local on your device. Storage is always increasing or capacity. Devices today can store terabytes of local data.
Related to storage is memory (RAM). More is better in both instances. If you use many apps, then more RAM makes your device more responsive (a decent Processor/CPU is also a must).
Most Android-based devices offer the ability to add storage via microSD cards. Although not as quick as your internal SSD storage, it is a cheap method of increasing your devices storage capacity.
At the time of writing, Apple do not offer this option on their devices. However, products such as the Leef iBRIDGE (Opens New Window) provide suitable alternatives.
Battery life in tablet devices tends to be a standard 12 hours or more, lasting much longer than a laptop. Wi-Fi and Bluetooth are also standard.
5G 'Mobile' connectivity for access anywhere tends to be more expensive. If you are using your device in an area with free Wi-Fi hot spots, you may not need 5G connectivity.
Most mobile suppliers offer monthly data purchases for tablet devices without signing up for a 2-year contract.
If you have a mobile phone contract, you can tether your touch screen tablet computer to your mobile phone. This means you can buy a tablet without 5G capability, but connect online via your mobile phone. The video below explains one of many ways to do this.

How To Tether Tablets To Mobile Phones Video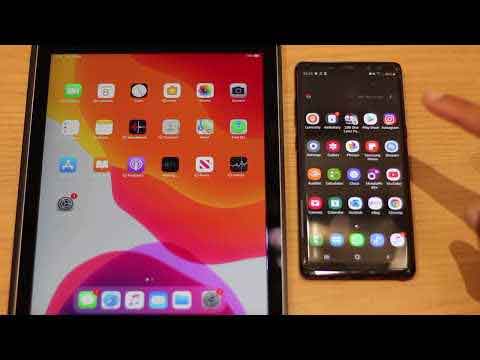 Some other things to consider regarding hardware are:
Older (7 inch) Android devices generally cannot be upgraded to new versions of the Android O/S. Check before you buy!
Android devices are usually cheaper than Apple or Windows tablets. In recent years, cheaper Androids mean poorer quality. Not so much today!
All Tablets have optional extras. However, at the time of writing, Android offers the widest variety such as USB Ports, meaning you can plug it in to your PC to act as a storage device and transfer files etc.
Android devices also use universal chargers between the various makes and models, making it easier to replace when they become faulty (and they will!)
Nothing beats trying for yourself. Go down to your local dealer and spend a bit of time in there with each type of device you are interested in. Next we look at Tablet Operating Systems.
Operating Systems
The iOS O/S is found on Apple devices only (Propriety to Apple)
The Google Android O/S in various versions is found in lots of different makes and models such as Acer, Asus and Samsung
The Microsoft Windows O/S is found on the Microsoft Surface Tablet and generally on other Business focused devices.
Android is a free, open source O/S, which explains why so many customized versions exist on so many devices.
Unfortunately, most android devices do not receive O/S upgrades like the iOS. If you want the latest android O/S, speak to your local provider for advice.
The Windows O/S is licensed to Microsoft. For other vendors to use requires payment of a licence fee. The big benefit of a Windows O/S is the capability of running full applications in addition to cut down tablet Apps.
This is one of the reasons why the business tablet market prefers Microsoft software. The other side of the coin is true with tablet apps you download and install. No need for licence keys and working through installation sequences.
It is also the reason why Windows-based tablets double up as a Hybrid device so well.
Apple manufacture their hardware and develop their own operating systems specifically for their devices. This is why Apple is usually more expensive but at the same time gives credence to their claim of truly integrated and compatible hardware and software. When selecting your tablet you decide whether this is an important factor.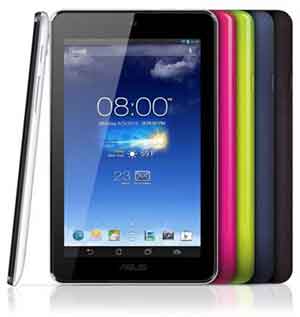 The Asus MeMo Pad
Source:- asus.com
Android devices have the capability of multi user logins. This means several members of your family can log in to their profile and customize however they see fit.
Windows devices also offer this standard feature. However, the Apple iOS/iPadOS does not at the time of writing.
Customized Android devices such as the Amazon Kindle Fire are specific to that device, and cannot be amended easily. For example, Google apps and Play Store are replaced by Amazon equivalent services.
In addition, consider security. Not a long time ago, Microsoft received the most attacks by cyber criminals. Today Android receives just as many, if not more attacks on its vulnerabilities.
If security is important, look no further than Apple. Next we look at Apps.
Applications
Apple offers the widest and most secure range of apps today with their App Store. Whether the app is free or to purchase, all can be done on your touch screen tablet computer.
The App Store is closely monitored to ensure no rogue apps with malicious code built in is made available for download.
Android has an increasingly good selection and apps. The main security issue is the Android Play Store is not monitored well (or at all).
Therefore, even though more Apps are free of charge, they come with the risk of infection or faulty code. If it seems too good to be true, then it probably is!
It is also worth mentioning that some Android apps are written for smaller smartphone screens. This means on a touch screen tablet computer with a larger screen the app won't render too well and may look poor.
On the face of things, Apple seems to win the day when it comes to apps. However, bear in mind that with Apple, everything is tied in:- Apps, Films/TV Series (Apple TV), books etc.

With Android, you can shop around different sources for the cheapest books, Apps, Films etc. Is this an important factor for you?
Return to the Table of Contents

---
Final Thoughts
There is lots to consider. Whichever make and model you end up with, you are committing to one of the two main players.
This is not a bad thing, necessarily. If you use an Android phone, then why not commit to an Android touch screen tablet computer? Same with the Apple iPhone and iPad.
This way, everything is seamless between devices, which ultimately makes your life easier.
All Touch Tablet Site is an excellent source of up-to-date information on all things touch screen tablet computer related.
Share With Others
Find Us On Social Media