Sound Card Definition
Your Sound Card Introduction
A Sound Card Definition can vary depending on which website you visit. Audio Cards enable your device to create and play sound! However, there is much more to these cards than you may realise.
They come in different shapes, sizes and capabilities. Some are installed inside your computer and others can be plugged in to the USB port. The quality is constantly evolving and today we can enjoy 4k audio quality, which is much crisper than those old vinyl records.
In this article we take a brief look at what a sound card is exactly, then the capabilities of sound cards including what each of the ports are for. We also look at what modern sound cards are used for.
Attention!
Just letting you know there are personal ads published on this site
If you are running an Ad Block you can whitelist my site to see them
Thank you for your time
---
What is a Sound Card ?
If you take a look at different websites, you'll see different sound card definitions. Here is my attempt at describing what a sound card is. 
An audio card is generally described as a type of expansion card (because you are expanding your computer's capabilities) that is capable of receiving and sending audio signals to and from your computing device.
Audio cards are also known by various other names, for example, Audio Adapter, Audio Card and Sound Board.

It is a generally a card that slots inside your motherboard's PCI slot inside your computer. It enables you to playback music and record things such as your own voice into a microphone.
Sound cards are standard on all modern computers, and they are generally incorporated in to the motherboard. In addition, all laptops and lots of PCs have an internal speaker for audio output.
However, in my experience, internal speakers are low quality. The output can be distorted and difficult to listen to.
All audio cards have the option to plug in external speakers. This can greatly improve the output quality.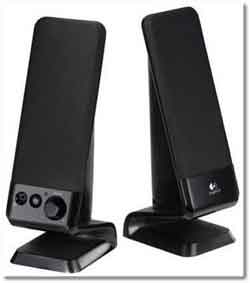 Sound Card Definition Article
External Computer Speakers
In addition, you can also adjust the volume on external speakers rather than relying on changing the volume on the operating system. 
Attention!
In my experience the volume button will trigger a crackling and popping sound when turning the volume up or down, then will be Ok when you reach your desired volume level.
This is usually because of a collection of dust and dirt inside the volume controller. The simple fix is to switch off your speakers and turn the volume button up and down quickly, around 20 times. If you have compressed air use this on the volume button too.
Switch back on and test. Hopefully the issue will be rectified.
In the next section of the sound card definition article we briefly look at the sound card in some more detail.
Return to the Table of Contents

---
The Anatomy Of A Sound Card

Cheap sound cards come with extra features these days that used to be reserved for expensive sound cards. In addition to a port for a microphone and another for speakers, most audio cards come with a gaming joystick port.

They also come with an auxiliary port for connecting devices such as a hi-fi system, or amplifier. Headphones can also be connected.
The image below is annotated with descriptions of the different sound card ports.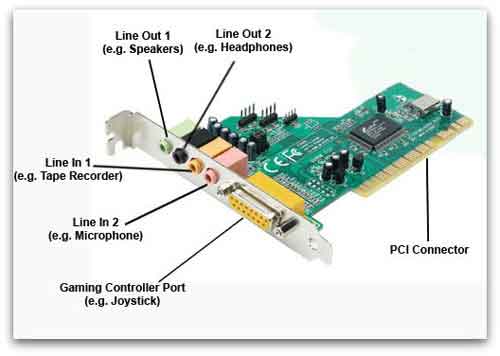 Sound Card Definition Article
Typical Sound Card Ports
Attention!
Today sound cards have evolved to improve both sound quality and choice.
Convenient external sound cards are now available that simply plug in to your USB port. For as little as £5 they include 3D sound, speaker and headphone jacks. Click the image below and you can buy this from Amazon.
All this means is the quality of the chips on the cards are so advanced they provide industry quality sound. Anything over £300 is aimed at professionals.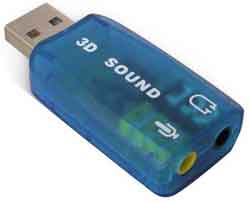 Dynamode USB 2.0 External Sound Card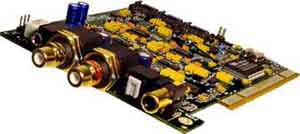 Sound Card Definition Article
The Expensive But High Quality
Cantatis Overture Sound Card
There are a lot of products on the market that plug into sound cards. For example, products that enable you to convert old vinyl records or tape to MP3.

Modern PC's are colour coordinated to make things easier. Each port will have a colour that closely matches the cable that plugs into it.
Inside your machine, there is an audio cable that connects your CD/DVD drive to your sound card. This is usually the only way your machine can produce the sound from your music CD or film DVD.
A lot of today's computers do not have a PCI sound card plugged into the motherboard. Instead, the audio technology is part of the motherboard. This is known as an integrated sound card. This is also the case for laptops and tablet computers.
The very expensive cards have other technologies built in to edit and produce professional quality sound by eliminating noise and improving sound tones.
Return to the Table of Contents

---
Sound Card Definition | Final Thoughts
It is remarkable to think that before sound cards existed, computers could only make a beep noise!

An integrated card is more than adequate for everyday home users. However, if you need more advanced features you will have to buy a more expensive card and fit it into your computer.
The integrated card will also need to be disabled on the motherboard. This is done on the computer BIOS.
I hope the sound card definition is clearer to you. Now, it is time for you to take a look at the sound card installation tutorial.
The computer hope site has a good web page on a sound card definition (Opens New Window) that is worth a read.
Attention!
If you enjoyed this article please share on your social media by selecting the share buttons
Attention!
Head over to the Computer-Help forum for lots of knowledgeable articles by site visitors on all subjects technology-related. Feel free to contribute your thoughts by completing the form, and commenting on existing articles.
Keep up with the latest eComputerZ news and developments
I never share information with third parties and your details are secure. I aim to issue newsletters on the first day of each month.