Tablet Notebook Computers
The tablet notebook computer is a common name referencing tablets that also come with a detachable keyboard, or an attached keyboard that swivels 180° behind the tablet screen.
Other common names for this family of devices includes Hybrid and Convertible. Most people known these devices simply as tablets with keyboards.
Whatever you know them as, they are playing a more important role in our lives, particularly the next generation who didn't know a world without Facebook, Twitter and mobile tablet computers!
Here we focus on the merits of these devices and why they provide advantages over other types of machines. We also look at what your considerations are when buying one of these devices.
Keep up with the latest news and developments




Sign up to the eComputerZ Newsletter



The free A to Z of performing BIOS updates guide that anyone can follow.

✔  A checklist of important actions to perform throughout the update process.
✔  Further supporting information to aid your update plans.
✔  My unique approach for sourcing the latest BIOS versions for any motherboard manufacturer.
Sign up below for instant access to the guide, or by going to the Subscription page for more details.
I never share information with third parties and your details are secure.
I aim to issue newsletters at the start of each month.
---
Tablet Notebook Computer | Features and Benefits
Consumers and Business people want the best of all worlds. There are times and places for using desktop computers, laptops, smartphones and tablets, such as at work, travelling or even shopping.
Businesses are in the midst of accommodating these different demands by issuing multiple devices to their employee's. It's not unusual for staff to have multiple devices provided to them.
How many devices do you have in your home? How many do your children have? It is a common theme, and an expensive one too.
More recently, vendors are producing Tablet-Laptop convertible devices, to provide the best of both worlds when you need a bit more than what a Tablet offers. An example of such a device is the Microsoft Surface Tablet.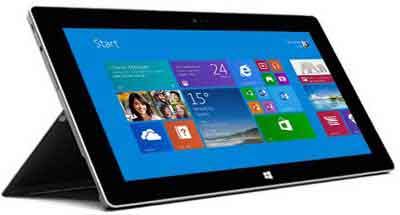 Microsoft Surface Pro in Tent Mode
Source:- microsoft.com
The idea behind the tablet notebook computer is to provide the middle ground between the convenience of tablet devices and the capability of laptops.
Tablets are a convenience item. They are travel light, generally have good battery life, and can connect to both 5G and Wi-Fi networks for instant access to data and applications such as Skype and FaceTime.
However, Laptops tend to have more capability to perform more intense actions such as developing a complex spread sheet, writing a long essay, or building a website.
There are some things you simply cannot do on a Tablet that you can do on a Laptop. For example, many Windows and Android Apps are limited in what they offer compared to standard operating system applications.
Laptops tend to be more powerful than Tablets, and come with a physical keyboard, which is still the input of choice for complex computing work. However, they tend to be heavier and more cumbersome to transport.
The Laptop market is addressing these issues by producing slimline models that weigh a lot less than models from even a few years ago. However, they still do not achieve tablet convenience levels.
The tablet notebook computer is a potential solution to your multiple device issue. One device, two functions:
Tablet functionality and convenience with Laptop capability
More transportable than Laptops
Versatility and flexibility to perform touch screen tablet duties such as zooming in on a picture or watching a film whilst using different modes of transport
Most devices come with integrated webcam's. Battery life is much improved, and storage capacity is increasing all the time. The price drop on Solid-State Drives add to increasing performance capabilities.
As with all new products, many manufacturers develop and release lots of different models with different specifications. It is easy to become confused about which one suits your needs the most.
The next section looks at the main areas of consideration when selecting a tablet notebook computer:
Look & Feel
Technical Specifications

Help and Support
Return to the Table of Contents

---
Considerations Before Buying
Buying a tablet notebook computer is not much different to buying a desktop computer. The only difference is your focus on what the hybrid range can offer in terms of features and technical specs.
In this section, we look at what these considerations are in a bit more detail. I aim to ensure you have the right information to make an informed choice!
Features | Look and Feel
As we are looking at a Hybrid Tablet solution, one of the first things to evaluate is how easy it is to convert the device from a Laptop (or Clamshell) to 'Tent mode', then to Tablet mode, and vice-versa.
The twist and swivel process should be smooth and easy to do. There should be no struggle during the process, and the keyboard should remain secure in its final position whilst operating as a Tablet.
If you experience any of these issues when testing the device out (because you are going to do this before you buy, right...!), forget it and move on to the next mode, or next shop as any reputable business should not have devices with such defects on sale!
Next consider weight. How heavy is the device? The Samsung Galaxy Book S is around 961 grams. This is very light. However, the Lenovo ThinkPad X1 series starts at 1.35Kg.
It comes down to personal choice. 1.35Kg is an OK weight for a notebook, but a little heavy for a modern-day Tablet.
The heavier devices also tend to be more bulky, but tend to have larger screens and better screen resolution. Do you prefer a larger screen for easier tablet navigation, but a slightly heavier device?
It all comes down to personal choice. It depends on the weight you can handle and how you intended to use the device, e.g. if you travel a lot, a lighter device may be more appropriate.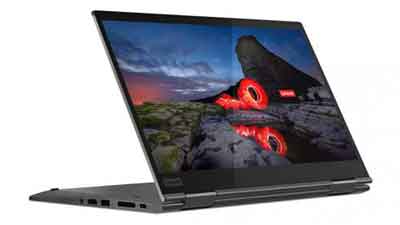 Lenovo ThinkPad X1
Source:- lenovo.com
Next, consider the touch screen quality of your tablet notebook computer. Ensure the device is sensitive enough to interpret your gestures (swipes, taps etc.) either with your fingertip or style pen.

This is important if your main use is in Tablet mode, otherwise you end up using it in Laptop mode and the benefit is lost.
Next, evaluate the style. Does it look good? Can you get the colour you want? Is it durable enough for the conditions in which you are to use the device?
For example, if you are going on Safari, or use in your place of work where things can get violent e.g. in a busy A&E Department, consider investing in a protective cover or purchasing a rugged tablet computer such as the Algiz 7 or its successors, from the Handheld group.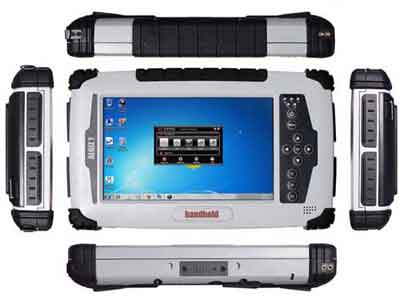 The Algiz 7 Rugged Tablet Computer
Source:- ruggedpcreview.com
Finally, decide what additional features you require. For example, do you need:

A Webcam? What quality do you need?

USB Ports? How many?

Sound quality?

Card readers?

Operating System

Next, we take a look at some performance considerations for your tablet notebook computer.
Technical Specification And Performance
Evaluating the performance of a tablet notebook computer is not much different to buying a PC or Laptop. Vendors offer a choice of technical specifications (and prices) to suit all requirements.
Consider what you are going to use your device for. Set your budget, then begin to review all makes and models on the market today. 
Let's start with battery life, as this is often overlooked (but not as often today, as the Smartphone focuses people's mind on battery life in both active and standby mode).
Today 8 hours is OK. 10 hours is fantastic, and 18 hours is simply amazing. Some devices come with a second battery to increase overall battery life. The Lenovo Yoga X1 Pro has an impressive 13 hours of battery life, but can last up to 19.3 hours!
Screen size at the time of writing is up to 14". If you intend to watch a lot of film, an HD screen with high resolution e.g. 1920x1080 pixels, and high-end graphics card are a must.

Solid-State Drives add to the performance of your tablet notebook computer, and are increasing in capacity/size all the time.
SSDs are standard in mobile devices today, and it is not uncommon to see 2 TB+ hard drives available.
Nanotechnology means powerful CPU's for smaller devices is now possible. Back in 2010 mobile devices shipped with the Intel Atom processor or AMD equivalent. These CPUs's are poor performers. They are unable to cope with Windows operating systems, particularly when additional applications are loaded.
I remember the Fujitsu tablet with these CPUs's being mothballed at considerable expense to some organizations.
At the time of writing Intel® Core™ i7 10th Generation Processors are at the top of the market.
When testing mobile devices, make sure you test performance by loading many applications and switching between each of them. Many people don't do this and are left disappointed. Do not be one of those people!
Memory tends to be around the 16Gb mark at the time of writing. This is more than enough for today's software.

Webcam HD quality is an option if you do a lot of FaceTime or conference calls. The quality of your broadband connection is also a factor.
If a webcam is important, you want to consider investing in a high-quality model to avoid grainy transmissions and choppy audio quality. Wi-Fi and Bluetooth capabilities tend to ship as standard today.
There are some high-end models that include additional options such as full size HDMI ports for easy connectivity to a TV. The Sony VAIO Z (2-in-1) Laptop is a good example.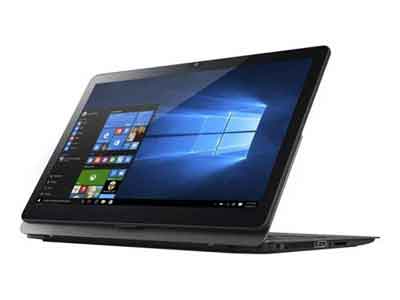 Tablet Notebook Computer
Sony VAIO Flip 2-in-1 Laptop
Source:- reinisfischer.com
Other technical specifications include:

Environmental - is energy efficiency important to you?
Do you prefer a style pen for Tablet mode?
What about security? Fingerprint authentication recognition? Encryption of your data?
Backlit Keyboard for working in the dark (lights up your keys)?
Do you need a front and rear camera (for the infamous selfie)?
Operating System (Windows or Android)? 
Lots of factors for consideration. However, try not to get bogged down too much in the detail. Unless you have specific requirements, review the options for what you can afford.
Next, we look briefly at Help and Support for your device.
Help and Support
People usually look at the warranty information only when buying mobile devices. Most come with a one-year standard warranty agreement, which means any technical faults during this time are repaired free of charge.
Damage caused by 'acts of god' e.g. short-circuit through a power surge, are sometimes not covered by the standard warranty agreement. Read the small print to be certain of what is included and what isn't.
Support is more than just the warranty. Some vendors include toll-free technical support numbers, i.e. numbers that don't charge for UK visitors, although check if this includes mobile phone numbers.
Ask about waiting times for calls to the vendors' Help Desk. It is no good offering a service if the average call-wait time is 1½ hours!
Also check whether the warranty includes home repair or return to base repair. If the latter, ask what their turnaround times are.
Other support features to consider include:

How support is offered (e.g. e-mails, live web chats, phone, video conference)


What online resources does the vendor offer e.g. knowledge base articles, self-help tutorials, forums, software updates, manuals


Ask about offers to increase the warranty to 3 years. To clinch the sale, some vendors offer this as a sweetener
Return to the Table of Contents

---
Final Thoughts
Tablet notebook computers are set to become the next generation's device of choice. There is a big marketing push at the moment which is getting home computer and business users excited. Take a look at below at a review of the Microsoft Surface Pro X.
Tablet Notebook Computer | The Microsoft Surface Pro X Review Video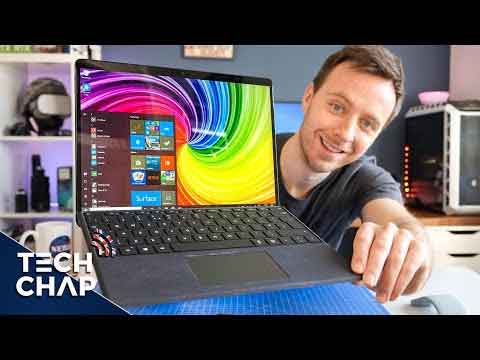 The Tablet notebook computer will evolve rapidly over the coming years. To keep on top of these changes, there are excellent websites that provide comprehensive reviews.
Closely related to this article is the Touch Screen Tablet Computer which looks into considerations for choosing a Tablet in  more detail.
Take a look at this Top 10 Tablet Review article.
Share With Others
Find Us On Social Media