Dell Support Drivers Tutorial
The Dell Support Drivers tutorial shows you how to use the Dell Computer Support web page to identify, download and extract the latest device drivers for your Dell computer.
The Dell Support Center Software Tool identifies, downloads and installs updated device drivers for you. However, some home computer users have reported difficulties in getting the tool to install or work properly.
Therefore, to keep your computer running smoothly, you need to manually keep your device drivers updated.
Keep up with the latest news and developments




Sign up to the eComputerZ Newsletter



The free A to Z of performing BIOS updates guide that anyone can follow.

✔  A checklist of important actions to perform throughout the update process.
✔  Further supporting information to aid your update plans.
✔  My unique approach for sourcing the latest BIOS versions for any motherboard manufacturer.
Sign up below for instant access to the guide, or by going to the Subscription page for more details.
I never share information with third parties and your details are secure.
I aim to issue newsletters at the start of each month.
---
What Are Device Drivers?
A device driver is a software application that allows your Microsoft Windows or alternative Operating System to talk with the Computer Hardware Components inside your computer.
Dell sound card drivers, laptop video card drivers and other hardware components all require device drivers to work properly.
Regularly updating device drivers is recommended for many reasons, including:
Maintain or improve your computers performance by removing bugs


Remove vulnerabilities that could leave your computer open to Malware attack


Ensure compatibility with any Operating System changes or new releases


Improve stability of your computer by fixing hardware component issues
It is important to note that you don't have to update every single device driver on your computer. For example, updating drivers for your mouse, keyboard and monitor is unnecessary in most cases.
You want to avoid triggering any new computer problems by updating device drivers unnecessarily.
Return to the Table of Contents
---
Driver Identification
This section talks you through identifying whether you need to update device drivers for your Dell computer.

Submit Your Service Tag Page
On the next page, select the Drivers & Downloads link.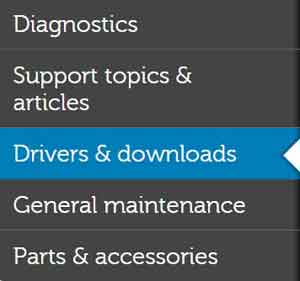 Dell Drivers and Downloads Link
To determine which drivers your machine requires, you are presented with a choice of either:

A System Analysis that scans your machine and recommends drivers to update

A list of drivers based on your Service Tag (already listed if you followed the step above)

Filtering required drivers by Operating System, level of importance and other search criteria.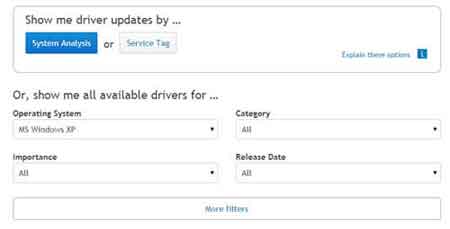 Options For Updating Your Dell Drivers
The new options Dell present make identifying device drivers for updating easy.

However, for those who want to take more control over the decision making process, select your Operating System from the search criteria then check the Release Date or Version of each available driver on your PC.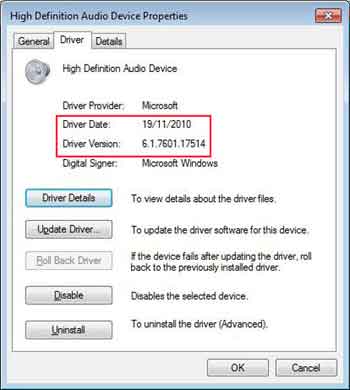 Windows O/S Device Driver Settings
If the available device driver is a later version, or has a later release date than what is displayed in device manager, consider downloading and installing the updated driver.
Using this method, you also need to ensure the driver you are considering is for the correct hardware component version inside your computer.
Sometimes the same computer model is shipped with different versions of computer hardware components. 

This is for several reasons, including the price of components, demand levels and the quality of existing components.
For example, two people could have the same computer model, but one has a Dell sound card, and another may have a Creative Labs sound card.
The Dell Support page offers both component versions. Compare the driver version and last updated date with what is currently installed on your machine.
Your final decision on whether to update depends on the level of importance Dell puts on the driver in question. 

Urgent or Recommended levels of importance means download and install. All other levels of importance means it is up to you. I generally don't update drivers with other levels of importance. 
The image below shows a device driver with a level of importance set to optional.
To download the latest version of the driver, Left-Click the Download File link.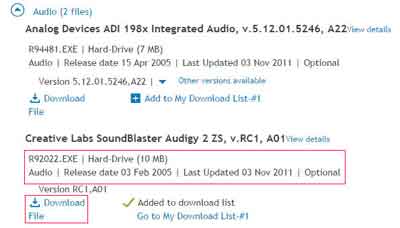 Driver Review and Download Options
The next part of the Dell support drivers tutorial provides information for using download lists.
Return to the Table of Contents

---
My Download Lists
An alternative way to download multiple driver packages is to use Download lists.
Identify your firmware and drivers using the steps above, but left-click the option Add to My Download List.

Add to My Download List
Left click Go to My Download List to take you to the bottom of the page, which shows all the drivers/firmware you selected for download.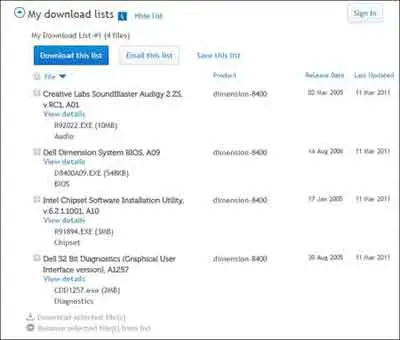 Dell's My Download Lists Example
Review your selection for accuracy, then either left click the box next to File, to select all options, or left click each download you require individually.


Left-clicking Download this list only works if you have selected all files for download in your list. If you do not select all files in your list at this time, left-click the Download selected file(s) link.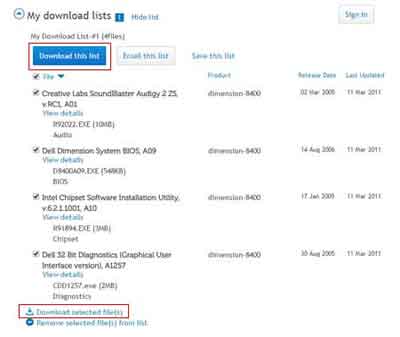 My Downloads List Selection
When you select all files to download, you may be prompted to agree to terms and conditions to download and install the Dell System Detect tool.

This is a useful tool to identify which drivers your machine requires (Saves you a job of identifying manually).
Now you have downloaded the latest urgent or recommended device driver(s), then next step is to extract the files and install.
The final section of the Dell Support Drivers page will show you briefly how to extract and install your downloaded device drivers.
Return to the Table of Contents

---
Dell Support Driver Installation
The downloaded device driver file is a compressed file containing all the files needed to install the driver. The first thing you need to do is extract these files.
As with all Microsoft Windows Operating Systems, there are several ways to extract compressed files. One of the easiest ways is to simply Double Left-Click the downloaded file.

Dell Support Drivers
Extracted Dell Support Drivers
Next step is to open your device manager, then the device you have updated drivers for. Left-Click the Update Driver... button and browse to the files you have just extracted.
For further instructions on this process, take a look at the Sound Card Not Working page.
Return to the Table of Contents

---
Final Thoughts
There are no right or wrong answers here. You have choices, and you should go with the options you are most comfortable with.
To finish off, here are two additional links from the Dell Support Drivers web page to assist you with the Dell device driver process.
Share With Others
Find Us On Social Media