Dell Support Online

Dell Support Online is sometimes difficult for home users to understand. Navigating the large Dell website is big and finding the exact information you need is tricky at times.
The Dell Support Center tool (now know as My Dell) is a free, easy to use application to help you maintain your home computer.
You can run PC check up tests to make sure your computer hardware components are working properly, and check things such as your Internet properties and network connection.
This is the part one of a three part series based on the Dell Computer Customer Service Tool. Here, we walk you through installing the support center application.
Dell computers usually come with the application already installed. If this is the case for you, go to the Loading The Dell Computer Support Center Software  section of this web page.
Alternatively, go straight to Part Two to find out how to use the tool to your benefit.
Part Three continues with how to use further options within the Software.
Keep up with the latest news and developments




Sign up to the eComputerZ Newsletter



The free A to Z of performing BIOS updates guide that anyone can follow.

✔  A checklist of important actions to perform throughout the update process.
✔  Further supporting information to aid your update plans.
✔  My unique approach for sourcing the latest BIOS versions for any motherboard manufacturer.
Sign up below for instant access to the guide, or by going to the Subscription page for more details.
I never share information with third parties and your details are secure.
I aim to issue newsletters at the start of each month.
---
Dell Support Center Installation Instructions
IMPORTANT NOTICE
As software improves and evolves, so does the installation process steps and graphics.
As I am no longer in possession of a Dell computer, I am unable to replicate the:- My Dell installation steps.
However, please note, the installation steps do not tend to significantly change. Graphics do tend to change; however, I believe the steps below are still useful as a guide to installing the latest version of the software.
My Dell is a single place where you can find all the relevant shortcuts to the Dell online support tools.
It does things like detect device drivers that need updating and scans hardware components for potential problems. To install the software.
1. Click this My Dell link to download the application
2. Double left-click the downloaded aulauncher.exe file
The launch files unpacks itself and the installation process starts with a check to see if there are any software updates available.
3. When the update search finishes, left-click the update button.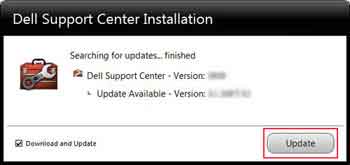 Dell Support Online
Installation Update Check Finished
4. My Dell tool begins to download to your computer.
5. When the download completes, click the Install button.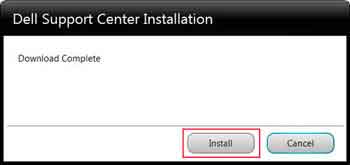 Dell Support Online
Installation Download Complete
6. The downloaded files self extract into a temporary folder and install.

Dell Support Online
Software Installation In Progress
7. When installation completes, left-click the finished button.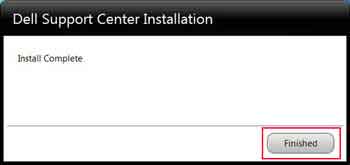 Dell Support Online
Software Installation Completed
8. On the Personalization screen, left-click the OK button.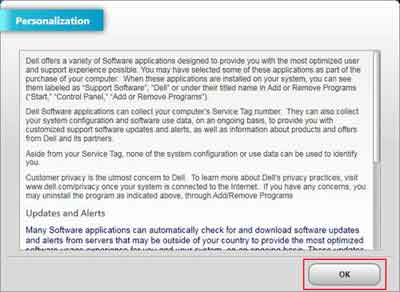 Dell Support Online
Software Personalization Details
9. The Dell Computer Customer Support Tool loads up.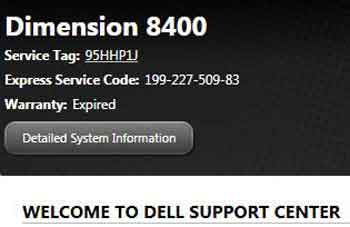 Dell Support Online
Opening Screen
Return to the Table of Contents
---
Loading The Dell Computer Support Center Software
This Dell support online tool is effortless to load once it is installed on to your computer.
Using Microsoft Windows 7, this is how you load your application.
Left-click the Start Button, then Programs


Open the Dell Support Center folder, then left-click the Dell Support Center option.

Return to the Table of Contents

---
Dell Support Online | Final Thoughts
If this is your first time using the Dell Support Center/My Dell application, the opening dashboard screen can be confusing. There is lots of information and lots of options.
When the tool first loads, it scans your machine and identifies automatically things like your computer Service Tag and Warranty Status.
The left-hand side of the screen recommends things you should do quickly, such as setting an admin account password, updating your Computer Virus program or identifying any issues with your device drivers.
Part Two looks at how to use this tool to your advantage.
Share With Others
Find Us On Social Media