Malwarebytes Download and
Installation Guide
The Malwarebytes Download tutorial shows you how to download and install the Malware Bytes Anti-Malware program, first time, without any complications.
Malwarebytes is a very popular application, and according to the developers, 97% of all online threats are Malware. This is a scary figure!
Your home computer must be protected from such threats. Running Internet connected machines without adequate security protection is a recipe for disaster.
Your computer is likely to be rendered inoperable within minutes.
In addition to security measures such as Computer Virus Removal programs, a robust anti-malware program is an essential security tool.
This is the first of a 2-part tutorial.
Part 2 walks you through the steps to make the best use of 'MBAM', especially if you decide to buy the professional version.
I also offer my own humble opinion throughout the discussion, so you can make an informed choice whether you want to invest in Malwarebytes.
It is worth making the point now that the Malwarebytes Anti Malware download is NOT a replacement for an Anti Virus program!.
To illustrate the point, the image below is from a Windows XP Service Pack 3 computer that does not have an anti-virus program installed, but has Malwarebytes installed.
The Operating System shows a Security Risk message in the System Tray.
Keep up with the latest eComputerZ news and developments. Sign up to the eBits N ByteZ Newsletter

Now Available!

The free A to Z of performing BIOS updates guide that anyone can follow:-
✔ A checklist of important actions to perform throughout the update process;
✔ Additional supporting information to aid your update plans;
✔ My unique approach for sourcing the latest BIOS versions released by your computer's vendor or motherboard manufacturer.
Sign up below or by going to the Subscription page for more details, and you will soon receive this free BIOS update guide
I never share information with third parties and your details are secure.
I aim to issue newsletters at the start of each month.
Attention!
Just letting you know there are personal ads published on this site
If you are running an Ad Block you can whitelist my site to see them
Thank you for your time
System Tray Security Risk Message
Although some anti virus programs scan for specific malware such as trojans and rootkits, they may not be as effective at removing them as a dedicated anti-malware solution.
---
Malwarebytes Download
and Installation Steps
The following Malwarebytes Download and Installation steps are demonstrated in a virtualized Windows 7 machine. The trial version of Malware Bytes is used.
If you already have a Windows malware program installed I strongly advise you uninstall it before trying out Malwarebytes.
I would not want you to start having unnecessary problems with your computer as a result of following these steps! If you are in any doubt, please do not proceed!
Step 1: Download The Malwarebytes Program

Open your web browser and go to the Malwarebytes Website.
Click the Free Version Download and the application will automatically download to your computer.
Download MalwareBytes
Attention!
The Malwarebytes download is about 22Mb in size and has a small footprint, i.e. does not take up too much computing resource - CPU, RAM etc. on modern computers.
Step 2: Run the Downloaded Executable

Double left-click the downloaded mbam-setup-x.x.x.xxxx.EXE file then left-click the run button to initiate the installation process.
Run The Malwarebytes Download File
Click Yes if prompted by the Windows 7+ User Account Control.
MBAM UAC Prompt
Step 3: MBAM Setup Wizard

Select your language when prompted (Default language is English) then select the OK button.
Select Language Option
On the Welcome screen select the Next button.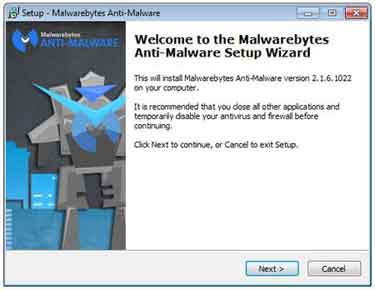 Anti Malware Setup Wizard
Click the:- I accept the agreement radio button then click Next. If you do not accept the agreement the installation process will stop:-

MBAM License Agreement
The next window shows you some programming issues that are fixed in the version of Malwarebytes you are installing.
Click the Next button.

Malwarebytes Software Information
Next you can decide where to install the Malware download files.
Unless you have organized your computer to install programs into a dedicated directory, accept the suggested folder and click Next.

MBAM Select Destination Location
Accept the suggested Start Menu Folder. You can change the name of this if you want by simply overwriting the suggested name.
You also have an option not to create a Start Menu folder. If this is what you want to do, simply click the box on the window then click the Next button.
Select Start Menu Folder
On the Select Additional Tasks window, decide whether you want to Create A Desktop Icon. Uncheck the box if you do not want to do this. Click Next.

Select Additional Tasks
If you are Ready To Install MBAM click the Next button. If you are unsure about your previous choice, click the Back button and review your decisions.

Malwarebytes Ready To Install
MBAM will now install onto your computer.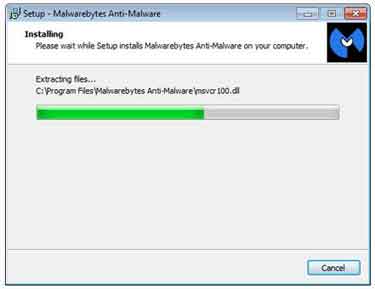 MBAM Installing
Step 4: Post MBAM Setup Wizard Tasks

Once the installation process completes, decide what you want to happen after you click the Finish button.
Depending on the version downloaded the options at the end of the installation process can vary.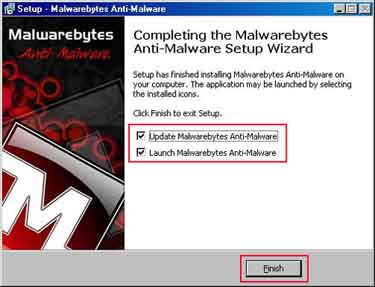 Malwarebytes Setup Finish
After launching MBAM the software automatically detects and downloads the latest version of the malware database.
This is for maximum protection and should be done on a schedule or at least a daily basis.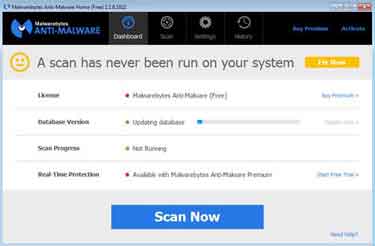 MBAM Database Version Update In Progress
To start the free trial simply click the link on the dashboard. I recommend clicking the Scan Now button to initiate a first scan of your machine.
Return to the Table of Contents
---
Supplementary Links
The following YouTube video demonstrates the Malware Bytes download and installation steps. It is about 9 minutes long, but worth your viewing time!
Malwarebytes is potentially the best Malware removal software on the market today. Do you agree? Complete the form below and let me know your views.
Part 2 of this how to series goes into detail about how to use Malwarebytes.

CNET provide a good review of the Malwarebytes free download and includes reviews by fellow program users. Do you agree with their views?
Finally, take a look at the Types of Malware page for further details and articles about this important subject.
Attention!
Just a quick note to let you know the Computer-Help forum has  lots of knowledgeable articles written by site visitors on all subjects technology-related.
Also, browse through the previous eBits N ByteZ newsletters for details on all new site articles and news updates.