Contact Me Page 5

The contact me page 5 is a continuation of the questions site visitors have asked me over the years, and my replies. I always aim to reply ASAP. I enjoy talking with fellow home computer users and professionals in all areas of Information Technology.
You can ask a question or send me a comment, or Tweet. I am more than happy to answer.
I have also set up an eComputerZ Facebook page where you can contact me and see many other things computer related, including my Pinterest images.

Don't forget to subscribe to the eBits n ByteZ Newsletter. Simply complete the form in the right-hand column. If you have any comments, opinions or content ideas for the newsletter, I would love top hear from you.
Send me your ideas, feedback, thoughts and opinions on this site or anything at all computer related.
Use the Previous and Next buttons to navigate through the different submissions and my responses. Alternatively, use the direct links to each page below.
Contact Me Page 5 Submissions
Contact Me Page 5 | The Ultimate BIOS Update Guide

Name: Joe
Question or Comment: Thank you for the BIOS update guide. I'll attempt to follow it, but if I run in to issues, I'll take it to a shop.
Contact Me Page 5 Response: You are welcome, Joe. Good luck, and I hope the guide helps.
Follow-Up Response: Thanks again. The guide worked well. I could access the HP Assistant and using the information your guide provided, I successfully upgraded the BIOS.  It's too bad the last update from HP was 2012. Maybe I need to break down and get a new computer, but this one still serves its purpose. Thanks for all the help. Joe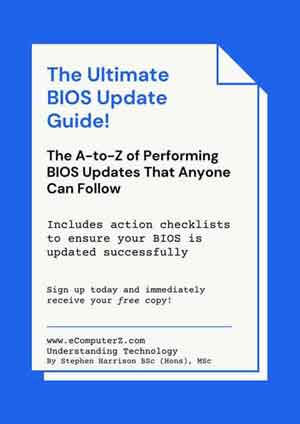 The eBits n ByteZ Newsletter Subscription
Return to the Submissions List

---
Contact Me Page 5 | Damaged My Computer
Name: Carmen
Question or Comment: My computer has fallen badly on to the floor and does not boot properly. It is requesting a boot media or boot device. My computer does not have a CD player.
Contact Me Page 5 Response: Hello Carmen. I'm sorry to hear about your computer troubles.
The first thing I would try is to reseat the cables the plug into the hard drive, and then consider reseating all the other cables inside your computer.

The message suggests a loose cable, or worst, a faulty hard drive. Hopefully, your motherboard is OK.

I assume your computer come with a formatted hard drive and an operating system installed.

Hope this helps.

Thanks,

Steve
Return to the Submissions List

---
Contact Me Page 5 | BIOS Password Request
Name: Carmen
Question or Comment: Good afternoon. I am trying to repair my computer and the technician is looking for a Bios Password. How can I obtain that passcode? Thank you for your time.
Contact Me Page 5 Response: Hello Carmen. Have you seen this page on Forgotten BIOS Password Reset Steps? Take a look. I hope it helps. Thanks. Steve
Follow-Up Response: Good morning. Thank you for being available for me every time. Thank you for your help. Have a wonderful day.
Return to the Submissions List

---
Contact Me Page 5 | What Is The Version Of My BIOS
Name: Guy
Question or Comment: Hello. I have a computer with:-
I'd like to have a software that tells me if a new version of BIOS is available and install it automatically.

Can you help me?

Thanks in advance.

Best regards.
Contact Me Page 5 Response: Hello Guy. The software or utility to do this is usually provided by either the Motherboard vendor or the device supplier e.g. HP, Dell etc. I see for your Motherboard version the Gigabyte @BIOS utility is available, and it suggests this can perform live/automatic BIOS updates.
Take a look at this Gigabyte link, then this Gigabyte search result link, which, I think, has your motherboard version listed. 
Hope this helps.
Thanks,
Steve
Return to the Submissions List

---
Contact Me Page 5 | Can I Upgrade My BIOS?
Name: Paulo
Question or Comment: I was wondering if you would be so kind in letting me know whether I can and should upgrade my BIOS?
I have an older computer (SKU WW637AA#ABA) with a FOXCONN Baseboard (2AA9, v1.0) that I did some upgrades to (SSD and Video Card) to work from home. It performs great!.
The current BIOS is American Megatrends v6.0.4, 04/22/2010 (SMBIOS v2.6; BIOS legacy mode). I wondered:-
Can, and SHOULD, the BIOS be upgraded?
Can you upgrade legacy BIOS to UEFI?
Should I use the AMI Firmware Update tool?
Contact Me Page 5 Response: Hello Paulo.
The BIOS version may well be the latest release, considering its age. There is not a lot of information online for Foxcomm motherboards from what I can see. It is always worth running the latest BIOS version if available for that specific made and model of motherboard.

Generally, upgrading the BIOS can be done direct from the BIOS upgrade file issued by the manufacturer. If unsure, I would just leave it as it is, so long as everything else is working Ok.

If you haven't already, it may be worth putting in the maximum amount of RAM the 2AA9 motherboard can handle to optimize performance. Take a look at the how to upgrade RAM article to work out what the maximum is.

Hope this helps.

Best wishes,

Steve

Contact Me Page 5
Share With Others
Find Us On Social Media