McAfee Customer Service For Home Computer Users
McAfee Customer Service provides Internet users with additional help. Here, we look at which McAfee Customer Services will help home computer users the most.
We look at some free tools McAfee technical support offer to determine things like how secure your PC is.
We also look at some security alerts home users can subscribe to, and outline some good practices to keep you and your family safe from Malware.
Those hard to find Customer Service contact telephone numbers are also provided.
Part 1 McAfee Free Virus Scan shows you the McAfee antivirus package features, how to get the 30-day trial version, and what to consider if you prefer to use a free anti virus program instead.
Part 2 looks at McAfee Computer Virus Remover tools I think help to further protect your computers. Are you aware of them? Take a look for more details!
Part 3 shows you how to use the McAfee Removal Tool. Removing McAfee products appears to cause lots of home computer users problems, including computer instability. This tool helps you avoid this scenario.
Each section of this page is listed in the table of contents below. This gives you the option to either read through the whole page, or hop to the bit that interests you.
Keep up with the latest news and developments




Sign up to the eComputerZ Newsletter



The free A to Z of performing BIOS updates guide that anyone can follow.

✔  A checklist of important actions to perform throughout the update process.
✔  Further supporting information to aid your update plans.
✔  My unique approach for sourcing the latest BIOS versions for any motherboard manufacturer.
Sign up below for instant access to the guide, or by going to the Subscription page for more details.
I never share information with third parties and your details are secure.
I aim to issue newsletters at the start of each month.
---
McAfee Global Threat Intelligence
The McAfee Global Intelligence website tells you about different types of viruses and other types of malware threats in real-time.
For example, the Recent Malware link tells you about the latest computer viruses and provides additional details such as what the virus does and how you can clean computer virus threats from your machine.
There is also the McAfee community education centre that provides information about the latest High-Profile Threats.
The next part outlines suggested hints and tips to protect yourself from online malware threats.
Return to the Table of Contents

---
McAfee Anti Virus Hints And Tips
McAfee Customer Service provides a list of Tips to customers about how to protect yourself and keep your computer virus free.
The customer service list is summarized below, with some additional tips provide by me based on years of client experiences.
Do not automatically open e-mail attachments, especially if you do not know the sender. Delete without opening!
If the e-mail is from someone you know, consider whether they would send this e-mail and attachment. Do you recognize their style of writing? If in doubt, do not open!


Make sure your anti virus program is updating itself regularly with the latest virus update files (this should happen automatically). Also make sure it is set up to scan all your e-mails and attachments


Install the latest version of your anti virus program. Companies constantly try to improve their software making it more secure and using less computing resource, so it doesn't slow your machine down


Do not download any suspect files from the Internet. Be cautious if you are downloading screen savers, free games, torrent site files (EXE or COM endings) etc., as they often include covert malware


Be cautious if you visit any websites that fail the McAfee or Internet Explorer Smart Screen test. They can contain embedded scripts that infect your computer


Make sure your anti virus program is set up to scan USB sticks, CDs, DVDs and other media such as external hard disk drives


Regularly back up your files to another media, e.g. external hard disk, DVD or even your Cloud solution. You can at least restore your data if it is compromised due to Virus activity
If you and your family are cautious with your web surfing, and smart when it comes to computer security, you can avoid paying for online services such as the McAfee Virus Removal Service.
The next section looks at the technical services McAfee offers that home computer users can take advantage of.
Return to the Table of Contents

---
McAfee Customer Service Security Scan Plus
McAfee Customer Service also offers the McAfee Security Scan Plus Tool. This checks your system and lets you know if you are adequately protected from security threats. To use this tool.
Left click Scan Now on the McAfee Security Scan Plus web page. Save the SecurityScan_Release.exe file to your computer when prompted.


McAfee Security Scan Plus Scan Now Link
Double left-click the downloaded files and click the install button when prompted.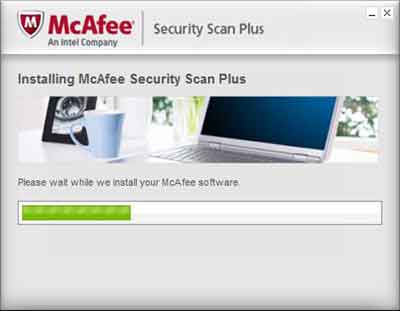 Security Scan Plus Installation Process
Tick the "I have read and accept the Licence Agreement (Required)" box, then left-click the continue button.

Select the Scan Now button to start the scan of your PC for potential threats.
The tool will assess your PC and let you know if there are any problems. In the example below, the McAfee customer service tool has detected I don't have McAfee Web Protection installed.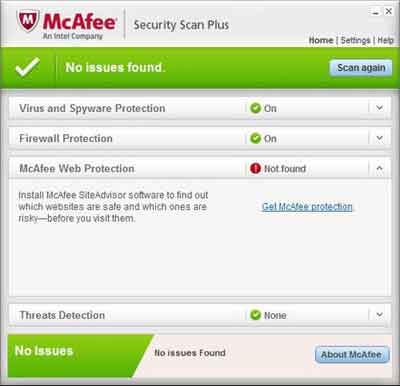 Security Scan Plus In Action
If you select the Settings option at the top right-hand corner, you have the option to schedule when the McAfee Security Scan Plus tool runs on your computer. 

I have mine setup to run every Monday at 22:00 and to automatically update my version of Security Scan Plus if available.

You can also remove this tool using your respective operating system program removal option, if required
If you want to contact the McAfee Customer Service technical people direct, see the two links below for the US and UK telephone numbers:-
Return to the Table of Contents
---
McAfee Virtual Technician
McAfee Customer Service also offer the McAfee Virtual Technician tool.
This is a free of charge customer service from McAfee that scans your installed products and attempts to fix any identified issues.
Select the McAfee Virtual Technician link above, then left-click the Start button.

Run the MVTInstaller.exe file when prompted.
Left-click the "I Agree" button when prompted.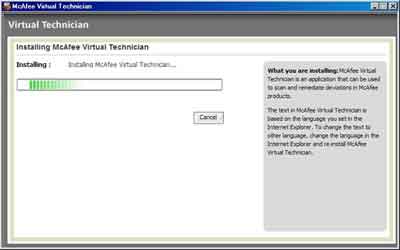 Virtual Technician Installing
Before completing the installation process, you are given the option of scheduling when the tool checks for problems. Select the Finish button when you are ready.

Once it is finished installing, launch the tool from the shortcut on your desktop if it does not auto launch itself. It will check your PC for any problems with your installed McAfee products.
If any issues are found, you are prompted to fix them. I tend to just go with the Autofix option straight away (Select Next to continue). You can Get More Detail on the problem(s) if you wish.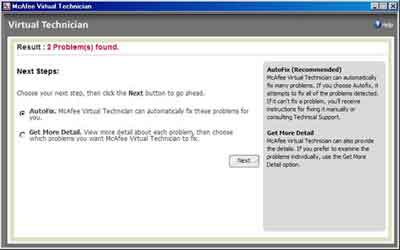 Virtual Technician Autofix
Attention!
This McAfee Customer Service Tool can be a little advanced to use. If you find this is the case, take a look at the MVT Walkthrough Guide.
Share With Others
Find Us On Social Media