Do Not Download Windows XP SP2
DO NOT download Windows XP SP2. This is the takeaway message from this tutorial. Instead of installing or continuing with Microsoft XP SP2, seriously consider the Windows XP SP3 download option.
Windows XP security updates are not issued to pre-SP3 computers, and haven't been since July 13th 2010.
To protect your computer from cyber criminal activity, you need to upgrade to XP Service Pack 3.
Attention!
Windows XP has gone End of Life (EOL) on April 8th 2014. This means no further security patches or updates for this Operating System.
Microsoft recently announced the continuation of advisories for newly discovered vulnerabilities, and the continuation of updates for things like Windows Defender only.
My advice is to move to Windows 7 or above (assuming you wish to stay on a Windows platform) as soon as possible.
I also advise not moving to Windows 8 or Windows 8.1. At the time of writing, it appears this Operating System is experiencing numerous issues.
Keep up with the latest news and developments




Sign up to the eComputerZ Newsletter



The free A to Z of performing BIOS updates guide that anyone can follow.

✔  A checklist of important actions to perform throughout the update process.
✔  Further supporting information to aid your update plans.
✔  My unique approach for sourcing the latest BIOS versions for any motherboard manufacturer.
Sign up below for instant access to the guide, or by going to the Subscription page for more details.
I never share information with third parties and your details are secure.
I aim to issue newsletters at the start of each month.
This tutorial is the first of a two part series based on Windows XP Service Pack download options. Here we discuss:
The reasons for moving from Microsoft XP SP2. Many home computers users are still not on Service Pack 3


What you get by installing XP Service Pack 3 e.g. improved security and performance included


What you need to do to prepare your computer for upgrading to Service Pack 3
Part two shows you how to download and install Service Pack 3 both manually and via the Microsoft Windows Update route.
You won't notice any changes to the look and feel of the Operating System (i.e. no cosmetic changes) so you can continue to use it as you always have done.
The Table of Contents below allows you to navigate to the section of this web page that interests you the most.
---
Why Upgrade To XP Service Pack 3?
To find out what Service Pack version do you have on your computer, follow the steps below.
Right-click the:- My Computer icon on your desktop and select Properties from the resulting menu


The System Properties Windows appears. If you see anything less than Service Pack 3 your computer is vulnerable to online cyberattacks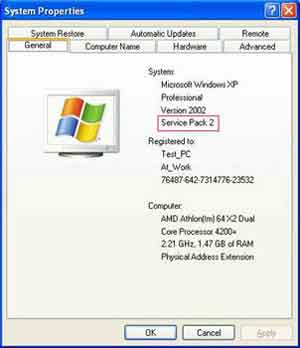 Download Windows XP SP2
System Properties
Will you download Windows XP SP2, and stick with it, even though Microsoft haven't supported it with any security updates since July 2010?
The Windows XP SP3 download was first made available on May 6th 2008. It boasts a total of 1174 fixes, many more than what is included in the Windows XP SP2 download.
All previously released Microsoft XP updates and some technical improvements are included.
Immediately you are missing out on all these security improvements if you still have the Service Pack 2 installed on your computer.
The Operating System improvements include:-

Download Windows XP SP2
SP2 WGA Notification
If you are installing Windows XP which includes Service Pack 3, you are allowed to use the Operating System for 30 days before initiating Product Activation. 

If you didn't have the licence key to hand you could not proceed with your new install of Windows XP.  If you are just installing the Service Pack this will not affect you.

Download Windows XP SP2
Download Activation
There is a whole host of other technical security improvements, such as enabling Black Hole Router detection settings and installing the new Network Access Protection (NAP) Client.

However, don't worry if you do not know what all that means. Just be re-assured that these changes and others greatly improves the security, stability and performance of your Operating System.
The Windows XP SP3 download is cumulative, which simply means you do not have to download Windows XP SP2 or even SP1 before upgrading to SP3.
In addition, Service Pack 3 only patches whichever version of Internet Explorer you are running.
If you want to continue using IE6 for some reason, make sure you remove later versions of Internet Explorer before applying the Service Pack. This is because one Service Pack 3 is installed, you won't be able to downgrade to IE6.
However, remember that you should look to upgrade your web browser to the latest version to take advantage of new features and improved security.

I don't see a reason why you need to stick with Service Pack 2. Windows XP, although over 10 years old, needs to be maintained with security updates and the changes in technology as much as possible. Service Pack 2 does not protect your computer.
Return to the Table of Contents

---
Preparing To Upgrade To SP3
Before you start the Windows XP Service Pack download process, Microsoft recommends a series of steps and checks to ensure you do not encounter any upgrade problems. These include.
Check you have enough h

ard disk space

 to download Windows XP Service Pack 3 without any problems. 

Modern hard disks are large enough to cope with the installation of SP3. 

However, if you think you will have issues, ensure you have up to 1.8 Gigabytes (GB) of free disk space before you start

This will prevent the upgrade failing part-way through.


Remove the Microsoft Shared Computer Toolkit and the Remote Desktop connection (RDP) 6.0 MUI pack 

I don't think this check is necessary for almost all home computer users. If you get a fault with one of these packages mentioned in the error message, remove them then try again.


If you use wireless to connect to the Internet on your computer or Laptop, check that your Wireless card is supported. 

Again, I don't see this being an issue for most home computer users. Almost all wireless card manufacturers support SP3. 

It is not an excuse to download Windows XP SP2 and stick with it.


Disable your Anti-Virus Software. This advisory is at your discretion as some anti virus programs protect files that the Service Pack needs to update or replace. 

My advice is to keep your protection programs enabled. Only consider lowering the settings or disabling the program if you encounter issues installing the Service Pack.


Back up all of your files to another external location, i.e. external hard drive, USB stick, CD, DVD, Cloud etc. 

This is sound advice. It can take time if you have many files, but you will be so glad you did if anything goes wrong.


Make sure you have local administrator rights. Most home computer user accounts already have local admin rights.

However, if you have multiple accounts setup for your family or friends, log in with the administrator username and password. Always use Multi-Factor Authentication if available.

This is because 

Service Pack 3

 changes system files that are usually protected by your standard user accounts.


If you are using a Laptop or other mobile device, plug it into the mains, so you do not run out of battery mid-way through the upgrade process.


Make sure your family are logged out of their accounts before starting the upgrade process. Having other accounts logged in can cause the upgrade to fail


Do not have any other programs running. There is more chance of the upgrade failing if you have programs open unnecessarily.
Return to the Table of Contents

---
Do Not Download Windows XP SP2 | Final Thoughts
To find out more about how to complete the above steps before commencing the Service Pack Upgrade, take a moment to read through the Microsoft Knowledge base Article.
Are you convinced yet? Do not Download Windows XP SP2. To install Service Pack 3, go to Part 2  of the tutorial series.
Share With Others
Find Us On Social Media