What Is Windows 10  | A Comprehensive Review

What is Windows 10? Well, it is one of Microsoft's Operating System iterations that was released on the 29th July 2015, superseding the ill-fated Windows 8 O/S, that removed the beloved Start Menu.
Customers with the right hardware specifications could upgrade from Windows 7, or Windows 8, to Windows 10, without having to re-image their devices. This was Free of Charge for the first 12 months. Afterwards, customers were charged between £65 and £99, depending on which of the seven versions they wanted to use.
Windows 10 was developed under codenames such as Threshold and Redstone, before its official release. Microsoft's goal was to develop a common O/S that worked seamlessly across different traditional and mobile devices, including gaming consoles such as the Xbox.
It is difficult to encompass everything about Windows 10 in to a single article. So, what I have done, is focused on the main elements of the Operating System that befits an article that sits within a computing history section.
We look at the main features of the O/S, and the minimum hardware specifications of the time that was needed to run Windows 10 effectively. We then look the different versions, updates and upgrades available, and then touch on the pros and cons Windows 10 brought to all Microsoft customers.
Keep up with the latest news and developments




Sign up to the eComputerZ Newsletter



The free A to Z of performing BIOS updates guide that anyone can follow.

✔  A checklist of important actions to perform throughout the update process.
✔  Further supporting information to aid your update plans.
✔  My unique approach for sourcing the latest BIOS versions for any motherboard manufacturer.
Sign up below for instant access to the guide, or by going to the Subscription page for more details.
I never share information with third parties and your details are secure.
I aim to issue newsletters at the start of each month.
What Is Windows 10? | The Key Features and Improvements
We cannot answer a question such as What is Windows 10? Without spending some time looking at the key features and improvements that shipped with the first releases of the new O/S.
However,  it is worth noting that W10 was written with backward compatibility built-in. For example, DOS, or the Command Line, was still available, as was support for earlier Processors, such as ARM and AMD x86 architecture (32-bit hardware).
The return of the Start Menu, which was the stalwart of previous O/S releases, but replaced with Live Tiles in Windows 8, was welcomed by customers across the world. However, the tiles were retained and incorporated in to the Start Menu, and could be expanded if required, alongside the "Metro Interface".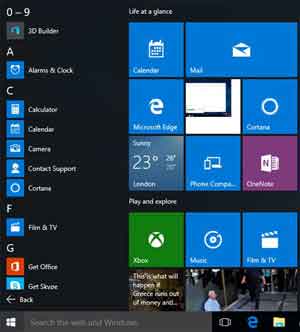 What is Windows 10
The Return of the Start Menu Was Welcomed By Customers Worldwide
The Microsoft Continuum auto-adjusted the Graphical User Interface to match the device in use, ranging from traditional PCs, to dual/split screens, and mobile devices without physical keyboards. This would enable the touchscreen keyboard feature.
Another feature I liked was the screenshot tools. They are great when writing web pages! Windows 10 started with the Snipping Tool, evolving the Windows 7 version with a Time Delay feature that enabled you to set your page or applications exactly how you wanted it, before the service that enabled you to take the screenshot was enabled.
The Sniping Tool evolved to the Snip & Sketch Tool, which is a more feature rich screenshot feature. To use this service, you can click/tap the Windows Key, Shift & S,
Microsoft also evolved the search function, which was fully integrated with the Internet (Bing) and local applications, services and features.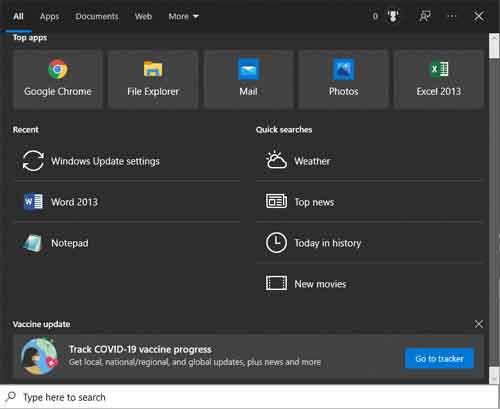 What Is Windows 10?
The Search Function
The most significant change was likely the introduction of Edge, Microsoft's replacement for Internet Explorer. The Edge web browser was essentially built from scratch, to include new features and improve security.

New features included web notes, which allowed users to annotate web pages, and reading view, which enabled the viewing of a web page without the distraction of adverts.
Cortana is Microsoft's personal digital assistant competitor to Apple's Siri and Google Now. It uses Bing to search for both voice and text requests, and analyses browsing history to customize the O/S to suit your needs. Whilst this is an interesting feature, it also raises security concerns.
However, it is worth noting that W10 also had integrated multi-factor authentication features, alongside biometric features.
Microsoft's virus and threat protector is an excellent anti-virus product, although I would suggest you also install Malwarebytes to ensure you have comprehensive cyber security in place.
In addition, BitLocker comes with Windows 10 Pro, and is an excellent data encryption tool.
Return to the Table of Contents

---
What Is Windows 10? | The Hardware Requirements

When Windows 10 was released in July 2015, this was the minimum hardware specification for standard PCs:-
For Mobile devices, the hardware specification was:-
Memory:- 1Gb
Storage (Hard Disk):- 8Gb flash Storage
BIOS Version:- UEFI
Display:- 32-bit Colour Pixels and 720p screen resolution
In addition, mobile devices required a technology called Snapdragon SoC - Suite of Systems on a Chip. This was a type of semiconductor included in modern mobile devices at the time, including Android and Apple models.
Return to the Table of Contents

---
What Is Windows 10? | Versions, Updates and Upgrades
There were several versions of Windows 10 released to cater for different scenarios, and sectors. Below is a brief overview of each release:-
Windows 10 Home - This is the standard version of W10, and came 

pre-installed on most home users devices. It has many features (I know, I'm using it now to write this article), despite, despite previous home editions, being "branded" as "feature limited".



Windows 10 S - This was a "Special Mode" version which was basically the same was the home edition, but restricted software installs to the Microsoft (App) Store, disabled the command line (DOS), and enabled Edge as the only useable web browser. W10S aimed to improve security, but could be disabled if required.
Windows 10 Pro - This the home edition with additional features to support Businesses, such as the ability to run virtual machines, Remote Desktop Protocol (RDP) and BitLocker (encryption service).
Windows 10 Enterprise - This version included all the Pro features, and was designed with larger organizations in mind, with thousands of devices. Additional IT Administrations features were also included.
Windows 10 Education - This version was aimed at students and teachers, in schools and universities. It comes as no surprise that this version was offered at a reduced cost, so it was affordable. The Education version essentially had the same features as the home edition.
Windows IoT - The Internet of Things version was designed to run on computer chips at low power. No need for boot processes. This version can be used on devices such as the Raspberry Pi

.
Regarding updates, Microsoft released major versions twice a year. These updates were coded with 4 letters and/or numbers, such as the 1909 release, or the 21H1 update, released in May 2021.
Each major update included significant bug fixes, and/or feature enhancements. However, each major release was quickly followed up with a monthly release of Windows updates, usually to fix newly discovered bugs or vulnerabilities.

Software patching is important. The Home Edition will do this for you automatically. However, it is prudent to run the Windows update services on a weekly basis, so your device remains secure.
Return to the Table of Contents

---
What Is Windows 10? | Pros and Cons
This is quite subjective, and difficult to be comprehensive about. However, in my opinion, the Pros of Windows 10 include:-
Rapid boot time - From switch on to login was excellent, and I expect this to improve with future versions
New Features - I expect some features are not know to many users, such as the options when you right-click the Taskbar, or the Windows Key & H to activate the Speech to Recognition feature
Security Features - Working Multifactor Authentication and Biometric Scanning was a good step forward for Microsoft Products
Integration - Android and Apple Devices work more seamlessly with W10 for browsing photos and videos, for example, as is the integration with Cloud Services such as One Drive.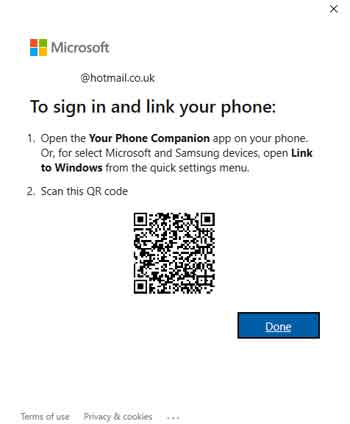 What Is Windows 10?
The Integrated Phone App
As great as this sounds, there are some cons to be aware of, including:-
Dependencies on legacy services such as DOS, and the old-style Registry, can be a backdoor to security risks
Useful features are not always readily available, or easy to find, Some research is required
Projecting streaming media to a Smart TV can be jittery, i.e. choppy on screen, and doesn't always work properly over wireless networks. I expect this to improve over time.
Return to the Table of Contents

---
What Is Windows 10? | Final Thoughts
So, has this article answered the "What is Windows 10?" question?
I think the features in this operating system are likely to remain and/or be evolved in future windows versions, such as Windows 11, which was released on the 5th October 2021.
I hope this article goes some way to explaining W10 in a way that can be preserved for years to come. It was quite a step forward, and evolution, almost, for the next generation of Windows users, albeit a more difficult step for older hands, who much preferred Windows 7, and were burned by their Windows 8 experiences.
For more information, take a look at the comprehensive review of Windows 10 by the UK PC Mag, which is an excellent resource for W10 features.
Also, the GCF Global Windows 10 course is an excellent source of information if you want to delve deeper in to the basics of W10.
Finally, the video below covering the basics of W10 is worth a watch. Enjoy.
What Is Windows 10? | The Beginners Guide Video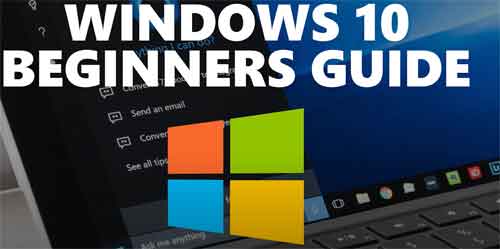 Share With Others
Find Us On Social Media