Computer Tablet Accessories Part 2
A Review By An IT Professional
The computer tablet accessories part 2 article continues to look at a further section of extra devices supporting and enhancing every day tablet use, and making our lives more comfortable and convenient. 
Computer tablets are fairly static in terms of hardware upgrades. Unlike traditional computers and laptops, it is not straightforward to replace a faulty battery or upgrade flash memory, for example.
In a similar theme to part 1 of the computer tablet accessories review series, a selection of examples covering different accessories available today is outlined below, which I give you my honest opinion about.
Keep up with the latest news and developments




Sign up to the eComputerZ Newsletter



The free A to Z of performing BIOS updates guide that anyone can follow.

✔  A checklist of important actions to perform throughout the update process.
✔  Further supporting information to aid your update plans.
✔  My unique approach for sourcing the latest BIOS versions for any motherboard manufacturer.
Sign up below for instant access to the guide, or by going to the Subscription page for more details.
I never share information with third parties and your details are secure.
I aim to issue newsletters at the start of each month.
---
Computer Tablet Accessories Part 2
Adjustable Tablet Stand
With so many of us using tablets and phones for long periods of time, it is no surprise ergonomics is increasing in importance to avoid issues such as repetitive strain injury from holding our devices in the same place for too long.
It makes sense, to me, to look at investing in a tablet stand. Why go through all the inconvenience of holding your device for long periods of time when tablet stand accessories can do it for you.
There are some good ones on the market today, but one that caught my eye was the Anozer foldable and adjustable tablet stand.
What I like about this one is the fact that it can be folded, or collapsed, and carried with you in a coat pocket or flight bag.  It makes sense for tablet accessories to be portable just like their device counterparts, otherwise it would be a difficult sell.
With your device in a stand and adjusted for your convenience, it leaves your hands free to fully interact on your conference calls with friends, family, colleagues etc., or to do something else such as cook a meal whilst watching a film.
Tablet stands would also prove useful and convenient on the road. Quite often you need your hands to retrieve items from bags or to pay for drinks on a flight. Ideally, you want to avoid having to balance your tablet whilst you search your pockets for change. Avoid the risk of damaging your device.
The Anozer tablet stand is universal, so it can accommodate many tablet devices, such as the 15-inch iPads, and a variety of mobile phone models up to 13-inches.
The height at which your device is displayed is also adjustable up to 6-inches from the base. The angle of your display can also be changed via the tiltable clip. This is essential, alongside the ability to position your device in a horizontal (Landscape) or Vertical (Portrait) position.
With a tablet stand holding up your display, you could also look at a Bluetooth or wireless keyboard and mouse to accompany your stand. This way, you don't even need to use the touchscreen to control your interaction. See Part1 Wireless Keyboards section  for more details.
The flexibility of your stand needs to have a wide range of options and angles to reduce the risk of contracting a musculoskeletal condition, such as a stiff back or neck.
Another feature to take into consideration is the material the stand is made out of, and protection/padding at the base and where the tablet device fits in to the cradle. You want to avoid any unnecessary scratches to your table or device, or your stand sliding around when using the touch screen function.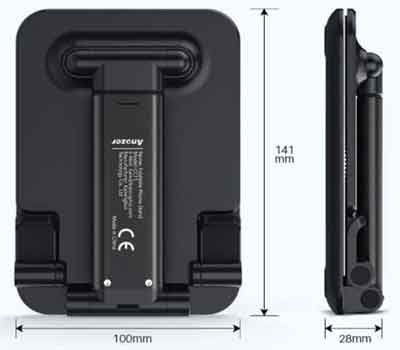 Computer Tablet Accessories Part 2
Tablet Stand Dimensions
Some users of this type of tablet stand do not remove their  protective case. This is ideal, but there should be no issues in removing the case beforehand.
However, you need to be mindful that each type of tablet stand has a weight threshold. If the device is too heavy, the height you want to display at will sink under the overall weight, and even worse is the risk of knocking the tablet stand over when interacting.
Another issue to be mindful of is wobbling when using the touchscreen. There are various reports and feedback of this nature.
However, I think this is potentially a reflection of the device's overall weight, and how 'heavy handed' you are when using the touchscreen and performing gestures. The lightest touches should be more than sufficient to execute the command.
If you use your tablet in the same, please all the time, you could consider investing in a tablet wall-mounted bracket. They have all the features a tablet stand possesses, such as tilt and swivel.
Brackets for mounting TV's and other screens have been around for years and work incredibly well. So, for example, if you always use your device in your kitchen to display recipes, then why not consider something like the Vogel universal tablet wall mount bracket pack below?
Return to the Table of Contents

---
Computer Tablet Accessories Part 2
Wireless Speakers
Sound in its various forms is taken for granted today. Our online and interactive experiences would simply not be the same without sound.
In my experience, the speakers in certain smartphone and tablet models are not great. They are OK if you are in a silent room at night for listening to short video's or music.
However, in a noisy household you are likely to need a headset to hear properly. This is fine, but what if you are wanting to cook, or moving about in your garden. You could somehow carry your tablet around with you or even use a wireless headset. An alternative is a wireless speaker. The Betron Bluetooth speaker is worth considering. 
It comes with an audio cable for direct connectivity with MP3 players and other devices that may be compatible with its version of Bluetooth, and at 215-250 grams it is more than light enough to take with you on your travels.
This model also has a built-in microphone that has a 2-feet pickup range, which is useful for 2-way phone calls and video conferencing.
The memory card slot that can be used to play your audio files directly, without the need to stream over Bluetooth from your tablet device. This could save you from having to take your tablet device with you.
A 500mAh battery life equates to around 33 hours before recharging is required. It's good going, that. The blue ambient light indicates a successful Bluetooth connection, and makes an audible noise when paired with another device.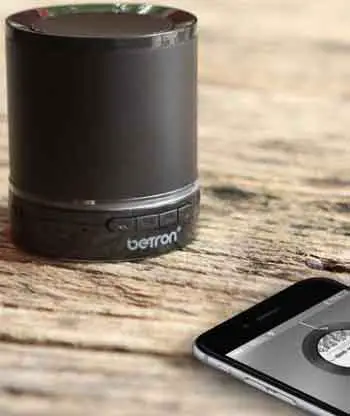 Computer Tablet Accessories Part 2
Betron Bluetooth Speaker In Action
One of the criticisms I see  frequently about this device, and similar devices, is the poor quality of the instructions. The Betron comes with a mini guide, but it appears many items these days come with a minimal instruction set.
I suspect this is because the devices are perceived to be 'intuitive', and that 'anyone' should be able to start using them straight out of the box. We know this is not always the case, and is something I think manufacturers should revisit.
I saw an interesting user review which made the comment that the instructions did not include how long the charge is likely to last before recharging is required.
I think this is because the times will vary depending on several factors including the source of the audio, i.e. is it a constant sound from a high-octane action thriller, or a relaxing meditation MP3?
Either way, the suppliers have given an indication in the specification of the battery size, which can determine a ball park time before recharge is required. This is why it is important to understand terminology such as milliamp hours (mAh).
Having said that, the Betron speaker is quite intuitive. The buttons are clearly labelled, for example. As I always say to my staff, have courage in your conviction and give it a go. It's the best way to learn.
Another bugbear I see is no volume adjustment buttons on the speaker. This shouldn't be a major issue if volume control can be done from the tablet device itself. If too loud, there is likely to be some distortion. This is the case with many sound devices anyway.
This device is probably most suitable for use in hotel rooms, kitchens as mentioned above, and potentially bathrooms when having a long soak. Using outside or at a party with a lot of background noise is likely to be problematic.
Another gotcha to look out for is the fact that this particular device cannot connect to more than one Bluetooth device at a time. I think this is manageable. Simply disconnect one device and connect the other.
Portable sound devices like this will always attract conflicting views on features such as loudness, base quality and other acoustics. It is a mater of personal preference and sometimes what you are already used to with using similar devices.
For most folk it is fine and will do the job. For the more invested or professional musician, for example, there may be more critique in their views.
Return to the Table of Contents

---
Computer Tablet Accessories Part 2
Screen Protectors
No computer tablet accessories part 2 article would be worth its salt without mentioning screen protectors.
Screen protectors accompany protective tablet cases in providing the ultimate protection package.
There are enough hazards in daily life that can cause a cracked or shattered screen. I recall dropping a mobile phone once on to a tiled floor (after one too many) and the screen was in bits. Not good.
As I have an Amazon Kindle Fire, I am able to pass comment on the Gozope screen protector below.
Screen protectors are generally designed to fit specific makes and models of tablet devices. Therefore, make sure whatever you buy is explicitly compatible with your device, otherwise it will not fit.
Today, screen protectors are designed to fit your specific make and model of tablet device. They are often designed to follow the contours of the tablet  screen, such as having curved edges, rather than sharp edges.
This particular screen protector comes with 9H tempered glass. This is good quality for protection against unwanted scratches.
9H is a reference to the Moh Scale of mineral hardness. With a range of 1-10, the Moh Scale is used to measure screen quality against damage across all mobile device types.
Take a look at this article from saharacase for more detail on the Moh Scale.
Screen protectors should not prohibit the touch or gesture elements. There should be no need to press the glass harder, and the response times to gestures should also not be affected,
In addition, the glass cover should be clear and no interfere with the display of the tablet device. Colours and High Definition viewing should not be noticeably impended.
It is also important the protector can be applied easily and bubble free. I've seen some horrendous outcomes when screen protectors are not applied properly.
Computer Tablet Accessories Part 2
Tablet Screen Glass Cover
Many people simply do not read the instructions (or apply common sense in some cases - apologies if that sounds harsh).
Wash your hands and clean the tablet screen, so there is no dust or debris, and make sure the screen protector is aligned with the screen before pressing against the screen from the middle to the outside edges.
I've seen one useful review that explains the time their son sat on their table device. Instead of breaking the tablet screen, it broke the glass protector only. That will have saved them a small fortune, as the device does not need repaired or replaced.
If you have a busy household, or take your device travelling, seriously consider investing in a screen protector.
Return to the Table of Contents

---
Computer Tablet Accessories Part 2
Stylus Pens
The computer tablet accessories part 2 article would not be completed without taking a look at the stylus pen.
I have never felt the need to use these, but my septuagenarian parents wear by them. If your eyesight is going, and you are slightly shaky, then a stylus pen could be just what the doctor ordered to ensure accuracy when using your tablet computer.
There are lots of stylus pens on the market, but the one that caught my eye is the Bargains Depot Stylus Pen below.
This stylus pen is stainless steel and aluminium-based rather than plastic, so you would expect durability and the feeling of using a more expensive normal pen.
There are different sized tips on either end of the pen so smaller links, icons and other objects in an app or on a web page can be selected or clicked. Universal stylus pens tend to be compatible with most devices, but double-check the detail before buying, just to be sure.
This stylus pen even comes with a metal cap to protect the tip, which is subject to wear and tear just like anything else. However, this offer comes with a batch of replacement tips which can be done manually (no need for special tools).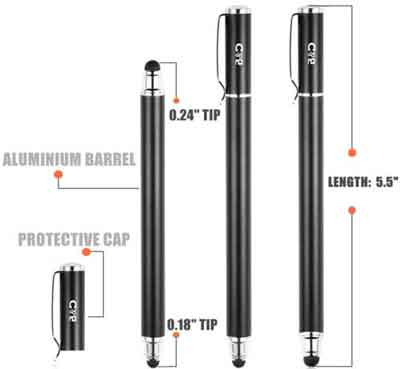 Computer Tablet Accessories Part 2
Tablet Stylus Pen Sizes
Many users confirm this stylus pen works very well on a variety of devices, and due to its stylish look, can be clipped on to a suit jacket or shirt pocket.
However, if you want something that can be used for art work or other intricate drawing etc., then a more specialized stylus pen with be required. This one is more than sufficient for everyday website and app use. There is the odd break in contact where a letter needs to be re-entered, or a straight line needs to be touched up, but other than that it is fine.
Some have commented on the sponginess of the rubber tips. A consensus is for these to be firmer, which would improve the overall user experience.
However, a big plus is replacement tips. The only issues are remembering where you have put them, and because the tips are replaceable, the screw stops that hold the tips in place can work themselves loose, so they need to be periodically tightened.
Using a stylus pen also removes the frequent cleaning of the tablet glass or glass screen. Fingerprints can be distracting and if bad enough can cause issues with touch. Ensure the screen is cleaned regularly.
It is important that screen protectors are applied correctly and are a quality product. Cheaper and incorrectly fitted screen protectors can prevent good stylus pens from working properly.
It is also important that you spend some time adjusting your approach, so the stylus pen works best for you. For example, if you are heavy handed it could have the opposite effect on good contact with your touch screen. You will also run out of tips more quickly.
Return to the Table of Contents

---
Computer Tablet Accessories Part 2 | Final Thoughts
The computer tablet accessories part 2 article completes the series in reviewing devices that can compliment your tablet computer.
Stands, speakers, screen protectors, pens, and the accessories reviewed in part 1 such as cases and power chargers, are just a small portion of what is available today.
My take way advice from this computer tablet accessories part 2 article is to review what is on the market today, identify when you think will help you, spend a little time (not too much) reviewing the best sellers and those items with the best average ratings (check the number of reviews and focus on the 4 and 3 stars - too much propaganda or supplier sourced entries these days in the 5 start ratings), then take plunge; Buy and see for yourself. 
Share With Others
Find Us On Social Media