Computer Tablet Accessories Part 1
A Review By An IT Professional
The computer tablet accessories part 1 article is a look at a selection of extra devices that support and enhance our tablet experiences and aim to make our lives easier.
Computer tablets are all encompassing. What you see if what you get. There is no easy way to replace failing batteries or upgrade flash memory, for example.
However, there is a lucrative market for accessories that can be used with all makes and models of computer tablets. Below is a selection of examples of the different accessories available today, which I review and give you my honest opinion about.
Keep up with the latest news and developments




Sign up to the eComputerZ Newsletter



The free A to Z of performing BIOS updates guide that anyone can follow.

✔  A checklist of important actions to perform throughout the update process.
✔  Further supporting information to aid your update plans.
✔  My unique approach for sourcing the latest BIOS versions for any motherboard manufacturer.
Sign up below for instant access to the guide, or by going to the Subscription page for more details.
I never share information with third parties and your details are secure.
I aim to issue newsletters at the start of each month.
---
Computer Tablet Accessories Part 1
Protective Tablet Cases
If you don't have a protective case for your tablet device, I highly recommend you get one. I think they are essential for everyone, not just for children and the more clumsy individuals (me included!).
I vividly recall one of my IT support officers demonstrating the capabilities of the Panasonic Toughbook, a rugged tablet device bought to be used in areas of a Hospital where vulnerable patients were being treated. "You can drop it from any height, and it won't break", was their fateful words. The subsequent demonstration ended with a smashed screen!
The lesson here is: do not believe everything the adverts tell you. Always take precautions and protect your devices yourself. At least then you can be assured the protection is in place.
There are lots of different protective cases for the plethora of different devices on the market, and it would be impossible to cover every single one of them, especially as products are constantly changing.
However, I have an Amazon Fire HD tablet, so I can talk a little about my experiences using the Finite silicon case below.
As expected, the official description of most protective cases includes details such as:-
Lightweight and protects the back and sides of your device from dirt, scratches and bumps
Support for grip and drop protection including anti-slip grip features and ergonomic grip supports
Additional corner protection and enhanced shock absorbers to protect against extreme impact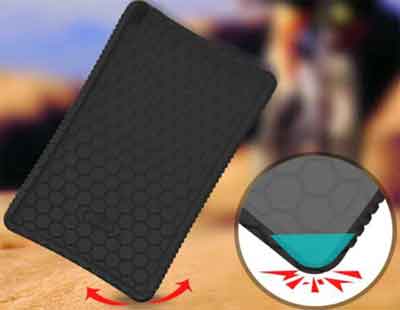 Computer Tablet Accessories Part 1
Shockproof Tablet Cover Demonstration (Illustration)
They always mention all the ports, buttons and cameras etc., having precise cut outs for easy access and visibility. I think this should be a given today, but appreciate not all case coverings are accurate.
This particular cover is fine for almost all ports and buttons. In addition, the speaker is not covered, so sound is not compromised. However, the microSD slot is covered, so you need to ensure the card is inserted before putting the cover on. Fortunately adding and removing SD cards are a one-off event, so nota major issue. 
A lot of the reviews echo my experiences. It is a tight fit on the corners and putting the protective cover on can be a fight. You hope it is not too tight that it affects the integrity of the device. However, I've had mine for a while, and I'm pleased to say I've had no such issues to date.
I wipe my cover down with a damp cloth from time to time to keep clean from finger marks and the inevitable collection of dust if not used for a while. However, you could use a lint-free cloth and appropriate rubbing alcohol to give it a proper clean. Take a look at the how to thoroughly clean your computer article for more details.
Return to the Table of Contents

---
Computer Tablet Accessories Part 1
Power Banks (Portable Battery Chargers)
I think these are great, especially if you are a frequent traveller are carry more the one device that is a few years old with a well used battery.
Phone calls, texts, WhatsApp messages, Instagram, Twitter and a whole host of other social media platforms are already essential, instant and constant access for lots of people.
In today's connected world, we get frustrated and more when our devices run low or out of battery charge, and there is nowhere to charge them. This is especially the case when you have an older device with a battery that loses most of its charge once it is below 50%, for example.
There are lots of power banks on the market, but I like this one from Pxwaxpy because of its high battery capability and multiple ports for different types of devices.
This power bank has 26, 800 mAh capacity. Measuring electric power over time is done in milliamp hours (mAh), and is commonly used to measure the battery capacity and /or battery life. The higher the number, the higher capacity of the battery, meaning it has more charge and will generally last a lot longer.
Batteries made out of lithium polymer are usually the types that can hold high-capacity charge, so make sure when you are buying yours this is a feature.
The Pxwaxpy model has a bidirectional Type-C USB port with PD (Power Delivery - Just means it has the capability to deliver electrical charge), and QC (Quick Charge - Just means the power bank can charge faster without damaging your device).
Both your device, whether it be a mobile or a tablet, and power bank, and the cable used to connect them, must be compatible to enabling the quick charging feature. Keep an eye out for this feature when buying your devices.
The last thing you want is for a power bank to overcharge and damage the integrity of your device's battery and other components. Overcurrent protection avoids what is commonly known as an over thermal event, which can often result in overheating and potentially cause a fire.
Other issues to be avoided include over discharge or deep discharge. This is where your devices battery is fully depleted to such an extent that it exceeds the rated capacity of the battery. If this happens, the battery cannot be recharged and would need replaced.

The Pxwaxpy model also comes with a second, standard USB input port and a 2.1A micro USB port, meaning three devices can be charged at the same time, including Apple and Android-based devices.
The inbuilt intelligent IC (Integrated Circuit) feature replicates your device's charging protocol, and it is this that enables the power back to adjust to your device's fastest and safest charging speeds. That's good when you think about it.
I also quite like the colour LED feature, which shows how much juice the power bank has left, from red (low) to white (high).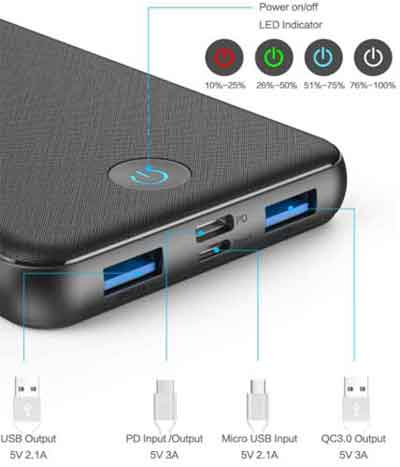 Computer Tablet Accessories Part 1
Pxwaxpy Power Bank Features
As mentioned, portable battery chargers are great for long journeys and especially if you have children who need a prolonged distraction by their different device types!
I think the device is light enough to carry, even though it is slightly heavier than other power banks due to its larger battery capacity. However, I appreciate this is a subjective view and something you will need to judge for yourself.
One of the Amazon reviews explained that if you intend to take this particular portable battery charger on to an aeroplane, check with the airlines before flying for any restrictions on battery sizes. Very sound advice.
Return to the Table of Contents

---
Computer Tablet Accessories Part 1
Portable Wireless Keyboards
Portable wireless keyboards are great for those who have difficulty using on-screen keyboards that are ubiquitous across all tablet devices these days. 
Back in the day mobile devices come with physical keyboards, and I think this originated from the fact that we have always used physical keyboards, stretching all the back to days of the typewriter.
Keyboards have been around for a long time, and have evolved in their feature sets over the years, mainly focusing on ergonomics for comfort.
I've used several of these portable wireless keyboards over the years, but the one I am quite fond of is the Arteck Universal Keyboard. 
Universal keyboards usually retain most if not all the features that come with device-specific keyboards, such as the Windows Key. This specific keyboard is also compatible with mobile phones too, in addition to the various Apple and Android tablet devices available today.
It has a 6-month battery life, but in reality it is less than this if you are using for more than two hours per day and have the backlight feature enabled, which is likely to be most of us these days.
As expected, these keyboards are light for easy transport, and tend to be durable. A lot of effort goes into making the key quiet when pressing, using technology such as shock absorbers. I remember the days before chiclet keys without the absorbers. There was quite a cacophony in the offices. You couldn't hear yourself think sometimes.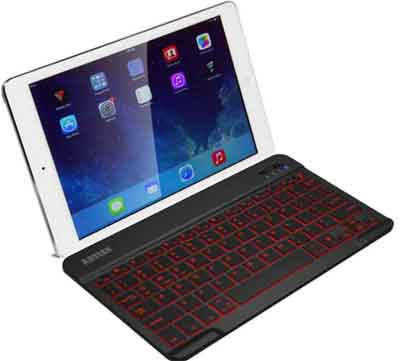 Computer Tablet Accessories Part 1
Arteck Wireless Keyboard With Backlight Enabled
Sometimes wireless keyboards (Bluetooth) can experience some delay between selecting a key or feature, and the execution of that keystroke appearing on-screen. However, this is becoming less of an issue these days, with comparable performance compared to traditional wired keyboards.
There is also the added benefit of not having the on-screen keyboard appearing and taking up half of your screen every time you need to type or add an emoji.
Another benefit of this keyboard is the inclusion of a delete key. You would think this would be a standard feature these days.
With Bluetooth technology having quite long connectivity distances, you don't have to have the keyboard right next to your device. This can be useful when you simply want to use the keyboard on a bed or pillow, for example, or wherever suited your comfort at any given time that is not on a table or desk.
If you are thinking about a wireless keyboard, take a look at this one. The only caution is that if you have large hands, you may struggle with the compactness of the keys. However, there are other factors, such as typing abilities, that you should consider before ruling out keyboards like this one.
Return to the Table of Contents

---
Computer Tablet Accessories Part 1
Portable Wireless Hard Drives
The concept of a wireless hard drive would have been inconceivable what seems like a few short years ago. It underlines the advancements in wireless technology over recent years.
As previously mentioned, the specification of tablet computers are locked in. Some have SD card expansion slots, but other components cannot be upgraded as with traditional computers.
Cheaper devices with smaller storage capacity can fill up quickly, and even with cloud storage options, a portable wireless hard drive gives you additional options, especially on the road, and when you don't want to use your precious (and sometimes expensive) contract data allocation.
I think RavPower FileHub is great because it also doubles up as a wireless travel router when required.
Wireless hard drives are useful for streaming music or video through your tablet computer, and for backing up all of your photographs and files. The backup feature is good in that it can be automated.
It also enables the quick transfer of files between devices and SD cards, and the sharing of files with friends and family.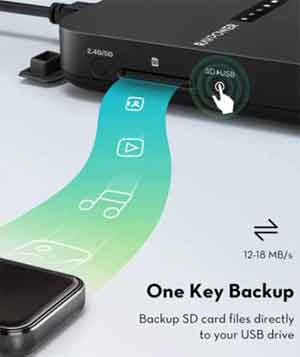 Computer Tablet Accessories Part 1
Backup SD Cards Directly
The RavPower FileHub comes with a decent web interface which in intuitive and easy to use. File transfers are efficient over modern wireless speeds, although the time to transfer files is dependent on the number of files in question and the overall size.
Portable technology is great for use on cars and on trains. You could take a lot of downloaded material and stream it to your families devices without having to copy it to each device, taking up valuable space (assuming the space is available to start off with).
With this RavPower FileHub you can use it to charge your phone or tablet. However, you could also charge your RavPower FileHub with the Pxwaxpy power bank mentioned above.
Return to the Table of Contents

---
Computer Tablet Accessories Part 1 | Final Thoughts
The computer tablet accessories part 1 article is I think a good start for describing the devices that are available today to compliment your tablet computer.
Cases, Keyboards, Hard Drives and Power Chargers are just the tip of the iceberg for what is available today. Take a look at part 2 which looks at tablet stands, speakers, wall mounts, screen protectors and pens.
Meanwhile, take a look at this article on how stuff works, which provides a brief review of 10 tablet accessories.
Share With Others
Find Us On Social Media